Here is a list of highest selling motorcycles in India as per November 2015 figures. Hero Splendor is leading the race and Hero Passion is loosing its shine with every passing month and the same situation is for Bajaj Platina. All other bikes in the listing is going strong though two-wheeler segment is witnessing highly decelerating growth rates due to recent popularity of scooters. For 2016 March, we are expecting the figures to be very close to the one mentioned below.
1. Hero Splendor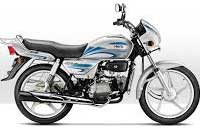 This model has 5 variants namely Hero Splendor Plus, PRO, iSmart, Pro Classic, Super Splendor. The combined sales for these bikes in May 2015 were 241,249 units. This bike was first launched in 1994 and succeeded Hero Honda CD100 and Hero Honda Sleek. All these 3 bikes were based on Honda CB250RS series which was launched 1080s. In 2004 Splendor+ was launched followed by Splendor Pro in 2011 and Splendor iSmart in 2014.
Sales(February 2016) – 1,89,314
Price – Rs. 46,300(Plus) – Rs. 55,989(Super Splendor)
2. Hero HF Deluxe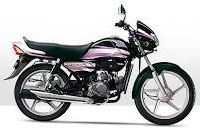 This bike is one of the best in class in terms of performance and efficiency. The bike is fitted with 97cc engine that punches out a peak power of 7.7BHP and torque of 8Nm. Hero Honda CD Deluxe was rebranded into HF Deluxe after Hero ended its partnership with Honda. HF Deluxe Eco is the new variant of this model which has better fuel efficiency and enhanced aerodynamics. Eco is costlier by Rs. 4000.
Sales(February 2016) – 1,06,572
Price – Rs. 42,854(Kick-spoke) – Rs. 47,352(Eco)(Ex-Mumbai)
3. Hero Motocorp Passion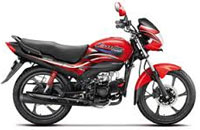 Hero Passion debuted in 2001 and is one of the highest selling motorcycles in the world next to Splendor. The 97.2 cc 4-stroke, air-cooled engine gives out a maximum power of 7BHP and peak torque of 8Nm. This bike has 3 variants, Pro, X Pro and Pro TR.
Sales(February 2016) – 81,656
Price – Rs. 50,468(X-Pro) – Rs. 55,994(Pro TR)(Ex-Mumbai)
4. Hero Glamour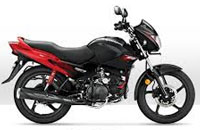 Glamour is 125cc bike from Hero Motocorp desperately trying to break into the sales of Honda CB Shine which is market leader in the segment. The bike is pitched as commuter bike with extra styling, power and enhanced features. The bike gives out a peak power of 9.1PS and maximum torque of 10.4Nm. The bike gives an average of 73kmpl on city roads and 80kmpl on highways. It has a top speed of 98.7kmph. It has 2 variants one with drum brake and other with disc brake.
Sales – 60,883
Price – Rs. 58,011(Drum) – Rs. 60,218(Disc) (Ex-Mumbai)
5. Honda CB Shine
CB Shine is the market leader when it comes to 125cc bikes. The bike was launched in 2006 and since then it has created a new market segment for itself. People go for this bike who wants power, looks as well as a fuel efficient commuter. Honda is known for its build quality, refined engine, reliability and in this bike you get all of them. The 125cc engine gives out 10.12BHP of peak power with torque of 10.54Nm at 5500 rpm.
Sales(February 2016) – 58,433
Price – Rs. 62,580(Ex-Mumbai)
6. Bajaj Pulsar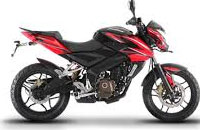 Bajaj Pulsar was first launched in November 2001. Prior to this Indian motorcycle industry was dominated by bikes that were fuel efficient and less powerful (80-125cc). Looking at the success of Hero Honda CBZ in 1999, Bajaj with the help of designer Glynn Kerr and Tokyo R&D launched 5 variants of Pulsar in the market till date. The lineup includes 220cc, 200cc, 180cc, 150cc, 135cc engine capacity bikes.
Sales – 47,208
Price – Rs. 65,049(135 LS) – Rs. 139,794(RS 200 ABS) (Ex-Mumbai)
7. Bajaj CT100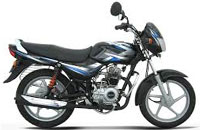 Yes, it is not Pulsar but CT 100 that sells most units for Bajaj. This fuel efficient commuter bike is targeted for small cities and people who are looking for bike with good mileage. This 99.3cc entry level bike punches out 8.2PS power with peak torque of 8.1Nm. Top speed for the bike is 90kmph and gives out an average of 89.5kmpl(claimed). CT 100 spoke is the cheapest bike in India with a price tag of Rs. 37,148(Ex-Mumbai).
Sales – 42,924
Price – Rs. 37,148(Spoke) – Rs. 40,122(Alloy)(Ex-Mumbai)
8. Bajaj Platina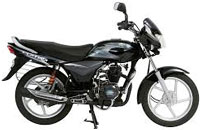 Platina has the cheapest motorcycle in India next to CT 100 and Yamaha Crux. Other than fuel tank which is of 13l, other specifications of the bikes (Spoke Wheel and Wheel KS) are similar to that of CT100. It gets power from 99cc that gives out peak power of 8.21BHP and max torque of 8.1Nm. There is also a choice for 102cc engine with Alloy Wheel ES variant that punches power of 8.2PS at 7500rpm and peak torque of 8.63Nm at 5000rpm. The ES variant gets an optimized frame which is 5kg lighter with a reduction in its wheelbase by 20mm. The increase ground clearance which stands at 190mm keeps the bike safe from bad roads and rain. Due to the light weight, better technology and efficient engine, there is a subtle increase in the fuel efficiency. The overall mileage for ES variant stands at 88kmpl, one of the best in commuter segment.
Sales(February 2016) – 24,065
Price – Rs. 39,751(Spoke Wheel) – Rs. 46,616(Alloy Wheel ES) (Ex-Mumbai)
9. TVS Star City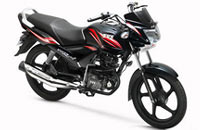 Bengaluru based company TVS last year launched its 110cc TVS Star City+ which gave a new lease of life to its aging lineup of this commuter bike. The bike gets its power from 4-stroke, air cooled 109.7cc single cylinder engine which crunches peak power of 8.4PS at 7000rpm which is 0.9PS more than its Sport variant and maximum torque of 8.7Nm at 5000rpm where again it got a raise of 1.2Nm. The single cradle tubular frame and its effective suspension ensures good ride and handling on both city roads and highways. The new City+ is able to eliminate all the shortcomings it had with its older sibling. Commuter bikes have to have good fuel efficiency and the bike is able to pull up on that front too. The mileage for city is 67kmpl and on highways it could easily give an average of over 77kmpl.
Sales(February 2016) – 22,033
Price – Rs. 43,944(sport) – Rs. 44,000(City+ Electric Start) (Ex-Mumbai)
10. Honda Dream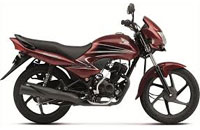 Honda Dream Yuga, Neo and CD 110 Dream are 3 variants of this entry level bike. The bike runs on 110cc engine with peak power of 8.25BHP and peak torque of 8.63Nm. The bike is based on CB Shine lineup with a very reliable engine and great looks. The bike gives a mileage of 73kmpl on city roads and 79kmpl on highways. In 2013 Honda updates its dream lineup with Honda Eco Technology that enhanced the mileage of the bike.
Sales – 16,217
Price – Rs. 45,228(Neo) – Rs. 47,882(Yuga) (Ex-Mumbai)
Other Top Selling Bikes
| | | |
| --- | --- | --- |
| SL. No. | Model | Sales, February 2016 |
| 11 | Royal Enfiels Classic 350 | 22,386 |
| 12 | TVS Apache | 20,577 |
| 13 | Bajaj Discover | 19,532 |
| 14 | Honda Livo | 19,334 |