1. KTM 200 Duke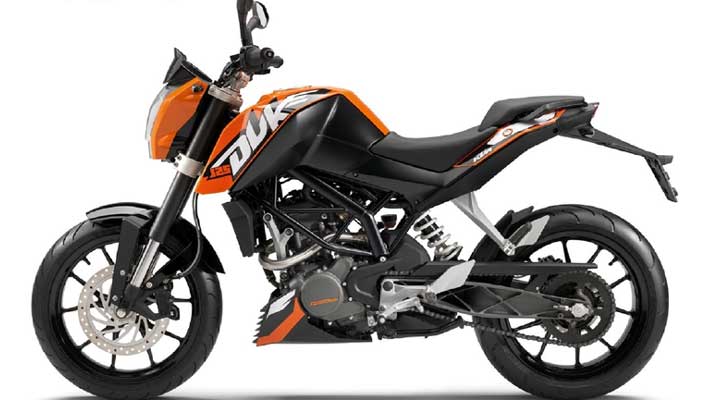 Price: Rs. 1,46,300 (Ex Mumbai)
Engine: 200cc
Power: 25.2PS
Torque: 19.2Nm
0-60kmph: 3.72s
60-0kmph: 2s
Top Speed: 132kmph
Mileage: 34kmpl Overall
Design: KTM 200 Duke is one of the best looking 200cc naked bike in India which stands out in terms of looks than any other bike in the segment. If any other bike comes even close to it than it is 153cc Yamaha FZ. Wider tyres, big telescopic forks and small mud guard in front give it macho looks. The headlight is slim and the absence of visor adds to the muscularity of the bike further. The fat tyres and ultra small mud guard in the back are sure to grab lot of eye balls. The console houses speedometer, fuel gauge, odometer and trip meter. This bike does not have great instrument console due to space restrictions and many times one might have to search for things there.
Engine: The bike gets power from 1-cylinder, 4-stroke 199.5cc DOHC engine that punches out peak power of 25 bhp at 10000rpm and a maximum torque of 19.2 Nm available at 8000rpm. 200 Duke is fitted with wet multi disc clutch that is mechanically actuated. The refined engine for this bike gives complete freedom to the rider to rev the bike to extreme. It could go from 0-100kmph in just over 9.2 seconds which is the quickest in the segment. The power to weight ratio is great and thanks to the no frill design. The bike performs best in 4000 to 10,000rpm range. At low rev gear shifts might be required due to low torque. On city rides this bike might not be as comfortable as RS200 due to less torque at low rev. This bike is for people who want a true sports bike and are more of highway riders. Stunt lovers are going to love every inch of it.
Ride Quality: The bike has front WP upside-down suspension and WP monoshock rear suspension like RC 200 which keeps the bike grounded even on bad roads or high speeds. 4-piston radial fixed caliper front brakes and Single piston floating caliper rear brakes adds to the stability of the bike. The wide 1367mm wheelbase and fat tyres adds to the stability of the bike and riding pleasure. The bike could take up bad roads with ease but that is not its expertise area.
Fuel Efficiency: On city roads 200 Duke could easily give a mileage of 27kmpl and on highways it could go up to 38km on a litre of petrol. For a sports bike in true sense, these numbers are quiet impressive.
Verdict: Buy this bike for its pure sports bike nature and thrill factor. It might not fit well in commuter segment. Do not get carried away by its 200cc engine as it produces much more power than the other bikes in the segment.
2. Bajaj Pulsar 200NS

Price: Rs. 93,610 (Ex Mumbai)
Engine: 200cc
Power: 23.5PS
Torque: 18.3Nm
0-60kmph: 4.33s
Top Speed: 119kmph
Mileage: 36kmpl Overall
Design: Bajaj Pulsar 200Ns i.e. the naked sports bike is an attempt to enter into new terrain and Bajaj is successful in it to a great extent. The design is highly based on Pulsar 135. The slick body type coupled with new-gen latest technology is able to impress lot of buyers in making it one of the best buy in the segment. The lightweight body and incredible power to weight ratio helps in boosting the bike's speed and power. The exhaust is positioned beside the engine which might be inspired by 200 Duke but nevertheless looks great. The alloy wheels, sleek fuel tank and side scoops gives it a macho look. From front the bike looks aggressive, sharp and fierce. However, some of the design elements and sharp cuts are a bit loud and might not impress few buyers.
Engine: The bike is powered by four-stroke, Liquid Cooled, single cylinder SOHC 199.5cc engine that gives out maximum power of 23.52PS at 9500rpm and a peak torque of 18.3Nm at 8000rpm. The bike has triple spark type combustion system. The engine is connected with 6-speed manual transmission. The top speed for bike is 119kmph and it can go from 0-60kmph in just 4.33 seconds.
Ride Quality: Lighter weight but wide shape for 200NS makes it feel bulkier and macho. The seating position is upright which helps in making ride easier and agile on city roads. The seating posture and seat might not be comfortable for long rides on highways. The bike has telescopic front fork mated with anti-friction bush and rear mono suspension coupled with nitrox. The front and rear both have petal disc with floating caliper brakes that provides great braking capability to the bike.
Fuel Efficiency: The bike gives a mileage of 30.2kmpl on city roads and could go upto 40km on highways with a litre of petrol. However, company claims its average per litre of petrol to be 58kmpl.
Verdict: Lack of fuel injection and front heavy design might not be liked by many buyers. When it comes to styling and handling, this is the bike you should go for. 200NS and RS200 are great bikes when it comes to handling bad roads too which is common occurrence in India.
3. Bajaj Pulsar RS200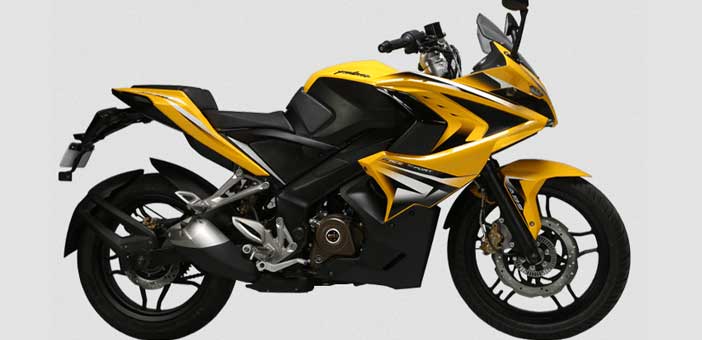 Price: Rs. 1,39,000(Ex Mumbai)
Engine: 199.9cc
Power: 24.5PS@9750rpm
Torque: 18.6Nm@8,000rpm
0-60kmph: 4.1s
60-0kmph: 4s
Top Speed: 142kmph
Mileage: 36kmpl Overall
Design: RS200 has a classy design but sometimes it feels like the design elements shouts. In order to make its looks stand out Bajaj have gone over the top and have added few elements that does not fit well together. The inside plastics just do not fit with the overall design of the bike and you might feel it just by looking at it. The tail lamp too looks a bit odd and out of place. In terms of looks the bike could not stand likes of KTM RC 200 and 200 Duke. The bike overall looks good but not classic.
Engine: The bike is fitted with single cylinder, 4-stroke, Liquid cooled engine with triple spark ignition that punches out 24.5PS of power at 9750rpm and maximum torque of 18.6Nm at 8000rpm. RS200 could reach 0-60kmph in just under 4.1sec which is not best but quite impressive. The top speed of the bike is close to 142kmph. RC engine is flexible enough to give a smooth ride due to torque even in low rev band. The bike houses 13l fuel tank.
Ride Quality: RS is fitted with front telescopic suspension accompanied with anti friction bush and rear nitrox mono shock absorber accompanied with Canister. It has shorter wheelbase due to sharpened steering. The MRF tyres and stiffer springs makes going through the corners easier than others in the segment. When it comes to taking bad roads and potholes at low speeds than no other bike can beat RS200. With others one need to either take safer path or slow down a lot to run on them efficiently.
Fuel Efficiency: RS200 can easily give an average of 45kmpl on highways and 33kmpl on city roads. Overall expect an average of nearly 36kmpl.
Verdict: Go for RS200 with ABS as there is only a difference of Rs. 3000. RS200 is the best Pulsar in terms of pricing, performance, ride quality and handling. This is no doubt one of the best value for money bike in this segment.
4. Hero Karizma ZMR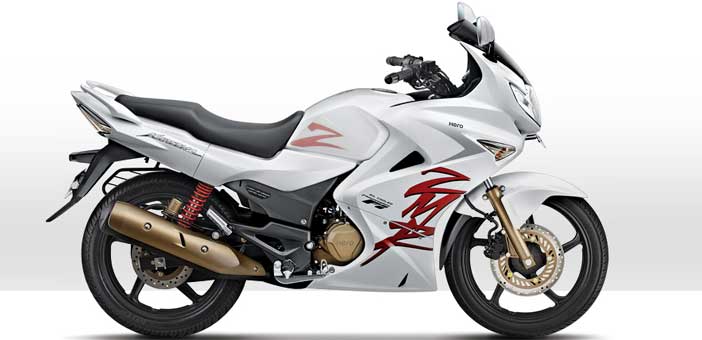 Price: Rs. 1,09,370 (Ex Mumbai)
Engine: 223cc
Power: 20.3PS
Torque: 19.7Nm
0-60kmph: 4.7s
Top Speed: 129kmph
Mileage: 44 kmpl Overall
Design: The all new Karizma ZMR is highly based on the EBR 1190RX design. The rework on its design and body has helped to shed off 2kg from the kerb weight. The tinted visor not only improves the aerodynamics but also saves rider from wind blast at high speed. Wear helmet warning, mileage indicator are some of the unique digital instrument features other than the regular odometer, speedometer, tachometer, dual trip meter and fuel gauge. Dual horns also works well when need arise. ZMR is built well with good paint and finish.
Engine: Fuel injected 223cc 4-stroke air cooled engine produces 20bhp peak power at 8000rpm and punches a peak torque of 2.01kgm at 6500 rpm. It is fitted with 5 speed gearbox which is 4 up and one down. The bike is very stable at 100kmph and with good acceleration it could pull-up from others at signal. It could reach 0-60kmph in just under 4.5s and 0-100kmph in just under 12.5s. Post 110kmph one might feel some high vibes.
Ride Quality: The sitting posture for this bike is more towards aggressive side with clip on handlebars. The seat is of high quality and sitting is very comfortable on highways for long rides. There are gas filled shock absorber in the back while you get twin telescopic forks in the front. On both front and back there are disc brakes. Handling and ride quality is good in both bad roads and high speeds. Both brakes are safe enough to stop a bike from 60kmph to rest in less than 16m.
Fuel Efficiency: Karizma ZMR is one of the few 200cc bikes which do not compromise on fuel efficiency despite high in power output. On city roads it could easily give 38kmpl and on highways it could run for nearly 43km on 1 liter of petrol.
Verdict: The bike is not smooth at high rpm and the bike could have been more powerful. It might not stand against 200 Ns and KTM Duke 200 in the real world. The best part of the bike is its fuel efficiency, ride quality and handling.
5. KTM RC 200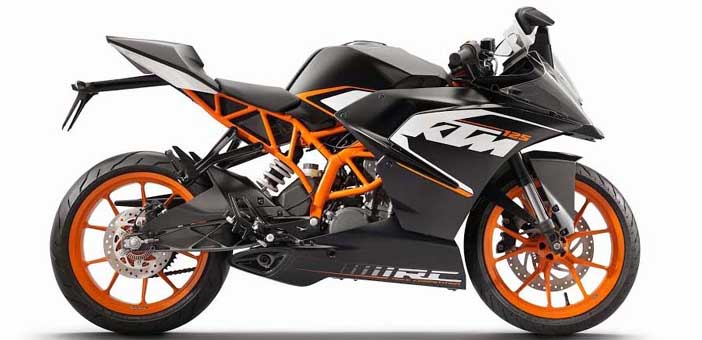 Price: Rs. 1,87,295 (Ex Mumbai)
Engine: 199.5cc
Power: 25PS@10,000rpm
Torque: 19.2Nm@8000rpm
0-60kmph: 3.85s
Top Speed: 136kmph
Mileage: 32kmpl Overall
Design: When it comes to design built and finish, RC 200 wins the race. The initial RC models had few rattles in the design which is now gone and the latest design is tight which looks fantastic. The pillion seat is well integrated into the design and is very comfortable. The 3-chamber silencer looks cool and because of its close proximity to overall center of gravity of the bike it centralizes the mass well. Handlebar clips, steel fuel tank, good seat height(830mm), aluminum triple clamps is forged well and adds to the overall design of the bike. The wind shields are designed well and is aerodynamic for protection of rider's arms and chest.
Engine: The bike is powered by 1-cylinder, 4-stroke 199.5cc engine which punches out a peak power of 25PS at 10,000rpm and maximum torque of 19.2Nm at 8000rpm.RC 200 is one of the quickest in the segment reaching 0-60kmph in just 3.8sec with a top speed of impressive 136.23kmph. At low revs the torque falls due to which to maintain acceleration down gear shifts might be required.
Ride Quality: KTM has WP upside-down front suspension and WP monoshock as rear suspension. RC 200's MRF tyres holds tightly to the road while speeding and is very smooth while taking corners. However, it is not that great in taking the bad roads. It has 4-piston radial fixed caliper front brakes and single-piston floating caliper as rear brake.
Fuel Efficiency: On highways Rc 200 could go upto 38km on 1 litre of petrol. On city roads it would give an average of about 27kmpl and overall mileage should come to about 29-30kmpl.
Verdict: RC 200 is one of the expensive bikes in this segment but nevertheless it is a true and pure sports bike high on performance and power. City rides with this bike might not be that comfortable especially on bad roads. It is not the easiest bike to ride either.
Let us know if you agree with this top 5 list of 200cc bikes primarily for 2016. All the bikes are trying hard to keep the numbers on speedometer high and lot of compromises are made in order to keep up the performance and power high. Do not look for mileage as a factor in these bikes as these beasts are not designed to give their best in that area.