Here is the list of best bikes in India that are below 1.5 lakhs and above 1 lakh. All the motorcycles in the list have sports element into them other that Enfield Classic 350 which in terms of sales is the best in this price range.
1. Bajaj Pulsar RS200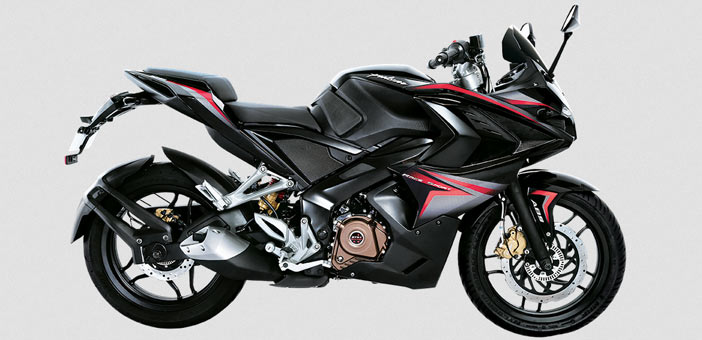 Price: Rs. 1,18,000 (Ex Delhi)
Engine: 200cc
Power: 24.5PS
Torque: 18.6Nm
Mileage(city/Highway): 33kmpl/45kmpl
Top Speed: 142kmph
Pulsar RS200 is the best bike below 1.5 lakh because it gives both, comfort of commuter with speed and ergonomics of a sports bike. ABS is another reason why it is smart to go for this bike despite it being not the fastest. Above all buyers of RS would buy it more for daily use and not for the race track. Once you remove the fairing from the bike you get one of the best looking naked sports bike and that is something one should consider while choosing other bikes in this price range.
The design and looks of the bike is too bold with all red fairing sitting on the black lines. Lot of small plastics integrated together in not so smooth finish shouts. Tail lamp is another bit that might not appeal to lot of people. I am sure all this would be taken care of when next version comes out.
Liquid cooled 199.5cc engine crunches out maximum power of 24.5PS at 9750rpm and peak torque of 18.6Nm at 8000rpm. RS engine is flexible and the torque available at lower revs makes it very easy to ride on city roads. It could go from 0-100kmph in just 9.92 seconds with a top speed of 142kmph which makes it the fastest bike below 1.5 lakhs. On city roads it gives a mileage of 33kmpl and on highways the average comes close to 45kmpl.
Due to the sharpened steering wheelbase is shorter and it works as an advantage for RS. MRF tyres and stiffer springs help it to take up corners without any issues. It could take up bumps with ease to and that makes it one of the most satisfying Pulsars available in the market when it comes to ride and handling.
2. KTM Duke 200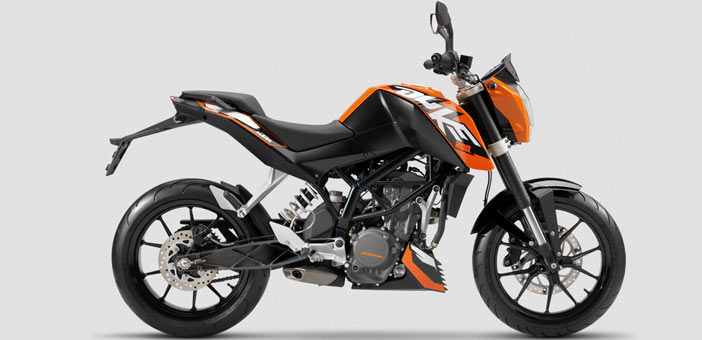 Price: Rs. 1,38,327 (Ex Delhi)
Engine: 200cc
Power: 25.2PS
Torque: 19.2Nm
Mileage(city/Highway): 27kmpl/38kmpl
Top Speed: 132kmph
KTM is primarily known for its sports naked bike worldwide. In January 2011, 200 Duke was launched by the company in India which introduced a new segment of naked bikes and buyers welcomed it with open hands. The bike is powered by single cylinder 4-stroke liquid cooled 200cc DOHC engine that produces 25.2PS power at 10,000rpm and 19.2Nm torque at 8000rpm. 6 speed manual gearbox works like most in the pattern one down and 5 up. 200 Duke is a pure sports bike that has all the extra toque above 6000 revs for better performance at high speeds. Below 6000 revs one has to shifts gear down to accelerate bike or to overtake on highways. It could go from 0-60kmph in just 3.72 and 0-100kmph in 9.5 seconds which makes it quickest in the segment. Top speed of the bike stands at 136kmph which is slightly lower that RS200 by 6kmph.
Under slung exhaust system in Duke is well positioned to maintain center of gravity and helps in handling of the bike. Due to focused sports bike type approach the stiffer suspension in KTM makes it hard to take up bad and bumpy roads. Riding through corners or changing quick lanes is better thanks to the efficient MRF tyres. Front wheel ABS is absent which could have given safer ride. 280mm front disc brakes and 230mm rear disc brakes gives enough bite and stop it efficiently from 60-0kmph in just 2 seconds.
3. Royal Enfield Classic 350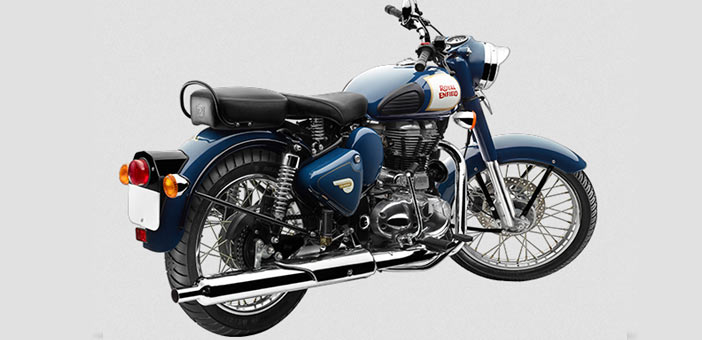 Price: Rs. 1,12,931(Ex Delhi)
Engine: 346cc
Power: 20.1PS
Torque: 28.0Nm
Mileage(city/Highway): 30kmpl/38kmpl
Top Speed: 130kmph
Owning any Royal Enfield bike is a matter of prestige for lot of Indian buyers. Tank like body, its sound, horns, upright riding posture makes it one of the best seller in the list. Yes, in September, 2015 it was the 15th most sold two wheeler in India and only 350cc bike in the top 20 list.
Classic 350 shares its power plant with Thunderbird Twinspark. It is powered by single cylinder, 4 stroke, twinspark 346cc engine that churns out peak power of 27.6PS at 5250rpm and gives out peak torque of 28Nm at 4000rpm. On city roads Classic 350 gives an approximate average of 30kmpl and on highways it could easily give mileage of 38kmpl.
Front Telescopic suspension and twin gas charged shock absorbers at rear is well integrated with single down tube type frame that uses engine as stressed member and gives enough stability to the bike to take up bad roads with ease. 280mm front disc brake and 153mm rear drum brake gives enough bite to stop the bike when asked for efficiently.
4. Yamaha YZF R15 V2.0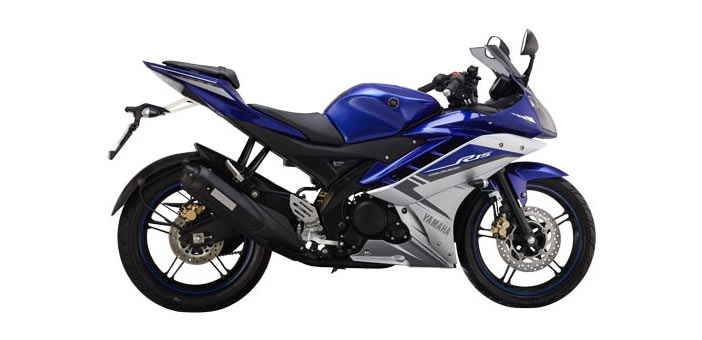 Price: Rs. 1,14,241 (Ex Delhi)
Engine: 150cc
Power: 15.0PS
Torque: 19Nm
Mileage(city/Highway): 39kmpl/53kmpl
Top Speed: 132kmph
YZF-R15 was the first full sports bike launched in India that still holds lot of promise despite lot of them in the market. The engine is smaller but the focus on what it does best make it stand out from the rest. It is the cheapest bike too in its segment of true sports bike. Yamaha bike is not the one of the best looking when you compare with others in the list and looks familiar. The company is known for making bikes with great build and finish and R15 V2 stands true to that. Paint, metals used and the fairing all are solidly built and you might have to neglect it really hard for long to damage any one of them.
YZF R15 has pressed steel twin spar frame well integrated with telescopic fork in front and preload adjustable mono shock absorber in the back. The soft suspension absorbs bumps from the bad road with ease and the bike gives complete control on its wheels and springs at all speeds. Due to high focused approach R15 is one very comfortable to drive on city roads for longer duration and sitting for pillion is also very awkward.
Small but R15's liquid cooled engine is just too good. This is the only bike that could be cruised to high speeds for long duration of time. The liquid cooled single cylinder 149.8cc engine produces peak power of 17PS at 8500rpm and maximum torque of 15Nm at 7500rpm. It is far behind in this segment that RS200(24.5PS) and 200 Duke(25PS). The top speed for the bike is 124.5kmph which is not at all less if you consider the engine size. When it comes to fuel efficiency, R15 could go up to 53kms on highways on a litre of petrol and could give an average of 39kmpl on city roads.
5. Honda CBR150R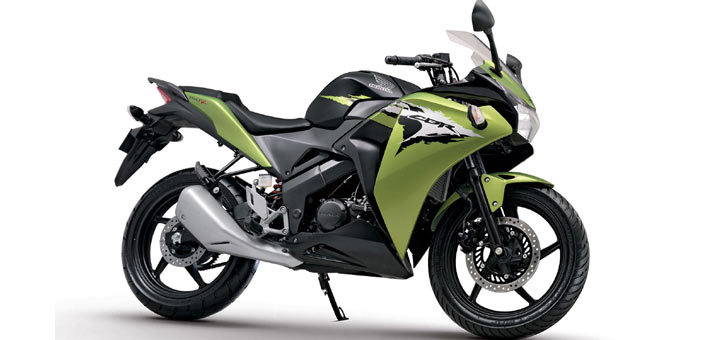 Price: Rs. 1,22,367 (Ex Delhi)
Engine: 149cc
Power: 18.5PS
Torque: 12.7Nm
Mileage(city/Highway): 45kmpl/68kmpl
Top Speed: 131kmph
CBR150R is younger sibling of 250R on which it is based and stands next to R15 in the same segment. Its price is bit high for 150cc segment so it its speed, acceleration, power, sports bike like features and performance.
CBR 150R gets power from liquid cooled, 4 stroke, 149.4cc si engine that gives out maximum power of 18.5PS at 10,500rpm and a peak torque of 12.66 Nm at 8500 rpm. It can go from 0-60kmph in just 4.94s with a top speed of 131kmph. It has enough torque at all the gears which gives a fun ride on city roads as well as on highways.
Telescopic front suspension and monoshock at rear is well integrated with its diamond frame that gives great stability to the bike while taking up bumps and potholes. Front and rear disc brakes are well calibrated to give good stopping power and once pressed it takes only 2.2s to stop the bike from 60kmph to 0.