A list of best selling bikes from Hero Motocorp. The list primarily is dominated by 100cc commuter bikes with an exception of Maestro which is scooter. The scooter segment is looking promising for bike maker with the launch of Maestro Edge upcoming Duet and Leap. It is high time the company should look into 150cc and 200cc segment seriously for long term dominance.
1. Hero Splendor


Hero Honda Splendor to be precise as this bike was launched when Honda was part of Hero bikes. This bike was based on CD100 and was launched in the year 1994. Since 2009 more than 1 million units of it is sold yearly and still going strong despite lot of new bikes launched by its competition. In 2004 after 10 years of market dominance Splendor+ was launched which again gave another best seller for the bike maker. In 2007 again the plus model was launched with new fairings and alloy wheels. Splendor Pro was another bike launched in 2011 which brought in self start feature. After the split with Honda, in 2014 iSmart variant was launched which again got lot of people's attention. It however got into serious controversy due to the company claim about its super mileage which was actually flawed. In total there are 5 variants for this two-wheeler and in all they are holding the top position of most sold bike in India since many years unchallenged.
Units Sold: 2,43,188
Engine: 97cc, Super Splendor – 124.9cc
Power: 8bhp, SS – 9bhp
Torque: 8Nm, SS – 10.3Nm
Seat Height: 785mm
2. Hero Motocorp Passion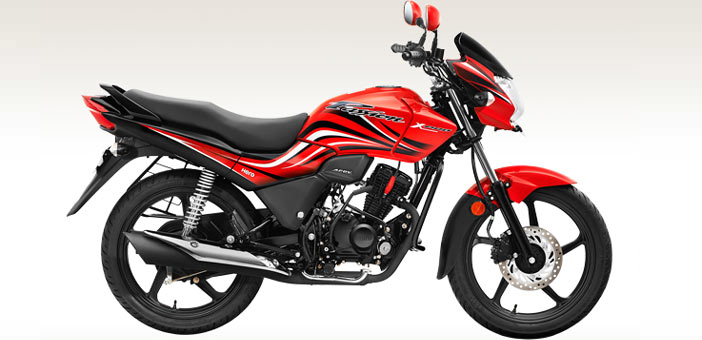 There are 2 variants for Passion i.e. Pro and X Pro. It was first launched in 2001 and is one of the highest selling bikes not in India but in the world next to Splendor. In 2003 Passion Plus was launched with refreshed graphics and in 2007 allows wheels were added to it. There were primarily only facelifts and the bike have aged a lot but it is not ready to retire yet and Hero has no mood to do that either. Its USP lies in its price, over simplistic ride, mileage and familiarity with the brand. Passion Pro has 97.2cc engine that produces 8.36 PS of power at 8000rpm and 8.05 Nm or torque at 5000rpm. Air cooled 109.1cc engine of Passion Xpro produces peak power of 8.7 PS at 7500rpm and 9.36 Nm or peak torque at 5500rpm. Bike has a track record of being one of the most reliable with excellent fuel economy, USP of Hero two wheelers.
Units Sold: 1,08,395
Engine: 97.1cc(Pro), Xpro – 109.1cc
Power: 8.36 Ps(Pro), Xpro – 8.7 Ps
Torque: 8.05 Nm, Xpro – 9.36 Nm
Seat Height: 785mm
3. HF Deluxe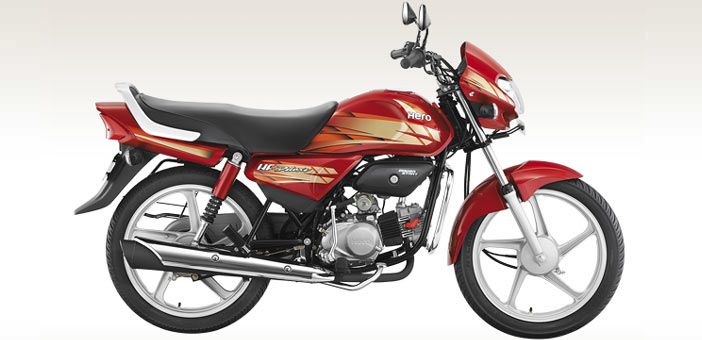 It is one of the cheapest entry level bikes from Hero group next to HF Dawn. The heart of the motorcycle pumps with air cooled, 4 stroke, single cylinder OHC 97.2 cc engine that produces peak power of 8.36 Ps at 8000 rpm and peak torque of 8.05 Nm at 5000 rpm. It can go from 0-60kmph in just 7.8 seconds with top speed of 85kmph which is good looking at the engine displacement. Once again HF Deluxe mileage is its highlight which is close of 65 to 70kmpl. This bike came a bit later in 2005 after Splendor and Passion but soon became of the the highest selling bike in the low cost bike segment. After a span of 8 years HF Deluxe ECO variant was launched. Since then there is not much of changes in this bike. Hero in general has not done much for its top selling entry level bike as people love then as they are. There might be chances of losing the market share with a big upgrade.
Units Sold: 1,01,579
Engine: 97.2 cc
Power: 8.36 Ps at 8000 rpm
Torque: 8.05 Nm at 5000 rpm
Mileage: 70kmpl
4. Glamour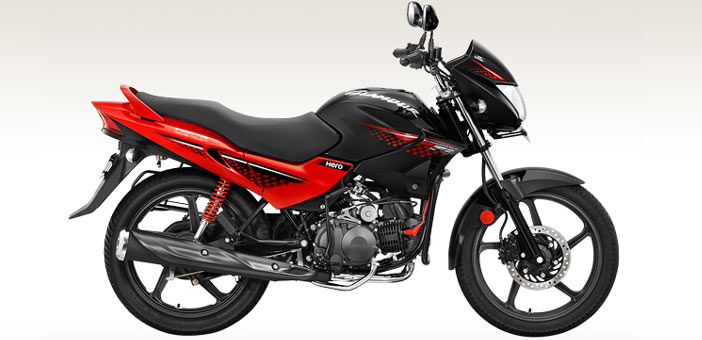 Hero Glamour was launched in 2005 when most of the top selling bikes and scooters were launched by Hero group. In 2008 Glamour Fi was launched which had similar specification as Glamour other than programmed fuel injection which is a sensor in the engine that decides the amount and timing of fuel injected to the cylinder. This technology is supposed to increase the fuel efficiency of the bike without compromising on the ride quality, give out lower emission, and instant start even in extreme cold conditions. On road mileage for both the models are nearly same. Price of Fi is Rs. 10,000 more than its other sibling. Displacement of Fi model is just 0.1cc more with peak power and torque being same. Fi is heavier by 4kgs but this weight gain has minimal effect on its top speed and acceleration.
Units Sold: 55,793
Engine: 124.7 cc, 124.8 cc(Fi)
Power: 9.1 Ps at 7000 rpm
Torque: 10.35 Nm at 4000 rpm
Ignition: Advanced Microprocessor Ignition System, D.C Full Transistorised Ignition(Fi)
Mileage: 77kmpl
5. Maestro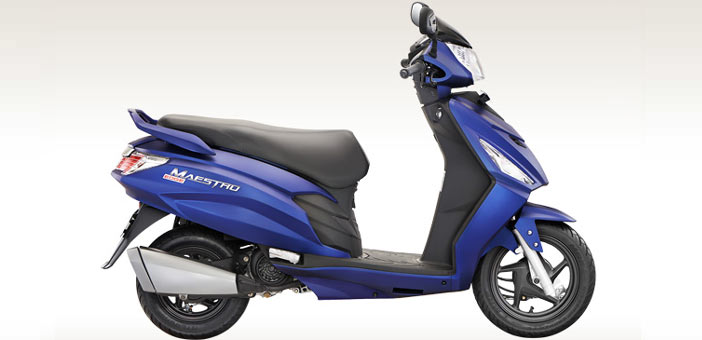 Maestro is the 2nd scooter launched by the company after Pleasure and became the number 3 scooty in India in terms of sales. It was first launched in 2012. Maestro is more of a boy's scooter as the tagline goes, "It's a boy thing". One area where this scooty lacks punch is its acceleration which is not at par with the competition primarily because of its herb weight which is 110kg, one of the heaviest in the segment. It is more about functionality that enthusiastic ride. In 2015 Maestro edge is launched which looks promising and for sure going to shake up some of the above rankings. Since more and more scooters are replacing 100cc bikes, Hero is making sure it has all the products which could harness this potential market. Al new Edge promises a good ride quality, great sporty styling, excels at ride and handling but again lacks pep.
Units Sold: 42,782
Engine: 109 cc, 110.9 cc(Edge)
Power: 8.2 Ps, 8.4 Ps (Edge)
Torque: 9.10 Nm, 8.30 Nm(Edge)
Kerb Weight: 110 kg