The Indian two-wheeler market is one of the most important ones for nearly every motorcycle maker in the world. This segment is no longer about fulfilling only your commuting needs; now it comes with style as well. Most of the Indians prefer affordable and fuel-efficient bikes than the ones packed with sheer power.
The 125cc segment is growing rapidly in the country with various automakers adding a variety of new models for commuters looking for power and style along with fuel efficiency. These bikes offer you the best of everything. With a high mileage, they are powerful enough to easily manage the city traffic, while being low on maintenance. In spite of this at one point, people felt that 125cc bikes might replace the 100cc segment. This did not happen at all due to the mileage and prices. Price of these bikes is a major concern for a lot of people for not switching to this segment.
125cc bikes are powerful, gives good mileage and gives a premium experience but all these were not able to impress Indian buyers who want reliability, low price, and frugal commuter. Honda Shine is one of the best bikes in this segment and is growing not fast but surely penetrating in the 100cc segment.
Top five 125cc bikes in India with the highest average
1. Bajaj Discover 125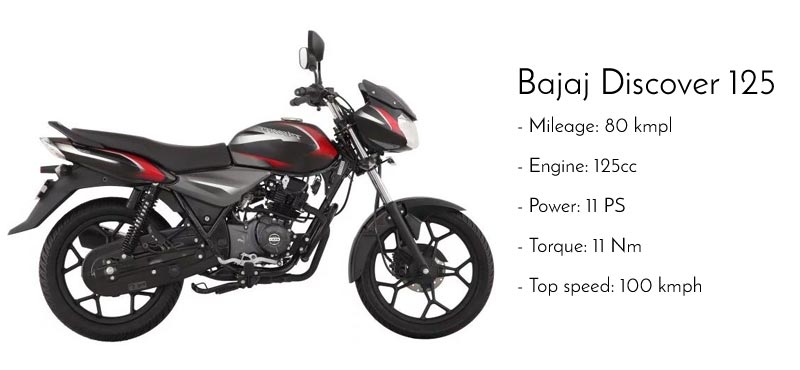 Mileage: 80 kmpl
Arai: 82.4kmpl
Engine: 125cc
Power: 11 PS @ 7500 rpm
Torque: 11Nm
Price: Rs. 56,051(Ex-Mumbai)
Top speed: 100 Kmph
Bajaj Discover 125 is one of the most reliable fuel efficient 125cc bike in India. The bike is powered by 124.5cc 4-stroke, single cylinder DTS-i engine. It is also fitted with Exhaust Torque Expansion Chamber or popularly known as ExhausTEC. This improves low and mid-range torque in the bike. The engine produces 10.8 BHP of peak power and 11 Nm of peak torque. 2018 model of the bike got some good cosmetic updates like analog tachometer that houses information about fuel level, trip distance, odo reading, and speed. Seat and tail lamps are also new. The power output of the bike is one of the best in the segment despite such high mileage. The top speed is claimed to be around 105-110 kmph.
2. Yamaha Saluto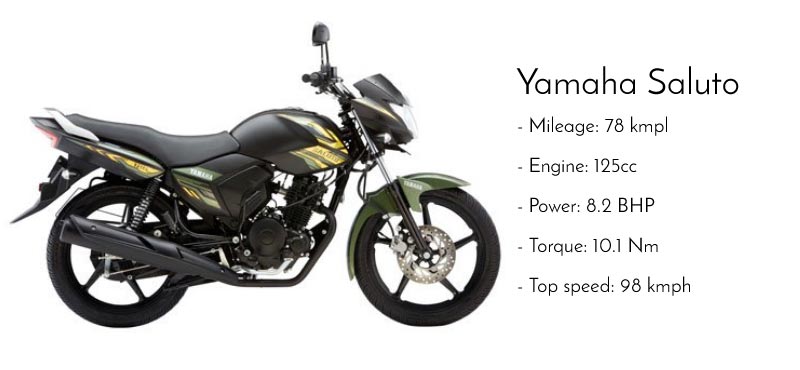 Mileage: 78 kmpl
Engine: 125cc
Power: 8.2 BHP @ 7,000rpm
Torque: 10.1Nm @ 4,500 rpm
Price: Rs. 55,898(Ex-Mumbai)
Top speed: 98 Kmph
Overall Riding Range: 592.8 km
Yamaha Saluto was launched in April 2015. The bike is fitted with 125cc, 4-stroke, air-cooled, single cylinder SOHC engine. The engine produces a peak power of 8.2 BHP at 7,000rpm and a peak torque of 9.8Nm at 4,500rpm. Blue Core Technology used in the bike is the primary reason for its better mileage. The lightweight of 112kg further adds to its fuel efficiency that stands at close to 78kmpl. Safety comes from its dual drum brakes on both wheels. Due to the lightweight, it is very easy to handle in heavy traffic too.
3. Hero Super Splendor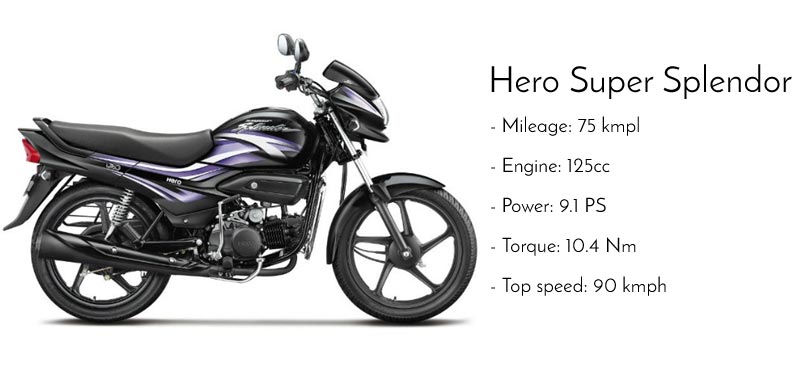 Mileage: 75kmpl
Engine: 125cc
Power: 9.1 PS
Torque: 10.4Nm
Top speed: 90 Kmph
Price: Rs. 55,989(Ex-Mumbai)
Known for reliability, durability and fuel efficiency, Hero's Super Splendor is the only Splendor bike in the 125cc segment. It is powered by a single cylinder, four-stroke, 125cc engine that can crank up a maximum power of 9.1PS at 7,000 rpm and torque of 10.35NM at the speed of 4,000 rpm. The powerful engine of Super Splendor extracts the best out of each fuel drop, resulting in lower emissions and better fuel economy. Developed on ASFS technology, Hero's Super Splendor delivers an average of 75kmpl.
4. Hero Glamour FI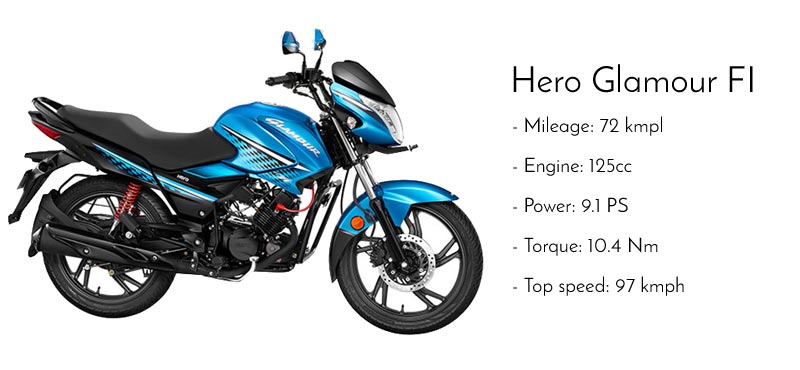 Mileage: 72kmpl
Engine: 125cc
Power: 9.1 PS
Torque: 10.4Nm
Top speed: 97 kmph
Price: Rs. 60,218(Ex-Mumbai)
Powered by a single cylinder, four-stroke, 125cc air-cooled engine, Hero Glamour FI is a stylish motorcycle with attractive color schemes. Its engine has got fuel injection that offers optimal fuel efficiency and excellent driveability. Hero Glamour FI wins the fuel-efficiency battle with a superb overall mileage of 75kmpl. Mated to a 4-speed gearbox, bike's engine produces maximum power of 9.1PS and torque of 10.35NM. Some other features of this wonderful bike include alloy wheels, a front disc brake and rear-view mirrors along with real-time mileage indicator. The bike is very responsive and crisp but could not match the price and spec of Shine.
5. Honda CB Shine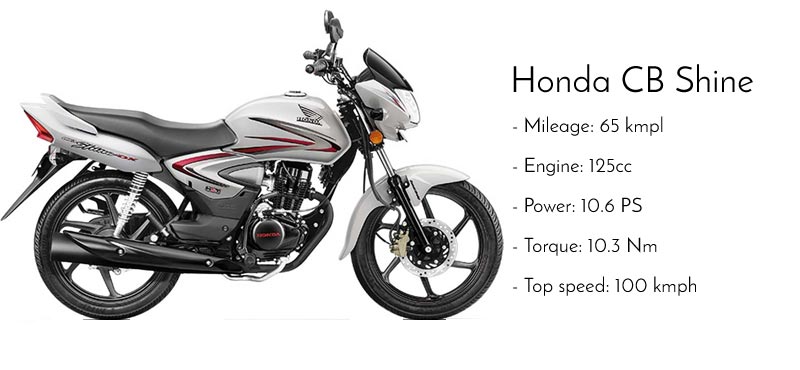 Mileage: 65kmpl
Engine: 125cc
Power: 10.6 PS
Torque: 10.3Nm
Top speed: 100 kmph
Price: Rs. 65,688(Ex-Mumbai)
The largest selling 125cc commuter motorcycle in India, Honda's CB Shine caters to customers who are ok with simple looks but expect efficiency and respectable performance. CB Shine is powered by an air-cooled, single cylinder, Honda Eco Technology (HET) engine which returns a maximum output in terms of power, ensuring a great balance of fuel-efficiency and performance. Its powerful 125cc engine can churn out a power of 10.6PS at 7500 rpm and torque of 10.3Nm at 5500 rpm. Shine gives an overall average of 66 kmpl. CB Shine is not the cheapest in the segment and does not gives best of average but still, people prefer it. It shows that price and mileage are important but reliability, engine, handling etc. are more important.
Yamaha SS 125(Discontinued)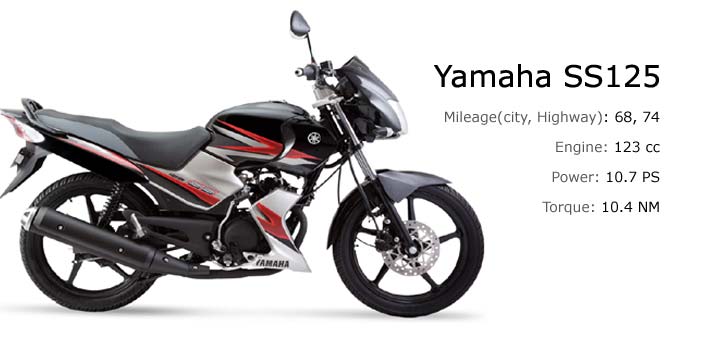 Mileage(city, Highway): 68, 74kmpl
Arai: 75kmpl
Engine: 123cc
Power: 10.7 PS
Torque: 10.4Nm
Price: Rs. 56,555(Ex-Mumbai)
Specially designed for people who love speed, Yamaha's popular model SS 125 boasts of speed and high performance. With a wild appeal and sporty look, Yamaha SS125 features quality mileage of 68kmpl as well as 950 km range for fuel efficiency. It's single cylinder, air cooled engine worth relying upon as it generates a power of 10.7PS at 7500 rpm and maximum torque of 10.4NM at 6500 rpm. Packed with lots of features, Yamaha SS 125 is basically a facelift version of the Yamaha's Gladiator that commits to offer speedy, flawless and smooth performance to bikers.
Suzuki Slingshot((Discontinued))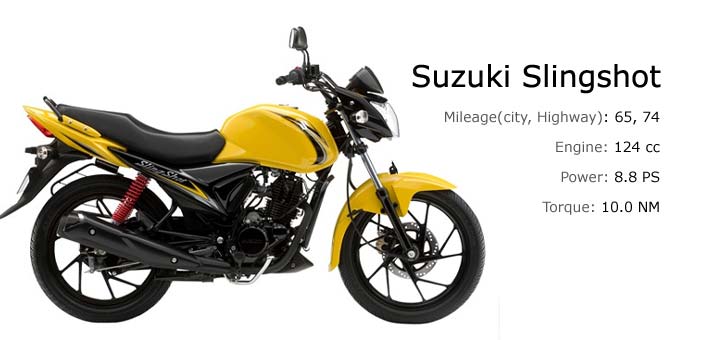 Mileage(city, Highway): 65, 74kmpl
Arai: 73.5kmpl
Engine: 124cc
Power: 8.8 PS
Torque: 10.0Nm
Price: Rs. 57,829(Ex-Mumbai)
SlingShot is Suzuki's 125cc motorcycle that offers top quality, comfort, style, excellent mileage and performance with an affordable price. This bike is powered by a fuel-efficient single cylinder, 125cc air-cooled engine that can produce a maximum power of 8.8PS at 7500 rpm and maximum torque of 10NM at 3500rpm. The bike offers an average speed of 0-60km/hr in 7sec and a top speed of 104km/hr. With 12 litres tank capacity, Suzuki SlingShot delivers an overall mileage of 67kmpl. It performs like 150cc bikes while consuming fuel like 100cc bikes.
Needless to mention, the 125cc segment is full of exciting yet reliable machines that ensures performance and power at the same time. If you're considering buying a new bike, hope the above list helps you in selecting an affordable, fuel-efficient yet powerful bike to serve your purposes.