The rising fuel prices in India might be the primary reason for the popularity these 5 bikes enjoy primarily due to their high fuel efficiency. Rise of lower middle class might be another reason for the popularity of these commuter bikes. If you are looking for a bike around 50K or below than you might want to choose from these 5 bikes.
Top features people look while buying a bike in this segment are price, mileage, ride quality, resale value and maintenance cost. The 5 motorcycles mentioned in this post have all of them.
This list can also be taken as top 5 100cc bikes for 2015 as all the bikes under Rs. 50,000 comes with 100cc engine.
1. TVS Star City Plus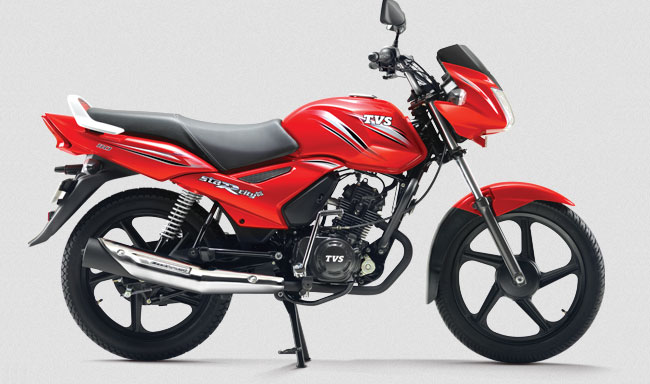 When it comes to looks, Star City Plus might not be the best looking bike but it is sure an improvement to the old Star City. When it comes to features, this bike steals the show with its economy meter. It tells you when your bike is guzzling more fuel and alarms you take action to normalize that by either slowing down or shifting to an appropriate gear. The service indicator is also an added feature which might be very useful for lot of people. When it comes to ride quality, TVS Star City Plus takes away the prize with its comfortable seating position, efficient suspension, best handling despite having a low seat height of 785mm. TVS Star City+ is the best value for money bike which excels in all areas except having an overall mileage of 68.3km/l which is just 1 to 2 km difference then the best. I am sure you many would want to ignore that.
Price: Rs. 44,000 (Ex Mumbai)
Engine: 110cc
Power: 8.4PS
Torque: 8.7Nm
Mileage(claimed): 86kmpl
Top Speed: 90kmph
2. Honda Dream Neo Kick Alloy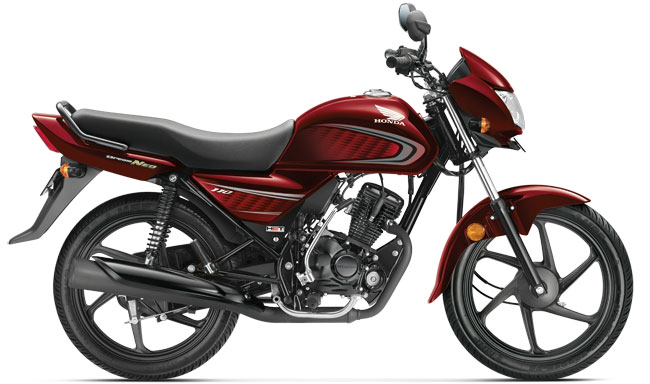 Dream Neo with its simple approach does look good, well almost next to Discover. But, when it comes to engine, Honda eco technology gives a big push to the refinement and improves efficiency. The suspension could have been better as you could feel it while cruising through large bumps. The bike gives great handling while driving through corners and is very stable. Dream Neo also gives best mileage of 69.6 km/l among the bikes listed here. The ride quality for it is best when it comes to city ride. The build quality for it is solid and reliability is high. Go for this bike if you are not that particular about looks as it excels in all other areas be it mileage, comfort, rigidity or engine refinement.
Price: Rs. 49,211(Ex Mumbai)
Engine: 109cc
Power: 8.4PS
Torque: 8.6Nm
Mileage(city/Highway): 70kmpl/77kmpl
Top Speed: 86kmph
3. Bajaj Platina 100 ES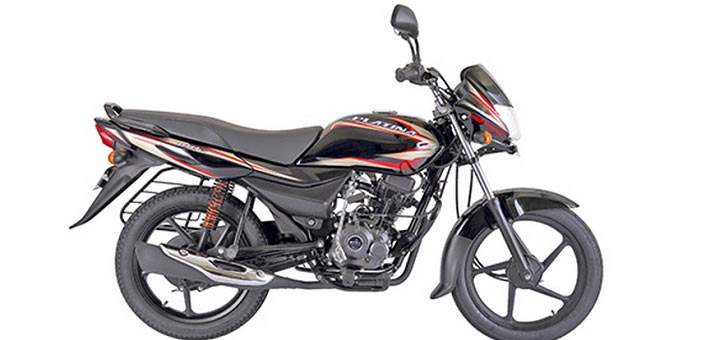 The highlight of this bike is its fuel efficiency which is best where it gives mileage of 86.5kmpl on city roads and 91kmpl on highways. Bajaj claims it to be fitted with the most efficient engine in the world and we agree to it completely. The upright riding posture which is common in commuter bikes is comfortable. There is an improvement in frame due to which Platina 100 ES could take up bad roads now with ease.
The displacement for the engine in the electric start model has bumped up to 102cc and is fitted with advanced DTS-i with exhaust TEC technology that is seen in bajaj's costlier bikes. The redesign has improved the overall performance where 5kg flap is eliminated, wheelbase is shortened by 20mm with a bump in torque by 0.55Nm to 8.6Nm at 5000rpm. The peak power is similar 8.2PS at 7500rpm to its older sibling. Top speed stands at 88kmph which is good. The engine is much refined in ES due to the new DTSi engine which gives a smooth ride at lower revs but also gives some vibrations at high speeds. ES is no doubt one of the best value for money bike.
Price: Rs. 46,720 (Ex Mumbai)
Engine: 102cc
Power: 8.2PS
Torque: 8.6Nm
Mileage(city/Highway): 87kmpl/92kmpl
Top Speed: 87kmph
4. Bajaj Discover 100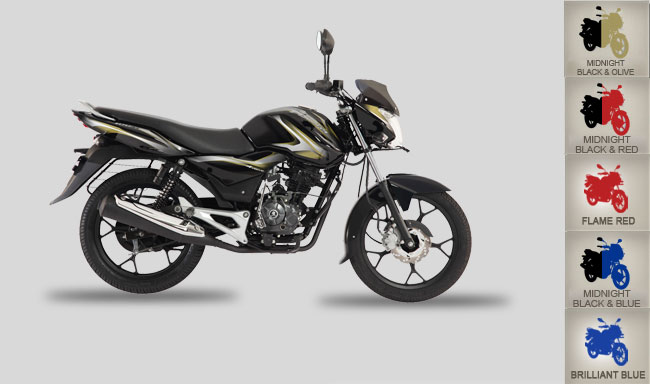 The best looking bike in this category. The bike is fitted with unique alloy wheels that is inspired by spider web, exhaust looks sporty in comparison to others and stands out, best rear shock absorbers that are gas charged and beautiful colors. When it comes to power plant, the bike is fitted with 4-valve DTS-i twin spark engine. If you are tall than try before you buy Discover as it might not be most comfortable of the lot for long distance driving. When it comes to riding on rough roads gas charged rear shock absorbers performs best. Discover is very stable while driving through corners due to its low center of gravity.
Price: Rs. 50085 (Ex Mumbai)
Engine: 102cc
Power: 9.3PS
Torque: 9.0Nm
Mileage(city/Highway): 68kmpl/75kmpl
Top Speed: 92kmph
5. Hero Splendor iSmart

The age old design and feel for this bike really needs a complete makeover. The two tone paint and some eye catching graphics might not be enough. The best part about this bike is its i3S technology (start stop). Once the bike is stopped and is in neutral for 5 seconds, the ignition is switched off. When the biker is ready to move, leaving the clutch starts the bike. This technology does give extra 2 to 3 km while driving in city. Suspension for iSmart also needs an upgrade so is the 20 years old design. The height of this machine is 785mm which is smallest in this category and a tall rider might feel uncomfortable while riding it. The mileage for this bike is 58-59kmpl which is not very good when compared to others. With all this shortcomings this bike holds top position in the list as it is hugely popular and best selling bike in India.
Price: Rs. 50955 (Ex Mumbai)
Engine: 97cc
Power: 7.8PS
Torque: 8.0Nm
Mileage(city/Highway): 56kmpl/65kmpl
Top Speed: 88kmph
6. Hero Passion Pro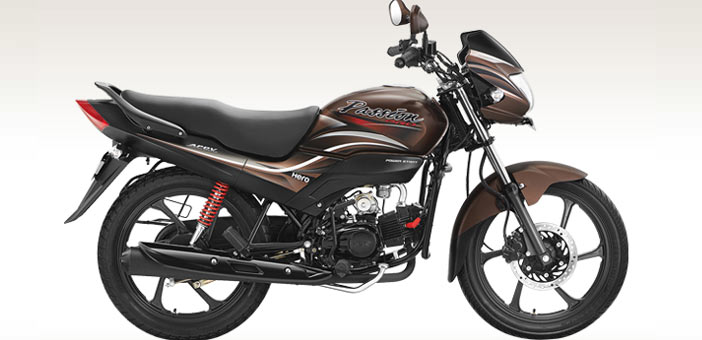 The best part of Passion Pro is its reliability, price, fuel efficiency and availability of service stations but its look has aged and needs a complete overhaul. Performance for the bike is not that great when compared to the others in the segment due to its heavy weight that ends up in low power to weight ratio. However because of short gear ratios it tries its best to match up with the rest. Front telescopic shock absorbers and rear hydraulic shock absorbers is well integrated with tubular double cradle frame to give a smooth ride even on bad city roads. It gets power from air cooled, 4 stroke 97cc single cylinder engine that gives out maximum power of 8.4PS at 8000rpm and peak torque of 8.05Nm at 5000rpm. It can reach from 0-60kmph in 12.2 seconds which is slowest in this list. The top speed of the bike is however 82kmph which again is very low.
Price: Rs. 48454 (Ex Mumbai)
Engine: 97cc
Power: 8.4PS
Torque: 8.1Nm
Mileage(city/Highway): 56kmpl/70kmpl
Top Speed: 82kmph