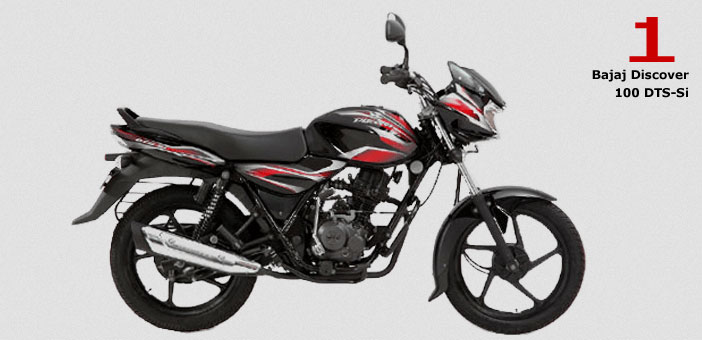 Bajaj Discover 100 DTS-Si is the most fuel efficient bike in India which gives close to 86 km per liter of petrol. The closest competitor for this bike is Hero CD Down which gives a mileage of 77 kmpl much below Discover.
Bajaj Discover gives best mileage in all riding conditions be it kuccha roads of a village or smooth city roads. The twin spark technology in the bike ensures a better mileage where power is not sacrificed by efficient combustion. The 5 speed gearbox also aids in the mileage and gives a very smooth ride. The bike gets complete combustion with least amount of fuel by pent roof combustion chamber that is especially designed for this motorcycle. The "ExhausTEC" technology ensures that you get good pickup even if your bike is on top gear hence you end up making less gear changes thus save precious fuel. There is also a ride control switch which helps user to know "fuel economy" zones.
Hero Motocorp have 3 bikes in the top 5 spots which shows how much emphasis the company gives to fuel efficiency. You could buy nearly any bikes from Hero and you might get close to the best fuel efficiency in all segments.
There is a very close competition between the bottom 4 bikes and Honda CB Twister is 5th with a very little difference from the other top bikes. If you want a bike that is stylish and gives best fuel efficiency then go for this one from Honda.
Top 5 Indian Fuel Efficient Bikes
| | | | | | | |
| --- | --- | --- | --- | --- | --- | --- |
| Pos. | | Bike Make/Model | Details | City | Highway | Overall |
| 1 | | Bajaj Discover 100 DTS-Si | The engine for this bike is very smooth and well refined, a great performance bike that comes with good ergos. The gearbox is a bit clunky but overall one of the best buy. | 85 | 89 | 86 |
| 2 | | Hero CD Down | The best bike in its segment with top of the line efficiency and performance. If you want to go for a 100 cc bike then go for it if you like its looks. | 76 | 78 | 77 |
| 3 | | Hero Glamour | The bike comes with great refinement and fuel efficiency is an added advantage. Lots of people might not like it because of its slight over styling. | 73 | 80 | 75 |
| 4 | | Hero S Splendour | If lack of grunt and old style could be ignored then you could go for this bike. You might love its fuel efficiency and refinement but there are better bikes in its segment. | 73 | 80 | 75 |
| 5 | | Honda CB Twister | This bike has one of the best styling and comes with the reliability of Honda. This motorcycle might not go well with the formals, well, who cares 🙂 | 73 | 79 | 74.5 |