Honda Activa

Price: Rs. 56,500 (on road Mumbai)
Engine: 109cc
Power: 8
Torque: 8.8
Mileage: 55 kmpl Overall
No other scooter in India can come even close to the popularity of Honda Activa which was launched in 2001 which saved the company from extinction in India. The all new version of Activa is going to further solidify its position as there are huge improvements that is going to give tough fight to competitors especially Wego. The telescopic suspension system is added and when it is coupled with front disc brakes, the bike gives remarkable control and precision to the ride. The speed of 70 kmph can be attained with ease and the scooter is well balanced at this speed too. It has more impulsive throttle inputs than its old version.
In January 2015 1,98,148 scooters were sold and this solidifies the number one position even further. It is not only the highest selling scooter in India but also 2nd most sold two wheelers.
To know more about how they rank in terms of fuel efficiency go here.
Hero Maestro Dlx


Price: Rs. 52542 (Ex. Mumbai)
Engine: 109cc
Power: 8.2 PS
Torque: 8.8 Nm
Mileage: 55 kmpl Overall
Hero Maestro is primarily a big powerful scooter for men which women could also drive. The masculine Maestro is 109cc engine which gives a peak power of 8.2bhp at 7500rpm with peak torque output of 9.1Nm at 5500rpm. It is fitted with similar engine as its nearest competitor Activa. In terms of acceleration Maestro lags behind Activa by a big margin as it takes 11.7sec to reach from 0-60kmph whereas its rival takes only 9.8sec. The top speed for it is also not very impressive and stands at 75-80kmph much lower than even Swish and Vespa LX125.
What makes it as number 2 scooter in India? Thanks to its refined engine ride quality, fuel efficiency, comfort, features that makes it stand tall despite its lagging acceleration and speed. The floorboard offers big legroom and the seating is very comfortable which would not give a back pain even for longer drives. It comes with 18 litre storage under seat with a bag hook to carry essentials. The combi brake system, tuff up tubes, anti slip design of floor, shutter fitted magnetic head ignition key are some of the impressive safety features. It si not directly competing with Activa(the number 2 two wheeler in India) and is placed just below it.
TVS Jupiter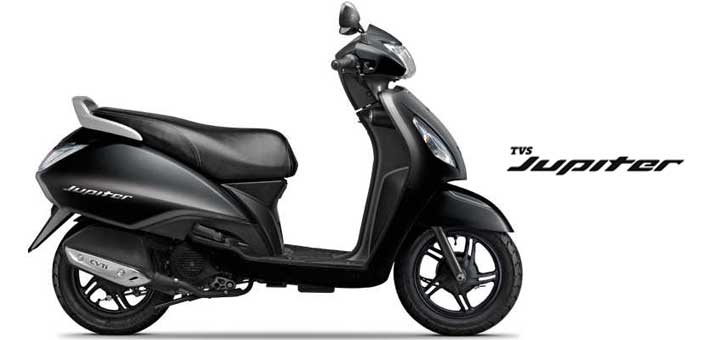 Price: Rs. 49599 (Ex. Mumbai)
Engine: 109cc
Power: 8.0 PS
Torque: 8.0 Nm
Mileage: 57 kmpl Overall
Catering to 36% of the male buyers population in India, yet again TVS Jupiter is a scooter for men which women would feel comfortable driving. It is built on the Wego platform with stunning design and host of value added features.
The scooter is powered by 110cc engine which gives 8bhp of peak power at 7500rpm and 8Nm of torque at 5500rpm. The fuel tank can take in 5.3 litre of petrol and its lid is similar to Wego located above tail light. The Econometer helps riders in both power and eco mode. The 17 litre under seat storage can take in helmet easily.
Jupiter gives good mileage which is 51.2kmpl on city roads and 62.3 on highways. It has a top speed of around 85kmpl and could go from 0-60kmph in just under 10.5sec.
Mahindra Flyte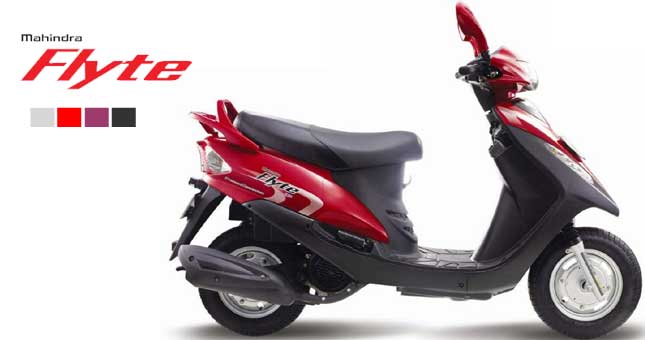 Price: Rs. 55,300 (on road Mumbai)
Engine: 125cc
Power: 8.1
Torque: 9
Mileage: 48 kmpl Overall
Mahindra might be a new entrant to the bike market but its scooter is the best because of its tight pricing, ultra smooth engine, largest storage space, styling as well as great fit and finish. The telescopic suspension of the scooter gives it an ultra smooth and comfortable ride. Other features include its impact resistant mirrors and the vibrant colors with a total of 5 of them to choose from. With 8BHP of maximum power, it could go to a maximum speed of 80km/hr. The seat is well designed and is comfortable for both the rider and pillion even in long rides. Telescopic suspension fitted in it ensures a smooth ride even in pot hole filled roads.
The machine is sold in European market under the name X'Pro 125. The major difference between it and Indian one is its ground clearance as we all know the type of roads we have. The seat design is also different for Flyte than its European counterpart.
Yamaha Ray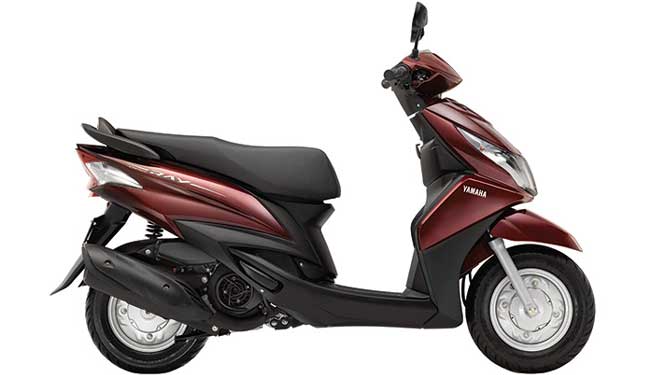 Price: Rs. 53,300 (on road Mumbai)
Engine: 113cc
Power: 7.1
Torque : 8.1
Mileage : 50 kmpl Overall
This one from Yamaha somehow got its name as ladies scooter and I agree to it completely. It looks very different than its competitors and has a very refined engine. It has telescopic front shock absorbers due to which the ride is very comfortable. The storage space in this bike is however a bit insufficient. The seating is very comfortable and centre and side stands are extremely smooth and effortless. Power output of bike is not the best at 7 bhp with a top speed of 86kmph.
Due to its light weight, it might be very suited for ladies but men can ride it too and lots of them do. It has 3 variants, Ray, Ray Z and Alpha. One of the major competitors for it is Honda Activa.
Below is the list of highest selling scooters in India –
Have a look at sales of Activa. The sales of this scooter was nearly 5 times than its nearest rival TVS.
| | | | |
| --- | --- | --- | --- |
| Make | Model | Sales: Jul – 14 | Sales: Aug – 14 |
| Honda | Activa | 191879 | 193728 |
| TVS | Wego/Jupiter | 41995 | 44934 |
| Hero Motocorp | Maestro | 32694 | 34489 |
| TVS | Scooty | 15417 | 16890 |
| Honda | Dio | 12203 | 13155 |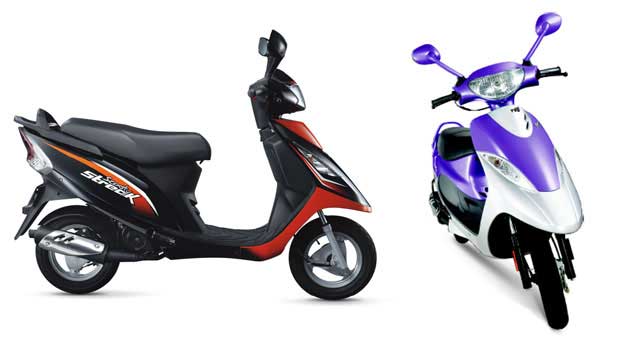 Honorable Mention – TVS Scooty Pep+, Streak
Price: Rs. 46,230 (on road Mumbai)
Engine: 87.8 cc
Power: 5.05
Torque: 5.8
Mileage: 64 kmpl Overall
Whenever you think of Indian scooters, first name few names comes in mind i.e. Bajaj Chetak, Vespa and Scooty. This is one of the 2 wheelers which changed the way women commute. Yes, this is primarily a women specific 2 wheeler. There used to be 3 models for this namely scooty streak, scooty pep+ and scooty teenz but now 1 of them was dropped and you get only Scooty Pep+ and Streak. This is the lightest of the all scooters available in India.
Most Promising New in 2015
Suzuki Let's


Price: Rs. 47,000 (ex Mumbai)
Engine: 110cc
Power: 8.7
Torque: 9.0
Mileage: 55.5 kmpl Overall
Suzuki Lets is the new entry but has everything to shake the above ranking. The most promising scooter for the first spot but since it is new we would like to see how people like it. Primarily focused towards young and girls, it carries a smaller footboard, light weight(98kg) that gives out impressive 8.7PS of power. It is going to be one of the fastest scooter on road in its segment. Buy it for its light weight, balanced, agile, sharp looks, acceleration, fun ride and overall most competitive pricing. The other great add-ons are tubeless tyres, stylish grab rail, central locking, safety shutter, mobile charger, good looking meter console, center stand to name a few.
TVS Zest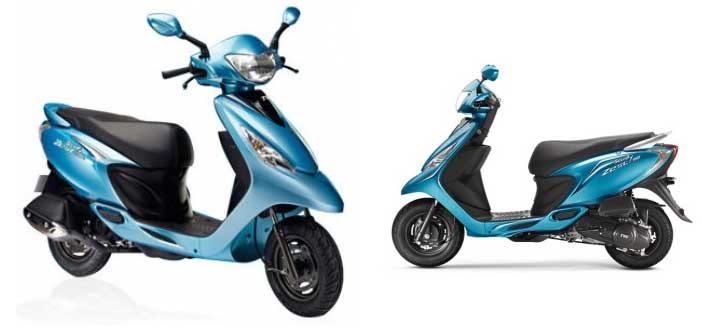 Price: Rs. 55,350 (on road Mumbai)
Engine: 109.7cc
Power: 8PS@7500rpm
Torque: 8.8NM@5500rpm
Mileage: 54.5 kmpl Overall
One of the best scooters when it comes to build quality. The finish is very clean and plastics are of very high quality. Though the scooty is positioned as a girly but under the stickers it is sporty, solid and thick especially the black color.
Zest 110 has a peak power output of 8PS at 7,500rpm that makes a torque output of 8.7Nm at 5,500rpm. The acceleration for this bike is fastest where it takes only 9.6 sec to reach 60kmph thanks to its lighter weight which is 98.5kg. One of the fastest in the category but the top speed is a bit less which is 83kmph. Though for city driving it might not be an issue. When it comes to fuel efficiency, this scooty gives an overall mileage of 55kmpl.
The ride is very smooth and quite comfortable over the bumps. Due to the lower height and small wheels riding through corners is a breeze. The under seat space is flat and wide which could hold lot of stuff.
Price for Zest no-road Mumbai is Rs. 55,350 which is slightly higher by 2-3000 than others. If getting this much money is not an issue than I would recommend you to go with this and believe me you would not regret.
Others
TVS Wego

Price: Rs. 56,030 (on road Mumbai)
Engine: 109cc
Power: 8
Torque: 8
Mileage: 51 kmpl Overall
This can be easily without doubt can be termed as full size scooter that is great for both men and women alike. The 110cc entry level scooter is manufactured in Hosur plant and is one of the bikes that gives tough fight to the mighty Activa. The rear shock absorbers are gas filled and comes with telescopic front suspension which ensures smooth ride. The 12in alloy wheels enhances the look with great looking LED tail lamps.
The storage space is neither very small and is not the largest either but has good enough space to fit in lot of stuff. The variomatic gearbox in the scooter gives it a great pickup and 109 cc engine gives out 8PS power with 8NM of peak torque. It is available in 6 different vibrant colors and has a total weight of 110kg which is optimal for scooter.
Honda Aviator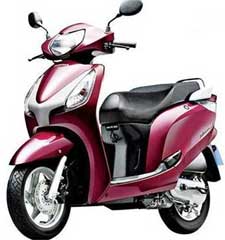 Price: Rs. 56,650 (on road Mumbai)
Engine: 110cc
Power: 8
Torque: 8.8
Mileage: 53 kmpl Overall
This is one of the best looking scooters in India. The seating is high, gives great overall fuel efficiency, built quality is very good and gives a smooth ride. The scooter is primarily targeted for male riders due to its tallish looks and high seating. The 109cc engine is same as in Dio and Activa. The mileage is decent and with introduction of Honda Eco Technology (HET), it has further improved. There are 2 variants for this scooter namely STD and DLX that has a price difference of Rs. 5-6000. The price difference is due to brakes where STD is fitted with drum brakes whereas DLX comes with front disc brake with CBS that makes it more reliable and safe.