As we all know, every bike lover are crazy about sport bikes, especially the heavy ones. Many luxurious bike manufacturers have designed bikes, whose looks make people wonder exactly how they were created. Not only looks, but performance-wise too, they are taking steps to stay ahead in the competitive class superbike segment.
Here, we have compiled some of the fascinating monsters with powerful engines and also the most costly bike of the nation. These bikes are very expensive due to their design, structure, outlook and speed. They have been designed keeping in mind the luxury as well as a thrill that a rider has in his mind.
Harley Davidson CVO Limited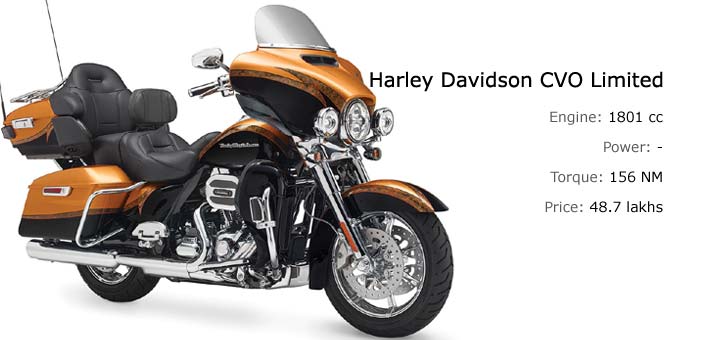 Engine: 1801cc
Power: –
Torque: 156.0NM
Fuel Tank: 22.7l
Kerb Weight: 433kg
Price: Rs. 48,719,60(Ex-Mumbai)
The most expensive bike in Harley-Davidson's line-up, the CVO Limited is at top of the list in terms of features, power and riding experience. It is a super-premium touring bike that offers the ultimate in convenience, comfort, style and power, along with fabulous paint and brilliant chrome. The CVO Limited is a proper blend of refined touring luxury and excellent custom styling. Powered by Harley-Davidson's largest-displacement 110ci V-Twin engine, tuned for low-end torque, this is a fully customized hand-built cruiser. Its powerful engine produces 156nm of torque at 3750 rpm and comes with a six-speed transmission. Available in three different paint schemes, Harley-Davidson has redesigned the CVO Limited for more power, comfort and a classic style.
Ducati Panigale 1299 S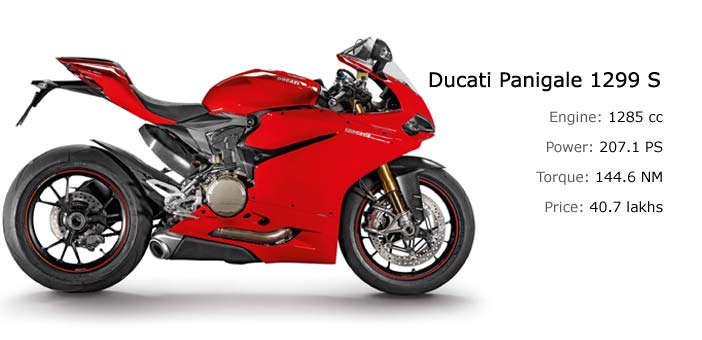 Engine: 1285cc
Power: 207.1PS
Torque: 144.6NM
Fuel Tank: 17l
Kerb Weight: 190.5kg
Price: Rs. 40,64,700(Ex-Mumbai)
Ducati Panigale 1299 S does not need any introduction; the next-gen Panigale superbike, undoubtedly the most thrilling motorcycle in Indian market! Panigale 1299 S combines stunning looks with superb handling and high-tech features. Equipped with multiple features such as Öhlins' EC semi-active suspension, forged wheels, an LED headlight and auxiliary handler buttons, the Ducati Panigale 1299 S steers superbly – thanks to its racy geometry and light weight that allows quick changes in direction. Powering Panigale S version is the new Superquadro, 1285cc, four-stroke, V-twin engine that produces peak of 205 horsepower at 11,500 rpm and 136.2 nm of torque at 10,250 rpm. It is utterly a brilliant bike with a superb blend of awesome performance with extra safety and technical refinement that was unimaginable a few years ago.
Indian Roadmaster Thunder Black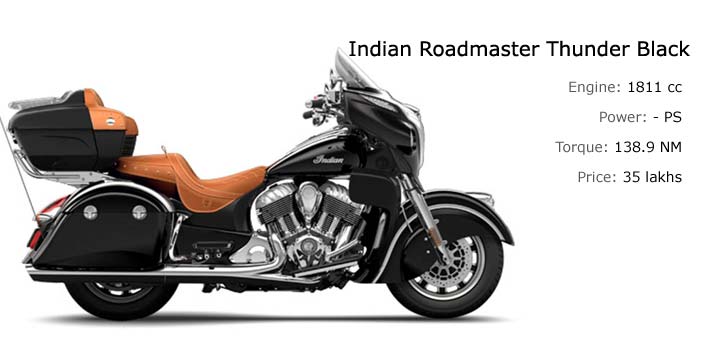 Engine: 1811cc
Power: –
Torque: 138.9NM
Fuel Tank: 20.8l
Kerb Weight: 418kg
Price: Rs. 34,95,000(Ex-Mumbai)
The epitome of luxury motorbike touring, Indian Roadmaster Thunder Black reflects pure American luxury. The Roadmaster comes loaded with premium features for convenience and comfort that sets it above all other in the line. It is the ride quality and performance that makes Thunder Black an outstanding performer in the V-twin touring segment. Among the highlights of Indian Roadmaster Thunder Black are the Thunder Stroke 111 engine which delivers an incredible 119 ft-lbs of torque, expansive storage capacity, heated seats and adjustable airflow control.
BMW K 1600 GT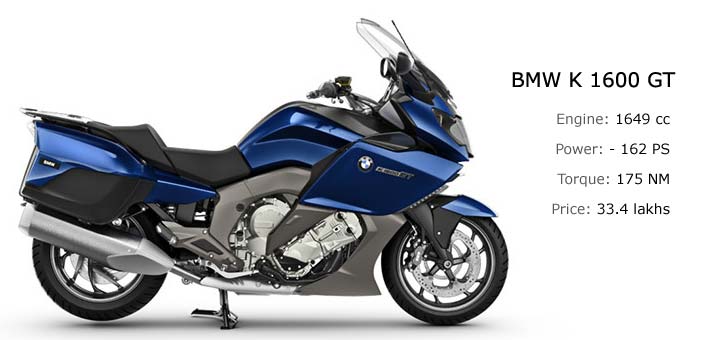 Engine: 1649cc
Power: 162.0PS
Torque: 175.0NM
Fuel Tank: 24.0l
Kerb Weight: 294kg
Price: Rs. 33,42,000(Ex-Mumbai)
BMW K 1600 GT, the unique sport-touring bike, is equipped with all that needs to be one of the most capable tourers on the street. The power-packed bike is built around an in-line, 6 cylinder, 1649cc engine that produces a maximum output of 160 hp at 7,750 rpm and torque of 129 ft-lb at 5,250 rpm. It is worthy to be mentioned that over 70% of torque is available from only 1500 rpm. Noted for its specifications, one of the unique features of BMW's K 1600 GT is the innovative adaptive headlight which provides you the highest level safety while riding. Riding BMW K 1600 GT is an inspiring experience as its transversely installed power units deliver a dynamic performance, along with refined running smoothness.
Ducati Panigale 1299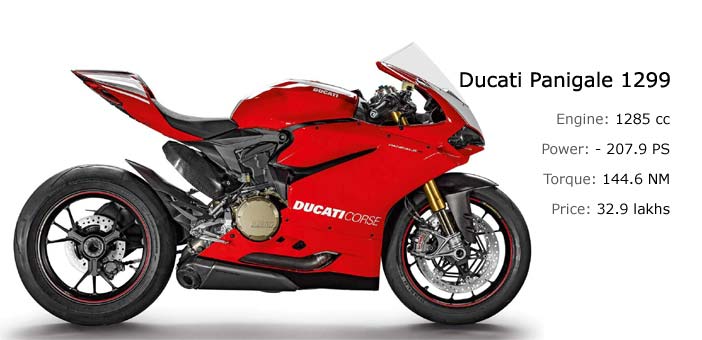 Engine: 1285cc
Power: 207.9PS
Torque: 144.6NM
Fuel Tank: 17.0l
Kerb Weight: 190.5kg
Price: Rs. 32,94,601(Ex-Mumbai)
While Ducati's Panigale 1199 set new standards with its innovative aluminum monocoque-framed chassis and sleek styling, the Panigale 1299 is a dramatic evolution of company's superbike lineup over 1199 version. Breathtakingly stylish, Panigale 1299 is Ducati's hard-core super sports bike that blends mind-blowing 200bhp performance with racer-like handling, outstanding safety features and reasonable comfort with Italian style. Albeit very expensive, it is a magnificent motorbike that every racer would love to ride. When it comes to technical excellence, Panigale 1299 leaves no space for compromise. It's powerful Superquadro V-twin engine puts out 205 hp and stunning torque of 106 lb-ft. Incredibly freaking fast, Panigale 1299 is a challenging and demanding motorcycle to ride.