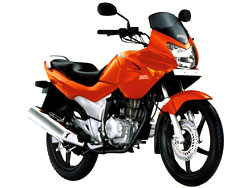 Touching 2 extremes i.e. with a 223cc engine Hero Honda Karizma has the highest engine capacity in the Indian Bike market and it is also one of the lest fuel efficient bike in the Indian market. If you are looking for power, acceleration, speed and fuel consumption is not a problem then it is THE best bike available in the Indian market.
It is more of a touring bike then a racer. The engine does not heats even at high speed and the power delivery is very smooth. Hero Honda Karizma is not that good in its acceleration as compared to other high quality features but it goes well on high speeds. The bike feels less stressed even on long distances.
Riding posture is a bit sporty but comfortable. Karizma is relatively heavy and stable bike which is more due to long wheelbase that keeps it well planted to the ground even at high speeds. It uses one down and 4 up gears and the handling of the bike is quite simple even for people with average height.
It gives a mileage of 30-40 if driven properly which could be considered as poor in Indian scenario. Once you ride the bike you would appreciate the technology behind this bike and the mileage factor will seem immaterial.