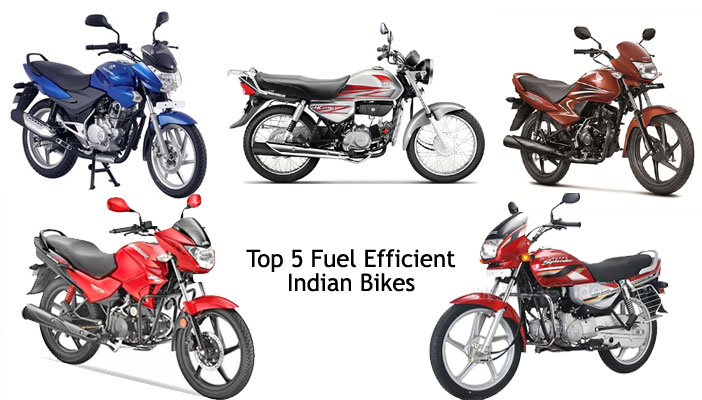 Given below is a list of top Indian Bikes Mileage in descending order. I have not mentioned all the models in the list or else the list would have been very big. I have tried to take all the top selling bikes. According to the list the bike with the top mileage is Bajaj Discover 100 DTS-Si (86 kmpl) and least is Honda VFR with 13 kmpl.
If you look at Indian bikes mileage closely, Hero Motocorp tops the chart with 4 bikes out of top 10.
Lets have a closer look at the super fuel efficient bikes:
Bajaj Discover 100 DTS-Si: Light weight bike with kerb weight of 115kg gives great performance and has a refined and smooth 94.38cc engine. Other than the gearbox which is a bit clunky, it is one of the best commuters for Indian roads.
Hero HF Dawn: One of the best bike in 100cc segment that comes with reliability of Hero Motocorp. It is fitted with efficient 97.2cc engine that gives 7.7Ps of power with 7.5Nm of torque. It is one of the lightest bike with kerb weight of 107kg.
Honda Dream Yuga: Comes from Honda which is known for its build quality and refined engine. Disc brakes would have made this a perfect city bike. The suspension is a bit stiff too which I am sure Honda would improve in the new model.
Hero Glamour Fi: Hero is a specialist auto maker when it comes to mileage. The 125cc bike with 9.13Ps of power that gives out 10.35Nm of torque is a mix of power and fuel efficiency. A bit pricey but one should not complain if requirement is power as well as efficiency.
Hero S Splendor Super: Another 125cc bike from the India market leader which has both power as well as fuel efficiency. It might not be the best looking but the price makes up for the deficiency.
| | | |
| --- | --- | --- |
| Sl. No. | Indian Manufacturer and Models | Effective Overall Mileage kmpl |
| 1 | Bajaj Discover 100 DTS-Si | 86 |
| 3 | Hero HF Dawn | 77 |
| 4 | Honda Dream Yuga | 75 |
| 5 | Hero Glamour Fi | 75 |
| 6 | Hero S Splendor (Super Db ES) | 75 |
| 7 | Honda CB Twister(kick-drum, self-drum, self-disc) | 75 |
| 8 | Hero Splendor NXG | 72 |
| 9 | Yamaha Gladiator SS 125 | 70 |
| 10 | Mahindra Centura | 69 |
| 11 | Mahindra Stallio | 68 |
| 12 | Mahindra Pantero | 68 |
| 13 | Bajaj Pulsar 135 LS | 68 |
| 14 | Suzuki Hayate | 67 |
| 15 | Suzuki Slingshot | 67 |
| 16 | Yamaha Alba KS/ES/G5 | 66 |
| 17 | Bajaj Platina 100 | 65 |
| 18 | Honda CBF Stunner(ES) | 65 |
| 19 | TVS Scooty Pep+ | 64 |
| 20 | TVS Star City | 64 |
| 21 | Hero Passion Plus | 63 |
| 22 | Hero Passion Pro | 63 |
| 23 | Hero Splendor Plus | 63 |
| 24 | Hero Splendor Pro | 63 |
| 25 | TVS Phoenix | 63 |
| 26 | Honda CB Shine | 63 |
| 27 | TVS Apache RTR 160 FI | 57 |
| 28 | TVS Jive | 62 |
| 29 | Honda CB Unicorn | 60 |
| 30 | Yamaha Crux | 60 |
| 31 | Yamaha Ceux S | 60 |
| 32 | Bajaj Pulsar 150 DTS-i | 58 |
| 33 | Hero CBZ Xtreme | 58 |
| 34 | Hero Ignitor | 58 |
| 35 | Hero Hunk | 58 |
| 36 | Suzuki Swish | 57 |
| 37 | Vespa | 55 |
| 38 | Honda Activa | 55 |
| 39 | Yamaha SZ | 55 |
| 40 | Honda Dio DLX | 54 |
| 41 | TVS Jupiter | 54 |
| 42 | Suzuki GS150R | 54 |
| 43 | Honda Aviator(drum/disc) | 53 |
| 44 | Hero Maestro | 53 |
| 45 | TVS Wego | 52 |
| 46 | Honda CBR150R | 51 |
| 47 | Bajaj Pulsar 180 DTS-i | 50 |
| 48 | Hero Pleasure | 50 |
| 49 | Yamaha Ray | 49 |
| 50 | Yamaha FZ Fazer/F16/FZ-S | 48 |
| 51 | Honda CB Trigger | 48 |
| 52 | Mahindra Duro | 48 |
| 53 | Mahindra Flyte | 48 |
| 54 | Mahindra Rodeo RZ | 46 |
| 55 | TVS Apache RTR 180 | 45 |
| 56 | Suzuki Access | 45 |
| 57 | Hero Karizma ZMR | 44 |
| 58 | Yamaha YZF-R15 | 41 |
| 59 | Hero Karizma Red Cast | 41 |
| 60 | Bajaj Pulsar 220 DTS-i | 40 |
| 61 | Royal Enfield Electra Standard | 35 |
| 62 | Royal Enfield Thunderbird Twinspark | 34 |
| 63 | Bajaj Pulsar 200 NS | 33 |
| 64 | Suzuki Inazuma | 32 |
| 65 | Honda CBR250R | 30 |
| 66 | Royal Enfield Cafe Racer | 28 |
| 67 | Honda CB1000R | 17 |
| 68 | Honda CBR 1000RR Fireblade | 16 |
| 69 | Honda VFR | 13 |