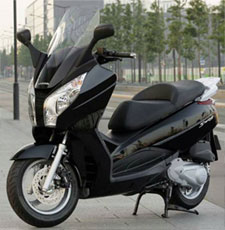 New Honda S-Wing 125 is the latest member of Honda's scooter family. The new age design scooter is targeted at urban commuters.
It is one of the most Eco-friendly scooters with lowest emissions in its class. It has liquid cooled fuel injected motor which offers excellent performance and acceleration. S-Wing comes with front fork similar to motorcycles and dual damper rear suspension unit to ensure a comfortable ride for both pillion and rider.
The storage compartment of the new Honda boasts a large easy access lockable compartment under the seat. It has a room for 2 helmets and a briefcase. This storage compartment also boasts an impeccable finish, with carpet, lighting, 12-volt socket and a removable divider to keep wet items away from delicate objects.
The 13-inch-diameter front wheel and 12-inch rear wheel make for particularly effective handling in the city. In heavy traffic, the S-Wing proves very easy to ride, thanks to perfectly neutral handling at low speeds and an ultra-short turning circle.