Ya , I would like to share my experience with all the 150 cc bikes which I have drove personally.
150cc bikes in India
Top End Speed
Bajaj Pulsar 150 DTSi just tries to upgrade their existing version to a higher platform.
The top end speed I rode was 120 in UG2 but in UG3 I was not able go above 115km/hr and it struggles after touching 93km/hr . The noise produced is heavy. (would fear about engine) hmmmm..
Honda Unicorn, the product from Honda is a good one too. This soundless beast (compared to pulsar) reaches smoothly 115km/hr. No problem with it, but I was not able to go more than this speed as my road was little bumpy.
Hero Honda CBZ XTreme – one of the hefty bikes in this series is very powerful, MR LONG, has a great tendency to reach top end speed with less time. It reached 125 km/hr. Speedo error is also present so average of 120 km/hr. The acceleration from 60-100km/hr is best. This uses old unicorn engine, as it has soundless feature like in unicorn.
Hero Honda Hunk is also a HH product. Yes, it also reaches 115km/hr as the specification is the same as CBZ (I have not rode it).
Apache RTR is a 160 cc bike produces 15.2 bhp which is the leader here . It reaches 132km/hr, but I am sure the speedometer has error in it . To tell I think it has reached 125 km/hr.
Styling:
Pulsar wins here with styling because Bajaj mainly aims up only with the sleek design factor. Trendy headlight, mighty tank and sharp end tail. But that doesn't mean that others are bad.
Apache RTR is the smallest bike : BEST suitable for people with height less than 5'6
Bajaj Pulsar 150 DTSi : not more than 5'10
Honda Unicorn : 5'10
Hero Honda Hunk: 5'8?-5'11
Hero Honda CBZ Xtreme: Best suitable for more than 6 feet guys
Ride comfort mainly comes with CBZ Xtreme and unicorn only. If u r willing to do extra fitting like 2-piece or 3 – piece handle bar, pulsar is best. People who really like toe shifting try out for Apache or CBZ.
Mileage:
This is where we Indians look greatly onto. Guys come on, this is a 150 cc segment , a power session from here and India is further developing onto higher cc segments, so from now onwards do not try to speak of mileage, but still I can give the mileage provided by the bikes
These mileages were tested by me only:
Petrol was poured up for Rs 20/- on the reserve point and drove till next reserve point, the speed was set for it and the average was found.
Pulsar: Best > 64 km/l UG3( drove not more than 45 km/hr and gear shifting was at 3500 rpm. Worst>33km/l (drove in drastic condition)
Apache: best > 57km/l worst> 28km/l
Unicorn: best > 67 km/l worst> 39km/l
Hunk: best 58km/l worst 37km/l
CBZ: best 66km/l worst 32km/l
Well, if u are very much concerned about mileage then I would recommend u to take over either pulsar, Unicorn or CBZ according to your height and riding condition.
Acceleration :
Apache is best in acceleration followed by CBZ Hunk, Pulsar and Unicorn
Ride Comfort :
Unicorn and CBZ tops in this category. Pulsar has a huge tank, a big bulge in front of you, well, there are guys who lost there defiantly male thing (am serious about it) by applying sudden breaks.
Maintenance :
Pulsar and Apache has good looks and latest Digital speed Console that is good, but in terms of cost if these had any damages u will suffer in it. The cost is high. Bajaj, TVS have higher cost maintenance than other bikes. Gearbox in Bajaj has got some problems, but those people has to tried to rectify it. Hero Honda which is good company has not got big equipments on HUNK and CBZ , so if there are any damages, you can easily repair it with low cost compared to others.
MONEY VALUE :
Well, all the bikes come around 63000- 68000 INR . After spending this much money u need to put petrol as well as maintain the bike too.
So who is the winner?
Hero Honda CBZ XTreme > Bajaj Pulsar 150 DTSi > Apache RTR > Honda Unicorn > Hero Honda Hunk
This is my judgment and opinion as i have drove all the bikes except Hunk. I would recommend u people to go for CBZ if you are tall, want mileage and value for your money.
Note: This post was submitted by one of the visitor at speedmasti. Thanks Prakash for a nice review.
Come 2014 and we have lot of new muscle street bikes with better looks and worthy of 150 cc crown. Let us find out which is better of them –
Suzuki Gixxer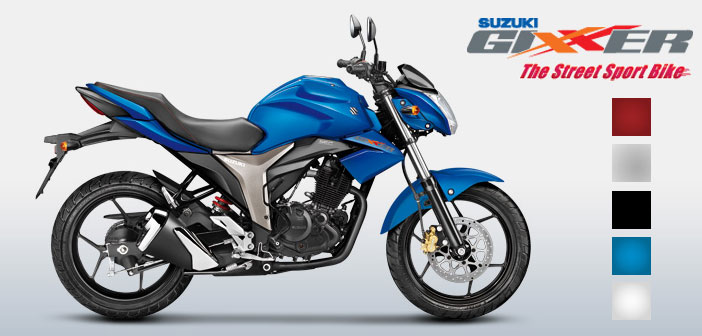 It is the 1st motorcycle from Japanese maker that is made truly for India. Gixxer looks sporty, has loads of high end equipments and the engine is tuned as such to give best performance at low ends.
When it comes to looks this Suzuki's bike looks much better that any other 150cc bike in India. Just look at its grab bars in the back. That is called a great design. The stylish 6 spoke rims looks great and very modern. The headlights are bright and all the digital equipments are nicely placed. There is a warning beep when the rider exceeds revs at any particular gear which could be very handy. Tank looks masculine and gives good thigh grip while riding the bike. There is an optional bigger mud guard which could be detached after rainy season with smaller and sleek version of the same. The exhaust canister has dual outlets with chrome accents.
The bike is fitted with SOHC air cooled 4-stroke 150cc engine. It gives out 14.6 BHP of power at 8000rpm and peak torque of 1.3kgm. It reaches 0-60kmph in just 5.61 seconds. The true top speed for the bike is 116kph.
The overall mileage is around 42.9kmpl which might not be great but if you are going to buy it you might not be buying it for its mileage. Right!
Price: Rs. 72.199 (ex-showroom Delhi)