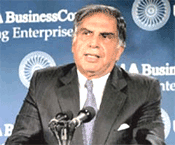 Could Tata Rs. 1 Lakh car dent the Indian bike market?
Not much… Let's have a look at it closely. Who could be potential buyers of this car?
1. People who opt for high end sports bikes like top of the line Bajaj Pulsar and Hero Honda Karizma which are in the price range of Rs. 70,000 and Rs. 80,000. The difference between the price of Tata car and these bikes is mere 20,000. These people form a very small segment of bike market and are more of enthusiasts. There is unlikely that Tata will be able to get a large number of buyers from this segment of bike lovers.
2. The other segment of bikers is family oriented people who opt for highly popular 100-125cc bikes. The prices of these bikes fall below Rs. 50,000. Now the price difference between this segment bikes and Tata car is whooping Rs. 50,000 – Rs. 60,000. This is quite high for these masses and the difference in price will put Tata car out of reach. Maintenance cost and mileage will be another reason why masses will not opt for this 1 Lakh car.
The growth of bike market is huge which could take small dent as some bikers will certainly opt for Rs. 1 lakh car.