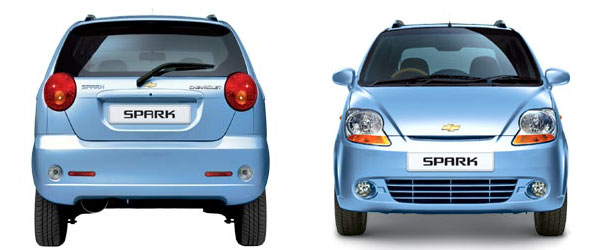 Chevy Spark Review: General Motors storms into the global auto market with Spark and sizzle. The Chevrolet Spark emerges as a strong contender in the small cars segment, facing heavyweights like Maruti Suzuki (in countries like India). The original Daewoo Matiz comes to the subcontinent as Chevrolet Spark, with an undisguised objective of capturing a lion's share in the small cars segment. In the words of Mr. Rajeev Chaba (GM India President and MD), "The Chevrolet Spark is the world's newest-generation compact city car. It sets a new standard for its segment through its modem design, clever space utilization, affordability and solid engineering."
The compact style-on-wheels car has a welcoming exterior design with emphasized head lamps and tail lamps, a solid bumper, rear spoiler and sharp shoulder lines with a V-shaped design completing the effect. A tough stance and a smiling profile complement each other in harmony. Overall, the car has a stunning 3D look and friendly appeal. Interiors are equally impressive, with ergonomically designed control panel and cozy seating materials. Add to that some cool convenience features and storage room and you get a comfortable city car.

It is easy to think of the Spark as your comrade in commuting. The 1.0L 4 cylinder S-Tec engine (Mated to 5-speed manual transmission) is remarkably good on fuel economy owing to a low drag coefficient. Among others in this segment, peak power per engine displacement is highest in this car.
Easily maneuverable, light and speedy, the Spark is an agile performer on the roads, delivering 63 PS. Fuel is used well at low speeds, making the Spark ideal for tackling city traffic. Oh yes, the latest standard safety features and meaty options are put together neatly. Choose between 4 trim levels starting at Rs 289,000.
With a tag of "The Most Attractive Car of the Year" from Italy, the mini-passenger model Chevrolet Spark is already a heart throb in Europe. Compact, stylish and street savvy, the aerodynamically styled Chevrolet Spark weaves in and out of traffic like no muscle car can. GM seems to have struck the right chord with stressed urbanites looking for a car that understands.
Our word: Very metro, affordable and ultra-cool. The Spark is low on maintenance, high on performance and comfort, and comes with the Chevrolet reputation. Hard to beat! With a focus on "Evolution not revolution", the Spark has got everything right. Do not forget to give your feedback on the Chevrolet Spark Review.
Prices of Chevrolet Spark in Mumbai, Delhi & Chennai (in Lakhs)
Chevrolet Spark
Mumbai:
Rs. 3.23
Delhi:
Rs. 3.4
Chennai:
Rs. 3.23
Chevrolet Spark E
Mumbai:
Rs. 3.01
Delhi:
Rs. 3.17
Chennai:
Rs. 3.01
Chevrolet Spark LS
Mumbai:
Rs. 3.5
Delhi:
Rs. 3.67
Chennai:
Rs. 3.5
Chevrolet Spark LT
Mumbai:
Rs. 3.79
Delhi:
Rs. 3.98
Chennai:
Rs. 3.79