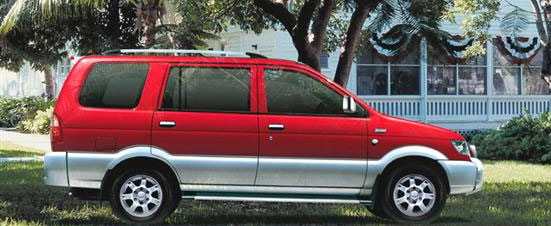 Chevrolet Tavera Reviews: If you are looking for a good multi utility vehicle from General Motors, try the Tavera. The Chevrolet Tavera SUV has been introduced to the Indian Subcontinent car market with the promise of exceeding the customer's expectations. Car buyers are spoilt for choice here, with manufacturers offering a car for every need. The Chevrolet Tavera is bulk and power, with flexible seating arrangements for seven to ten occupants. This SUV is available as Tavera B1 and Tavera B2, with pricing anywhere between 6 to 10 lakh in India. Good mileage, comfort factor and rock-solid performance, you can say that the Tavera is tempting enough.
The Chevrolet Travera's 8-valve Direct Injection Turbo Diesel engine has a capacity of 2.5 L with displacement 2499 cc. The Travera gives you an average mileage of at least 14.3 km per liter. Trust the vehicle to take its occupants to the destination safely and in comfort. The Noise Vibration Harshness system is effective enough for good ride quality on all roads. And in India this can be highly successful with bad road conditions at a lot of places. The engine comes mated with a nice 5-speed manual transmission for smooth shift.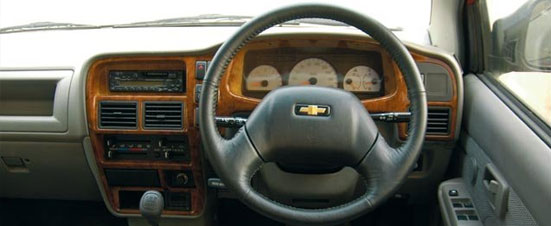 Performance and looks complement each other perfectly in this mean machine. The bulky SUV has the room and the strength to carry loads without complaint. The Ergomax seating in this multi-utility vehicle deserves special mention. Dual horn, lockable glove box, intermittent front wiper, inside rear view mirror, rear door child lock, full fabric floor carpeting and many other features adorn the B1, with the B2 adding on. Tinted glasses, 2.5 LS badging, plastic molded hub cap, A/C plus heater are all available with the Chevrolet Travera B2. The ergonomically designed control panel leaves you contented about owning the Travera.
Middle class buyers can look at the Travera as a safe, comfortable SUV that delivers on the road with muscular looks to match. It will please men with is strength and women for its quality and comfort.
Our Verdict: This can be a great and comfortable option for a larger family. Go for it if you love driving long distance. This can be a perfect companion for long distance travel.