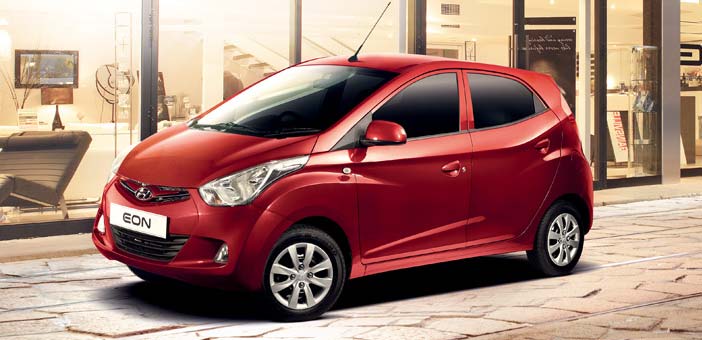 Hyundai Eon was first launched in 2011 and it is the entry level car for the company that replaced aged Santro though it is cheaper and less powerful than its sibling.
Looks
Large chrome radiator grille gives kind of sporty look to the car; it also helps in increasing radiator and engine cooling efficiency. Swept back headlamps, front fog lamps, eight spoke wheel cover, body colored outside mirrors and door handles match perfectly with hatchback's fluidic design. Roof antenna offers sporty touch to the car's front, but everyone might not appreciate it.
High-mounted LED stop light, extra large reflectors, and rear combination lamps are also well suited. Overall, Eon looks attractive, dynamic and funky at the same time. Car experts often compare certain aspects of Eon's design with Hyundai's i10 and Verna.
Engine
Eon is powered by 3 cylinder, 814cc petrol engine that gives peak power of 55.23bhp at 5500rpm and maximum torque of 74.92Nm at 4000rpm. The engine for the car is powerful than its rivals Alto 800 and Kwid with poth having engine displacement below 800cc. But this power is compromised a bit by the kerb weight which stands at 715kg, 50kg more than Kwid but 10kg less than Maruti car. 0 to 100kmph for Eon comes in just under 11.60 seconds and that makes it quickest car in the segment.
Eon's 1-liter Kappa engine was launched in May 2014, perhaps, to attract car lovers looking for powerful hatchback. Thanks to this powerful engine, Eon can compete with Chevrolet Spark, Alto K10 and Datsun Go. Both engines are fitted with 5-speed manual transmission gearbox. The car can reach 100 KMPH in 19.08 seconds. Eon's fuel tank capacity is 32 liters. The hatchback has MDPS tilt steering.
Suspension and Braking
It is the first car in India to introduce gas charged shock absorbers in car's suspension system in this segment. Front suspension is managed by McPherson strut suspension system combined with gas charged dampers, and coil springs. While the rear suspension is managed by gas charged absorbers combined with coil springs and torsion beam axle suspension.
Front brakes are disc brakes, while rear brakes are drum brakes. Car's braking system and suspension are impressive for sure.
Ride and Handling
Suspension is well integrated to the frame with the primary intension to give comfortable ride in slow and mid range speeds. The soft suspension is able to silently gooble all of the road imperfection with ease at low speeds. This is not the case with high speeds where the bumps and pot holes is is able to filter through and could be felt easily. A lot of up and down movements could be felt while driving through really bad roads. There is also a bit of problem with steering and the driver has to be cautious while on road. One has to keep a firm hand on steering while driving in straight line or the car is likely to steer around a bit.
Interior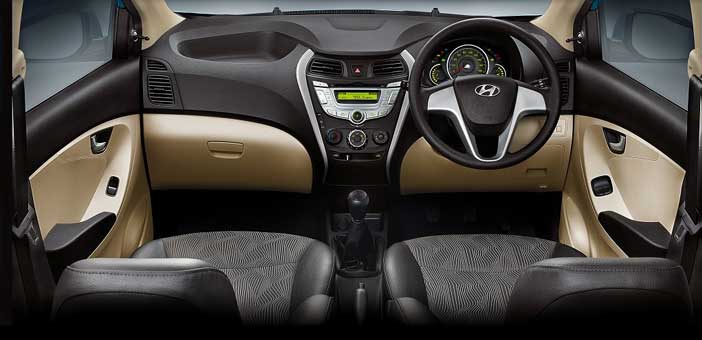 Dual tone interior, 3 spoke steering wheel, curvy center console system, and door handles with metallic finish give luxurious feeling. Climate control system takes care of cooling, heating and ventilation inside the cabin. Gauge cluster has three-barrel design, and 2-din audio system is also impressive. Seats are comfortable, and offer sufficient back and thigh support.
The dashboard storage space, bottle and map holders on front door, and floor console storage space that can be used to keep phones, documents, etc. takes care of passengers' small needs. Eon offers boot storage space of 215 liters. Reinforced floor panel, reinforced side doors, and strong radiator support panel assure safety for passengers. Some other safety features are- driver's airbag, and key less entry and central locking system.
Mileage
There are two petrol engine options available for this hatchback, 0.8L iRDE and 1.0L Kappa. The 0.8L iRDE motor offers mileage of around 21.1 KMPL, while 1.0-litre engine offers mileage of around 20.3 KMPL according to the car maker. However, in actual conditions Eon offers an average of around 24 KMPL on highways, and around 15 KMPL while traveling on city roads. Eon is also available in LPG variant.
Competition
As said earlier, the car is often compared with Chevrolet Spark, Alto K10 and Datsun Go. The absence of ABS and single airbag in Eon has disappointed many car lovers. Eon's interior is considered better than the one offered by Alto. But Maruti's car offers better fuel efficiency than Eon. However, if you compare overall features and price point, you will find that Eon proves to be the winner. It is available in six variants, and is priced between Rs 2.90 lakh and Rs 3.90 lakh. Price depends on the variant, and all the applicable taxes.
Hyundai Motor India was recently in the limelight, as the company's Facebook page has crossed five million fans mark. Several news reports suggest that Hyundai is all set to launch new Eon in 2015. The car maker has not revealed any details as of now (while writing this review), but car lovers wish to see automatic gear box with new Eon.
2015 Hyundai Eon Prices in India
On Road Prices
Model
Mumbai
Delhi
Chennai
Kolkata
D-lite
3,19,000
2,95,000
3,18,000
3,17,000
D-lite+
3,52,000
3,26,000
3,51,000
3,47,000
Era+
3,68,000
3,41,000
3,67,000
3,62,000
Magna+
4,03,000
3,74,000
4,02,000
3,94,000
Sportz
4,29,000
3,98,000
4,27,000
4,17,000
D-lite+LPG
3,99,000
3,80,000
3,87,000
3,84,000
Ex-Show Prices Magna+
Mumbai
Delhi
Chennai
Kolkata
3,65,000
3,48,000
3,55,000
3,51,000
Car Specification
Technical Specifications
Make
Hyundai
Model
Eon Magna+
Displacement
0.8
Cylinders
3
Max Power (ps)
56
Max Torque (Nm)
76.5
Gears
5M
Layout
FWD
Performance
Acceleration 0-100kmph (sec)
20
Acceleration 0-400m (sec)
20
Top Speed (kmph)
131
Braking 100-0 kmph (meters)
56
Mileage
Mileage(overall)
18
Dimensions
Length
3495
Width
1550
Height
1550
Wheelbase
2380
Ground Clearance
170
Kerb Weight
725
Boot Space
215 lts
Seat
5
Safety
Airbags
No
ABS
No
TC
No
ESP
No