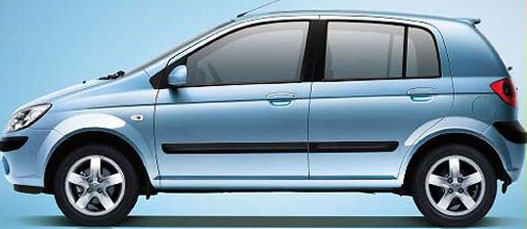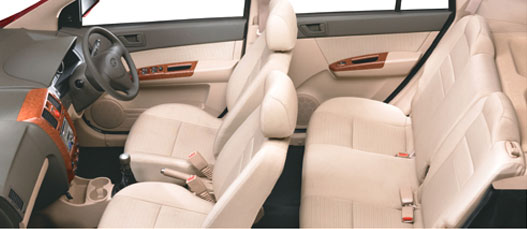 Hyundai is a welcome name in most Asian countries today, because you get much more than your money's worth when you take home any Hyundai vehicle for a competitive price. Yes indeed, the Hyundai models are all quite good contenders for top spot in their segments. A majority of the Indian auto market is for small cars alone. While auto manufacturers like Maruti have left no wheel unturned in getting good small cars into the market, Hyundai has caught up real fast and has built up a steadily growing fan following with stalwart phenomena like the i10 and more.
The refined and rethought 1.1L engine has been a welcome relief, after the initial struggle faced by the Hyundai Getz Prime. The car now delivers at least 65.67 bhp at 5500 rpm and pumps out a torque of 10.39 kgm at 3200 rpm. Slightly modified gear ratios for the fourth and fifth, and a five-speed gearbox make up the performance features in this car. The Hyundai Getz Prime does not seem to fit into any segment as such, after being denied the small car tag in the subcontinent.
The center console has had a slight and effective revamp. There are all-new head lights and tail lamps in the current version of the Hyundai Getz Prime. The aerodynamic new design has gone down well with users and reviewers alike. Most call it a "fantastic drive".
The front is quite pleasing to look at, but the rear could have done with slightly less clutter. Three spoke steering wheel, front fog lamp setting refreshment and new body colors are all exciting improvements in the Hyundai Getz Prime.
It seems very promising with these enhancements and features that seem to take it miles ahead of the present Getz. However only consumer response and its real test on the Indian roads will determine its fate as a possible car of the country. It is definitely one car you ought to look out for and take for a drive. If you are looking for something unique and new, then this could be that option for you.
However, it remains to be seen whether this car can beat the likes of the hugely successful Swift, but there is hope. Check out this car surely for its ride quality and new styling.
Hyundai Getz Prime Prices
| | | | |
| --- | --- | --- | --- |
| Model | Mumbai | Delhi | Chennai |
| Getz Prime 1.1 GLE | 3.91 | 4.09 | 3.89 |
| Getz Prime 1.1 GVS | 4.23 | 4.43 | 4.21 |
| Getz Prime 1.1 GLS | 4.64 | 4.86 | 4.64 |
| Getz Prime 1.1 GLX | 4.98 | 5.22 | 4.97 |
| Getz Prime 1.1 GVC | 4.43 | 4.64 | 4.42 |
| Getz Prime 1.1 CRDi | 5.64 | 5.91 | 5.6 |
Hyundai Getz Prime Mileage
| | | | |
| --- | --- | --- | --- |
| Model | City | Highway | Overall |
| Getz Prime 1.1 GLE | 13 | 18.3 | 14.3 |
| Getz Prime 1.1 GVC | 13 | 18.3 | 14.3 |
| Getz Prime 1.1 GLS | 11.9 | 16.8 | 13.1 |
| Getz Prime 1.1 GLX | 11.9 | 16.8 | 13.1 |
| Getz Prime 1.1 GVS | 11.9 | 16.8 | 13.1 |
| Getz Prime 1.1 CRDi | 14.4 | 26.6 | 17.4 |
Hyundai Getz Specifications, Hyundai Getz Prime Specs
Dimension:
Length: 3825 mm
Width: 1665 mm
Height: 1515 mm
Ground Clearance: 160 mm
Wheel Base: 2455 mm
Kerb Weight: 1012-1,033 kg
Gross Weight: 1500 kg
Engine:
Engine: 1.3L 83bhp SOHC
Engine Type: InLine Engine
Displacement: 1341cc
No. of Cylinders: 4
Max. Power: 82.9 @ 5,500 PS@rpm
Max Torque: 11.8 @ 3,200 kgm@rpm
Valves/Cylinder: 3
Performance:
Top Speed: 165 kmph
Acceleration: 14.6 seconds(0-100 kmph)