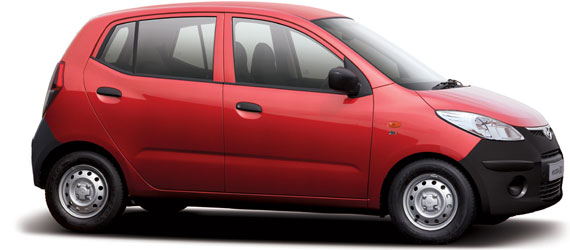 The subcontinent has been welcoming many refreshing small cars lately, and Hyundai has taken the auto market by storm with its excellent models released in Asian countries. If you are looking for a model that is worth investing in without doubt, then go for the Hyundai i10. With its loaded array of impressive standard features, the car is also affordable enough for those on a budget. This car can easily put some of the bigger luxury car models to shame, with its all-round appeal that works magic on the sales volumes. This city car comes in four different versions, with good options in each.
The i10 doesn't try too hard to impress: it just achieves it in a flash. Simple, uncluttered and fuss-free interiors are such a pleasant surprise after the complicated mess you find in many city cars these days. The 1.1 liter 4-cylinder 65 bhp petrol engine is efficient enough to move from 0 to 60 mph in about 15.9 seconds. The car achieves a decent top speed of 95 mph in comfortable driving conditions. However some of you may find that the automatic transmission plays spoilsport at times. Even then for the competitive pricing, you get a long list of features in this city car.
One more backdrop of the Hyundai i10 is that this compact sized car is slightly stern in terms of room for rear seat passengers. There is not much leg room to work your way around and fitting three passengers at the back seat might not be a promising option.
However with safety, performance, convenience and over reliability, this car easily gets a good 3 on 5. Financial value is strong here; because of the lengthy warranty you are offered. Handling is good with the Hyundai i10, so you don't have to worry much about slightly tough road conditions. Ride quality is admirable overall, compared to many other cars in this segment. The 285-litre boot space is what you can expect in a compact car, but you do wish for more.
This is one car that gives you easy in difficult parking conditions. Its compact size makes it fit for easy maneuvering in congested roads without much fuss.
A nice pick if you want a compact car that gives extra value for your money. This could be your work car.
Hyundai i10 Prices
| | | | |
| --- | --- | --- | --- |
| Model | Mumbai | Delhi | Chennai |
| i10 D-LITE | 3.53 | 3.37 | 3.36 |
| i10 ERA | 3.90 | 3.73 | 3.72 |
| i10 Magna | 4.16 | 3.97 | 3.96 |
| i10 Magna O | 4.68 | 4.9 | 4.67 |
| i10 Magna O(sunroof) | 4.83 | 5.06 | 4.82 |
| i10 Kappa Magna MT | 4.22 | 3.99 | 4.01 |
| i10 Kappa Sportz MT | 4.47 | 4.26 | 4.26 |
| i10 Kappa Magna AT | 4.67 | 4.45 | 4.44 |
| i10 Kappa Sportz AT | 4.92 | 4.69 | 4.68 |
Hyundai i10 Mileage, Fuel Economy
| | | | |
| --- | --- | --- | --- |
| Model | City | Highway | Overall |
| i10 D-LITE | 15.4 | 18.8 | 19.2 |
| i10 ERA | 15.4 | 18.8 | 19.2 |
| i10 Magna | 15.4 | 18.8 | 19.2 |
| i10 Magna O | 15.4 | 18.8 | 19.2 |
| i10 Magna O(sunroof) | 15.4 | 18.8 | 19.2 |
Hyundai i10 Specifications, Hyundai i10 Specs
Overall Length: 3565mm
Overall Width: 1595mm
Overall Height: 1550mm
Wheelbase: 2380mm
Ground Clearance: 165mm
Front Track: 1400mm
Rear Track: 1385mm
Kerb Weight (Kg): 860-952(M/T)
Fuel Tank capacity (l): 35
Engine: iRDE 1.1
Configuration: In-line, 4 cylinder
Displacement: 1086 cc
Maximum Power: 66.7 ps /5500 rpm
Maximum Torque: 10.1 Kgm /2800 rpm