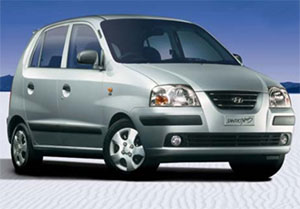 Beware Alto and Wagon-R, there is yet another tough contender joining the race to the top. Suddenly, the auto manufacturers seem to have shifted attention to the subcontinent, with many setting deadlines to deliver satisfying small cars to the hungry auto market in India and around. The Hyundai Santro Xing comes to the crowds with the sole intention of carving a niche fan following and building on that. Of course, it has Achilles Heel spots that can be worked upon. But for now, the car has been well received by people looking for small family cars.
Regular commuting is spiced up with the Hyundai Santro Xing. It adds a freshness that we haven't seen lately, with too many similar-looking and performing cars. Responsive gear shift, light clutch and the 1.1 liter epsilon with a struts McPherson suspension have the car zooming in light and speedy on regular roads. You can expect a top speed of 145 km per hour in this peppy car. No antilock brakes yet but the car still responds well while weaving in and out of traffic. The engine has an option of mating with automatic transmission.
Interiors are pleasant, surprisingly quite spacious and offer maximum comfort to driver and passengers, with adequate head room and leg room. Front electric windows, remote controlled central locking, and some high quality plastics are a delight to discover in this simple looking vehicle. Tallboy styling is prominent in the latest Hyundai Santro Xing. Right in the center of the boot spoiler is the LED brake light. Interesting diffusers, bolstering and impressive curvature add to the plus points in the Hyundai Santro Xing.
On the Indian roads, this is one car that has gained a lot of popularity. Rather you see it everywhere in cities, big or small. It is popular for its host of features and great pricing. All this combined with its innovative looks makes it a good bet. However this very same reason can be off-putting for some. Because it is so common on the roads you might want to look at some other fresh cars to make yourself look distinctive and not one of the crowd.
Impressive engineering is evident with the lineup of efficient safety features and convenience facilities in the Xing. Very affordable and satisfying, this car is a good buy indeed.
Santro Discontinued
Hyundai has discontinued its Santro car in India. The last car was made in December 2014. Hyundai came to India some 16 years ago with this car. It is sad to see it going as this car was easiest to drive. 13.5 lakh units of this car were sold in India. The manufacturer is going to focus more on Grand i10 and i20 and this car is going to replaced by i10.
Hyundai Santro Xing Prices
| | | | |
| --- | --- | --- | --- |
| Model | Mumbai | Delhi | Chennai |
| Santro Xing Non-A/C | 2.65 | 2.77 | 2.64 |
| Santro Xing GL | 3.32 | 3.48 | 3.29 |
| Santro Xing GLS | 3.52 | 3.68 | 3.51 |
| Santro Xing GLS AT | 3.95 | 4.13 | 3.94 |
Hyundai Santro Xing Mileage, Fuel Economy
| | | | |
| --- | --- | --- | --- |
| Model | City | Highway | Overall |
| Santro Xing Non-A/C | 16.1 | 24.3 | 20.2 |
| Santro Xing GL | 16.1 | 24.3 | 20.2 |
| Santro Xing GLS | 16.1 | 24.3 | 20.2 |
| Santro Xing GLS AT | 12.9 | 18.4 | 14.3 |
Hyundai Santro Xing Specifications, Hyundai Santro Xing Specs
Overall Length: 3565mm
Overall Width: 1525mm
Overall Height: 1590mm
Wheelbase: 2380mm
Front Track: 1315
Rear Track: 1300
Min Turning Radius: 4.4m
Kerb Weight (Kg): 854(M/T) 868(A/T)
Fuel Tank capacity: 35
ENGINE
No.of cylinders: 4
No. of valves: 12
Valvetrain (type ): SOHC
Displacement: 1086cc
Fuel: Petrol
Maximum Power (ps@rpm): 63@5500
Maximum Torque (Kgm@rpm): 9.8 @ 3000