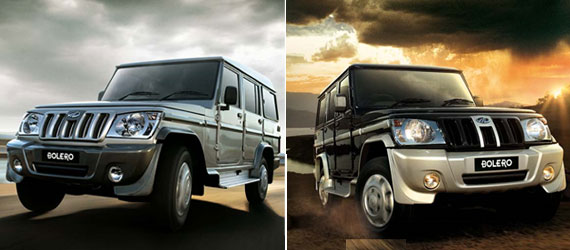 'Whip up a storm and Outrun it too' challenges the promotion brochures of Mahindra Bolero VLX. Launched in September 2008 by Mahindra & Mahindra, Bolero VLX promises to be a high-speed adrenalin pumping SUV. It is an advanced version of Mahindra Bolero, a multi-utility vehicle.
Bolero VLX promises high-speed action in any terrain. The innovative CRDe engine ensures high speed and zero noise driving experience. Bolero VLX is powered with a 2.5-liter Common Rail Diesel engine (CRDe) that promises 97 horsepower and 255Nm of torque. The new Bolero VLX is similar to its predecessors offers an advanced active surge damper that makes gearshifts effortless and smooth. The inbuilt 530R transmission and upgraded front suspension accelerates its performance in rough terrains as well. The CRDe engine also offers reduced Noise, Vibration and Harshness (NVH) levels. It seems to achieve the idea of making traveling in a rough terrain as pleasant as a smooth one. Compared to the older models, experts view is that the power packed performance and speed is the result of the inbuilt electronic computer controlled engine management system.
Bolero VLX structure is true to a Sports Utility Vehicle, looking brave and sturdy. Quite similar to the older versions, VLX carves a niche with its muscular fascia and attention grabbing body graphics. It boasts of a brand new sporty steering wheel that drives the power steering. VLX scores high on style with its plush leather interiors and stylish dashboard.
A surprise thoughtful feature that to the drivers delight is the armrest in the middle row and the multi-directional AC louvers. Understanding and reminding ourselves that SUV's are after all a plus size family car, we also find a mammoth glove box to accommodate everything from magazines to food cans. Also in-house, we find a 12V charging point along with a mobile holder. VLX is definitely scoring brownie points with sensible design and technology for a traveler. Another unique useful addition that will bring an immediate smile to your face is the remote fuel lid opener. Undoubtedly Bolero VLX is looking to offer uninterrupted driving experience with comfortable interiors combined with powerful high-speed technology.
On the safety side, Bolero VLX offers the standard power windows, central locking system and keyless entry as well. An appealing safety feature is the Voice Assist System (VAS) that warns the driver of an unlocked door or unfastened seat belt. With VLX offering a two-year/ 100,000 km warranty, we are in safe hands indeed.
The neat looking Bolero VLX is priced at Rs 6.49 lakhs (showroom price: Jaipur). This is the launch pad of Bolero and so far VLX is touted to be the most powerful of the Boleros. All in all, its recent launch doesn't throw light on its fuel economy, though the CRDe technology should ensure optimal fuel efficiency. At its price, Bolero is a luxurious envy for travelers all round the world. For us, it is a family vehicle that seems to promise comfort until destination.
Mahindra Bolero Prices
| | | | |
| --- | --- | --- | --- |
| Model | Mumbai | Delhi | Chennai |
| Mahindra Bolero XLS 2WD | 5.83 | 5.94 | 5.96 |
| Mahindra Bolero XLS 4WD | 5.98 | 6.06 | 6.01 |
Mahindra Bolero Mileage, Fuel Economy
| | | | |
| --- | --- | --- | --- |
| Model | City | Highway | Overall |
| Mahindra Bolero XLS 2WD | 13.6 | 20.3 | 15 |
| Mahindra Bolero XLS 4WD | 7.53 | 14.3 | 9 |
Mahindra Bolero VLX Specifications, Mahindra Bolero VLX Specs
Engine: 2.49L CRDe Engine
Maximum Power: 97 HP @ 3800 rpm (71.5KW)
Maximum Torque: 255 Nm @ 1800-2200 rpm
Gearbox Model: NGT 530R
Gearbox Type: Synchromeshed
Number of Gears: 5 Forward, 1 Reverse
Steering: Power Steering
Suspension: Front- IFS Coil Spring, Rear- Rigid Leaf Springs
Brakes: Front- Disc Brake, Rear- Drum Brake, Braking System fitted with LSPV
Wheels & Tyres: 215 / 75 R 15, Radial