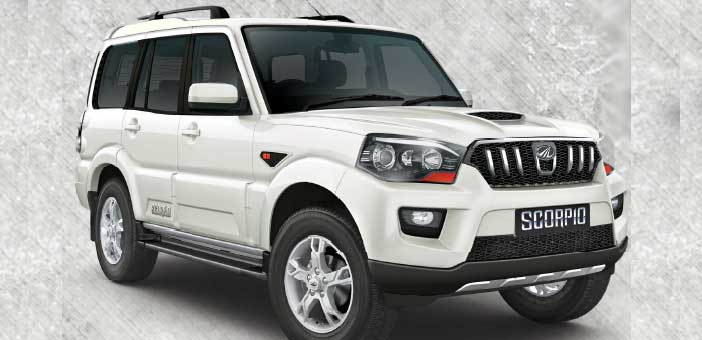 Mahindra and Mahindra limited launched first edition of Mahindra Scorpio in 2002. Since then, the company has never looked back. In August 2007, the company launched SUV version of Scorpio, called Mahindra Scorpio Getaway. It belongs to the lifestyle SUV segment as well as pickup truck segment that is less popular here in India. Let's take a look at some points to know more about this vehicle.
Can this SUV offer Comfort?
Scorpio Getaway offers rare combination of style, safety and comfort. Vehicle's interior plays an important role in offering comfort. Getaway's interior cabin consists of seats covered with rich fabrics. You can choose from tan & beige colored theme or usual black allure theme.
Ventilation, heating and cooling system with rear vents can keep passengers comfortable for many hours while traveling. Rear-view mirrors are electrically adjustable, so, driver can adjust them with his fingertips.
Glove box, map pockets, bottle holders, mobile phone chargers, and thoughtfully designed storage spaces seem enough to take care of small needs. Techy and classy looking central bezel is fitted with durable and tested buttons that give smooth feeling to your fingertips. You can control all the windows using these switches.
The SUV's voice assistant guides you whenever the fuel reaches tank's reserve mark. It also alerts you in-case if doors are not closed properly, seat belts are incorrectly strapped, and even when SUV faces some technical/mechanical issues that need urgent attention.
Getaway offers lot of convenience to drivers as they can adjust the tiltable steering wheel according to their height and comfortable position. Travelers sitting on front and middle row seats can also use mobile phone charging outlets.
Sporty graphics, combined with bonnet scoop, bold slotted front grill, and sporty fog lamps are enough to attract envy from other car owners. You can choose between 2WD and 4WD model.
Mahindra Scorpio Getaway Engine
The secret behind this SUV's fuel efficiency and power is its 2.6 CRDe turbo charged diesel engine combined with power steering. The rear axle is fitted with hydraulic shock absorber and leaf spring suspension, while wishbone type suspension is fitted to its front axle. Disk brakes in the front wheels, and drum brakes in rear wheels are reliable enough to control this monster as per user reviews.
During test drive, the vehicle managed to touch 145 KMPH. It can reach 100 KMPH in around 19 seconds. Mileage can fluctuate between 9KMPL and 13.5KMPL.
At-least five passengers can sit and enjoy comfortable journey inside this SUV. Dashboard is attractive enough to keep several eyes glued for minutes. Overall, experts recommend this SUV for highway journey, mountain journey as well as driving on city roads that are full of traffic during most part of the day.
Safety
Unfortunately, in India, safety features are considered as add-ons and luxury items. But Getaway offers several safety features to keep travelers safe. Its child locks make sure that doors do not open accidentally while traveling. Most importantly, the SUV offers crash protection zones. In-case of collision these zones absorb the force of impact and reduce the overall damage. Getaway also offers other features like anti-lock breaking system, SRS airbags, and tubeless tyres.
The SUV's grand deck can carry equipments, sports gear, machines or any other stuff they you wish to transport. Ignition key slot is surrounded by ring that glows in dark. Certain interior lights and even the headlamps glow for few minutes after switching off. This offers enough time for users to lock the SUV and walk further after parking it.
Competitors
Tata Xenon XT and Mahindra's own Bolero Camper are some of Getaway's competitors. But price-wise, Getaway comes with comparatively lower price tag compared to Tata's Xenon XT. It is available between Rs 7, 00,000 and Rs 10, 00,000. Price may vary in different states, depending on taxes and added features.
You can choose from colors like rocky beige, fiery black, java brown, rocky beige, fiery black, and diamond white. The SUV's two door version is exported to several countries including Australia, and South Africa.