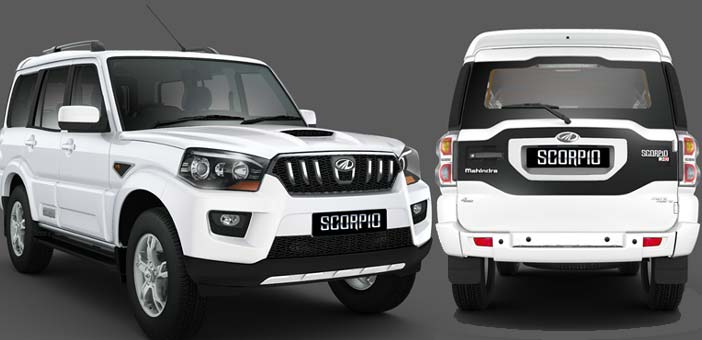 If anyone decides to write new book based on Indian automobile sector's history, Scorpio will definitely be one of the success stories. The SUV's first generation model was launched in 2002. You can easily find several Scorpio SUVs on any Indian roads. This is enough to prove the vehicle's success ratio.
Mahindra & Mahindra released third generation of Scorpio SUV in September 2014. Let's take a look at some important aspects of this SUV.
Exterior
The striking front grill, dual projector headlamps with eyebrows like integrated LEDs give new look to this monster. SUV's 17-inch alloy wheels, fog lamps, and turning lamps also attract attention. Bumpers in the latest version seem tough; LED tail lamps are also impressive. Overall, the SUV's design is quite different from its previous version.
Interior
The center of attraction is this SUV's centre console's touch screen. This six inch screen acts as navigation device, entertainment system, and also displays information related to temperature, and tyre air pressure. It also acts as navigation and rear parking assistant.
Climate control system wonderfully manages heating and cooling inside the cabin. Its controls are integrated with central console's touchscreen. Blue-gray interiors and dual tone dashboard kind of complement each other. The steering wheel seems to be re-designed in the new version. Now driver can only control cruise-control function and music system with switches mounted on steering wheel.
Instrument cluster consists of speedometer, fuel gauge, turning indicators, cruise control indicator, low fuel warning indicator, headlamp indicator, and certain other indicators. Power window switches are fitted in arm console for each door. Dual front airbags, anti-lock braking system, stiffer chassis, central locking, rear parking assist, and anti-roll technology are some of the safety features.
Engine
The SUV comes with two engine options; you can either choose 2.5 liter m2DICR 4 cylinder engine or the famous 2.2 liter mHawk 4 cylinder. Currently, both engines are fitted with 5-speed manual transmission gearbox. Scorpio's mHawk motor offers mileage of 15.4 KMPL and m2DICR offers mileage between 12 to 14 KMPL according to user reviews. Scorpio's fuel tank capacity is 60 liters. So, there is no need to worry about fuel while traveling through jungles and hilly areas.
Mahindra & Mahindra has changed the front suspension in the new Scorpio to make it lighter than previous version. Now front suspension is managed by independent front coil spring, while rear suspension is managed by an anti-roll bar coil spring. As far as braking system is concerned the SUV has ventilated disc brakes in the front and drum brakes in the rear. Anti-lock braking system empowers these brakes to perfectly control this SUV.
Competition
If you compare Tata Safari Storme and Renault Duster with Scorpio, you will find that Mahindra & Mahindra offers better interiors compared to others. Even feature-wise, Scorpio is better equipped. Thanks to features like automatic wipers, navigation system, automatic headlights, voice assist, and climate control.
Experts rate Tata Safari as better SUV than others as far as sitting arrangement is concerned. But again, mileage-wise, Renault Duster offers best mileage, followed by Scorpio.All the SUVs offer similar safety features.
After the launch of Mahindra Scorpio's new version in September 2014, the company overtook Renault Duster, Tata Safari and Nissan Terrano in September and October sales figures. In September alone, Mahindra & Mahindra managed to sell 6,060 units of Scorpio. The new Scorpio attracted many buyers, and proved to its competitors that it is not out of race yet.
Scorpio S10 variant comes with price tag of around Rs 11.95 lakh in New Delhi. Price depends on variant, and all the applicable taxes.