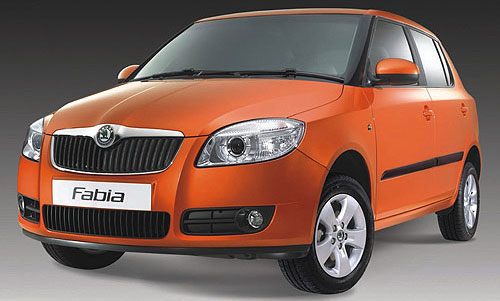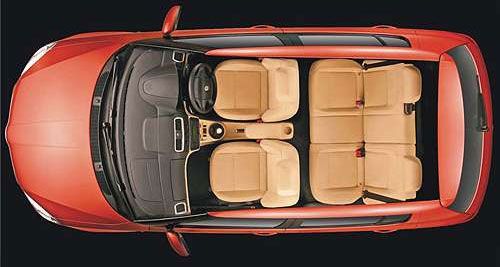 Skoda Fabia Reviews: Skoda Fabia was launched in January 2008 during Auto Expo in New Delhi. Skoda is a Czech car manufacturer, now a part of German auto major, Volkswagen. Skoda has been active in Indian auto market for last for last nearly eight years in luxury saloon sector and well known in India for up market Skoda Octavia known for design and quality. Skoda Fabia is the group first venture in crowded premium hatchback segment, which is the biggest volume after a segment.
In this market by market leader Maruti (Zen Estelio, WagonR and Swift), Hyundai (Santro, Getz), Tata (Indica, Vista, Xeta) Ford Fiesta and General Motors (Spark, Uva, SRV ). Toyota and Honda are also planning to get in the segment and even existing are planning to launch new models like Maurti A star. Fabia was launched in end 1999 as super mini, it share Volkswagen A 04 platform with Volkswagen Polo MKIV and SEAT Ibiza.
Skoda Fabia is a premium car in segment from Rs 5 lacs to Rs 8 lacs. It is available in 4 engine versions two each in Petrol and Diesel.
1.2 MPI, 1198cc 3 cylinder ,12 V , DOHC , Petrol engine producing maximum 70 bhp @ 5400 rpm and maximum torque108 Nm @ 3000 rpm . The gear box is 5 speeds Manual Transmission. The engine is available in Fabia's Active , Classic and Ambiente Models
1.4 PD TDI ,1422 cc 3 cylinder Turbo charged Diesel engine producing 69 bhp @ 4000 rpm maximum power and maximum Torque of 15.50 KgM @ 2200 rpm. The gear box is 5 speeds Manual Transmission. This engine is available in Active, Classic , Ambiente and Elegance Model
1.4 MPI , 1390 cc 4 cylinder 16V DOHC Petrol engine producing maximum power of 80 bhp @ 5000 rpm and maximum torque of 13.20 Kg M @ 3000 rpm. The gear box is 5 speed manual transmissions. This Engine is now available in Elegance Model.
The difference in various models is trims, accessories and safety features. In case of Diesel Engine base model Active, followed by Classic and then Ambinete and Elegance is the top end Model. Classic Model has additional power windows and sound system. Whereas Ambinete Model has additional Solar roof, Anti Braking Lock system (ABS) and Alloy wheels.
The 1.2 lt petrol appears a bit underpowered in the car not so much in city driving but more in highway driving. The petrol car efficiency 9.5 Kmpl for city driving and 13 kmpl for highway 1.2 lt engine and 9 Kmpl for city driving and 12 Kmpl for highway claimed in case of 1.4 lt engine will be watched by customers in India. However the diesel engine seems to be giving 12Kmpl in city and 14 to 15 Kmpl which customer will be happy.
Though the diesel engine is a bit noisy, the car is beautiful with design inside as well outside loaded with features and good performance but the question what premium the Indian customer is willing to pay for this premium hatchback? We will have to wait and watch.
Skoda Fabia Prices
| | | | |
| --- | --- | --- | --- |
| Model | Mumbai | Delhi | Chennai |
| Fabia 1.2 MPI Active | NA | 5.11 | NA |
| Fabia 1.4 PD TDI Abiente | 7.35 | 7.15 | 7.34 |
| Fabia 1.4 PD TDI Classic | 6.54 | 6.35 | 6.52 |
| Fabia 1.4 PD TDI Elegance | 7.89 | 7.68 | 7.87 |
| Fabia 1.4 MPI Elegance | 7 | 6.8 | 6.98 |
Skoda Fabia Mileage
| | | | |
| --- | --- | --- | --- |
| Model | City | Highway | Overall |
| Fabia 1.2 MPI Active | 13.1 | 17.4 | 14.17 |
| Fabia 1.4 PD TDI Active | 15.86 | 20.86 | 14.45 |
| Fabia 1.4 MPI Elegance | 11.06 | 14.93 | 11.95 |
Skoda Fabia Specifications, Skoda Fabia Specs
Dimensions:
Length: 3992mm
Width: 1642mm
Height: 1513mm
Ground Clearance: 146mm
Front Track: 1436mm
Rear Track: 1426mm
Wheel Base: 2462mm
Number of Doors: 5
Performance: 0-100kmph (sec)
Fabia 1.2 MPI Active (petrol): 17.7
Fabia 1.4 PD TDI Active (diesel): 14.35
Fabia 1.4 MPI Elegance(petrol): 17.06
Engine
Engine: 1.2 MPI
Displacement: 1198cc
Power: 70 PS @ 5400 rpm
Torque: 123 Nm @ 3000 rpm
Valve: DOHC
No of Cylinders: 4
Fuel Type: Petrol
Transmission
Transmission Type: Manual
Gears: 5 Gears
Brakes
Front Brakes: Ventilated discs
Rear Brakes: Drums