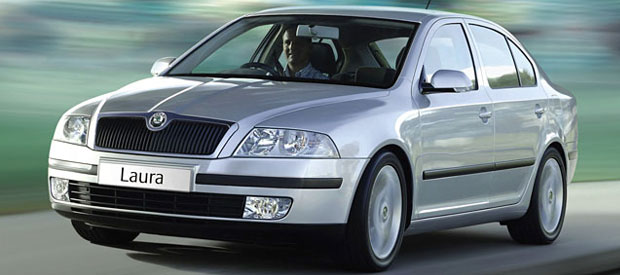 Skoda Laura is a second generation Octavia launched in 2004 in Europe. The Skoda Laura has won it a lot of awards and accolades. It is an attempt of Skoda to upgrade its Octavia brand in competition The second generation Skoda Laura (as it is called in India) is based on Volkswagen A5 (PQ35) platform. This platform is also being used in Audi A3 II, SEAT Leon II, SEAT Altea, VW Golf MK5, VW Jetta MK5 and many other cars. Skoda Laura has made its new car bigger, more legroom, increased ground clearance and better power train it can compete with cars like Ford Mondeo, Renault's Laguna , Toyota Avensis. In India it will give competition to Honda Accord, Toyota Camry and Hyundai Sonata and register its strong presence in D segment.
Skoda has been launched 4 variant in 1.9 PD Diesel Engine in Ambiente, Elegance and Laurin & Klement with 5 speed Manual Transmission and there is one Laurin & Klement variant with Automatic Transmission. The car is priced Rs 13.87 lacs to Rs 17.48 lacs Ex Showroom in Mumbai that means it can compete on lower end with Honda Civic also. The car is only launched in diesel variant only due to success of Skoda Octavia diesel model primarily due to fuel efficiency and low running cost.
The car uses 1986 cc, 4 cylinders 8 valve Pump Duse TDI diesel Engine delivering power of 105 bhp@4000 rpm and maximum torque of 250 Nm@1900 rpm. The pump Duse injectors have their own individual fuel pump mounted on cylinder head and injects fuel directly into combustion chamber at very high pressure.
This eliminates need of high pressure piping between central pump and injectors. This result in better emission control and fuel efficiency. The 5 speed manual transmissions is available three models while one model is available with 6 speed automatic DSG transmission. This is the first dual clutch gear box in the world.
The car looks distinctively Skoda and has design cues from Octavia, it looks fresh, dignified and beautiful. The wheelbase is bigger than Octavia giving it more space and stability, improved multilink rear suspension, Anti lock Braking System (ABS) give it a much better riding and handling.
It is loaded with features like Electronic Stability Control, Parktronic parking sensor, rain start sensor, six air bags, 560 liter boot space, monitor for air pressure. Some of these features were earlier available in cars like BMW and Mercedes. All the features are in Laurin & Klement model of Laura. The Ambiente Model of Skoda Laura does not come with Xenon headlights, Side and curtain airbags, electronic stability control, tyre pressure monitoring, electronic sun roof, Electronic adjustable seat with three memory, cruise control, front parking sensor etc. The Elegance Model of Laura has additional from Ambiente has additional side airbags, tyre pressure monitor, electronic controlled two zone air-conditioning, Mechanical rear shade, head lamp washer, light assistance.
Overall a nice luxury loaded car with good drivability, fuel efficiency. The negative points include the cost of spare parts, still small dealership and workshop network and availability of trained mechanics.
Skoda Laura Prices
| | | | |
| --- | --- | --- | --- |
| Model | Mumbai | Delhi | Chennai |
| Skoda Laura Ambiente MT | 13.21 | 12.89 | 13.19 |
| Skoda Laura Elegance MT | 14.67 | 14.33 | 14.65 |
| Skoda Laura L&K DSG | 16.69 | 16.31 | 16.67 |
| Skoda Laura L&K Manual | 16.13 | 15.76 | 16.11 |
Skoda Laura Mileage, Skoda Laura Fuel Economy
| | | | |
| --- | --- | --- | --- |
| Model | City | Highway | Overall |
| Skoda Laura Ambiente MT | NA | NA | NA |
| Skoda Laura Elegance MT | NA | NA | NA |
| Skoda Laura L&K DSG | 12.5 | 17 | 16.2 |
| Skoda Laura L&K Manual | NA | NA | NA |
Skoda Laura Specifications, Skoda Laura Specs – (1.9 TDI PD/77 kW Diesel), (1.9 TDI PD/77 kW (A) Diesel)
Engine
Engine type: Turbocharged diesel engine, turbocharger with self-aligning blades, in-line, liquid cooling system, high-pressure direct injection system, OHC, transverse in front
Cylinders: 4
Displacement [cm3]: 1896
Max. engine performance/revs [kW (bhp) at rpm]: 77(105)/4000
Max. torque/revs [Nm at rpm]: 250/1900
Fuel injection system: Electronically controlled high-pressure direct injection system – pump nozzle
Emission compliance: Bharat Stage III
Transmission
Wheel drive: Front wheel drive
Clutch: Hydraulic single dry clutch disc with membrane spring, asbestos free(1.9 TDI PD/77 kW Diesel), Two coaxial wet multiple-disk clutch, electro-hydraulically operated(1.9 TDI PD/77 kW (A) Diesel)
Transmission: Manual 5-speed fully synchronized(1.9 TDI PD/77 kW Diesel), Automatic 6-speed, DSG, with Tiptronic manual gear changing(1.9 TDI PD/77 kW (A) Diesel)
Chassis
Front axle: McPherson suspension with lower triangular links and torsion stabiliser
Rear axle: Multi-element axle, with one longitudinal and three transverse links, with torsion stabiliser
Braking system: Hydraulic dual-diagonal circuit braking system vacuum assisted with Dual Rate system
Brake – front: Disc brakes with inner cooling, with single/piston floating caliper
Brake – rear: Disc brakes
Steering system: Direct rack and pinion steering with electro mechanic power steering
Wheels: 6.5J x 16″
Tyres: 205/55 R16
Body
Body: 5 door, two compartment, 5 seater
Drag coefficient cw: 0.30
Outside dimensions
Length: 4572mm
Width: 1769mm
Height: 1485mm
Wheel base: 2578mm
Ground clearance: 164mm
Inside dimensions
Storage capacity [l]: 560
Storage capacity with rear seats backrests down [l]: 1350
Weights
Kerb weight [kg]: 1310(1.9 TDI PD/77 kW Diesel), 1350(1.9 TDI PD/77 kW (A) Diesel)
Payload [kg]: 660
Total weight [kg]: 1970(1.9 TDI PD/77 kW Diesel), 2010(1.9 TDI PD/77 kW (A) Diesel)
Liquids
Tank capacity [l]: 55