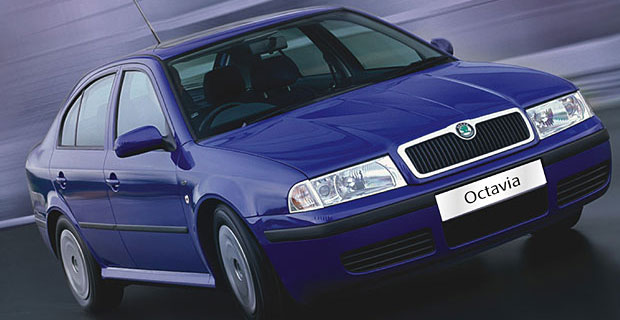 The Skoda Octavia has evolved from small family car produced by Czech automaker Skoda since 1996 and carries forward from its model produced from 1959 and 1971. Skoda is now a part of German Auto giant Volkswagen group. The Skoda Octavia is based on Volkswagen A4 (PQ 34) platform which is also shared by Audi A3 (8L), Volkswagen Bora, Volkswagen Golf Mk 4 and SEAT Leon. Skoda first plant outside Europe was set in 2001 in Aurangabad. The Skoda Octavia was the first car to assembled here. The second generation Octavia is being marketed as Laura to distinguish it from first generation. The Skoda has got a good share of luxury car market in India in last seven years and has bagged many awards.
The Skoda Octavia models available in both Petrol and Diesel engines. The Petrol version has engine is 1.8 Turbo 1781 cc 4 cylinder 8 valves Petrol Engine generating 150 bhp @ 4000 rpm and maximum torque of 210 Nm @ 1750- 4000 rpm with 5 speed Manual Transmission. The Diesel Engines are 1.9 TDI 1896 cc Turbo charged Diesel Engine delivering maximum power of 90 bhp @ 4000 rpm and maximum torque of 210 Nm @ 1900 rpm. The Petrol engine is available 1.8 Turbo Octavia Ambiente , while Diesel version available as Octavia Ambiente 1.9 Turbo, Elegance 1.9 TDI , Octavia Laurin & Klement.
The car comes with Alloy wheels, beautiful upholstery, electric sunroof, electronic controlled air-conditioning (only in Laurin & Klement), adjustable driver seat, rear parking sensors. The safety features include dual front air bags, Anti locking Braking System (ABS), Xenon lamps with washer and Fog lights. Only Octavia Laurin & Klement has Xenon Lamps with dynamic adjustment and washer, manually height adjustable headlight, The Elegance and Laurin & Klement models have central locking with remote control and foldable keys and Ambinete has central locking with SAFE system.
Skoda Octavia are available from Rs 10.60lacs to Rs 13.83lacs Ex Showroom in New Delhi It is a practical family car with drop dead looks, it stylish and comfortable. The main problem is cost of spares and repair which adds to ownership though mileage in Diesel version is good, the city average is reported to 12.7 Km per liter and on highways 18.9 Km per litre. The turbo charged petrol engine is powerful and nippy with 0-100Kmph in 9 seconds. The car is well built and stable to drive even on high speeds and overall excellent drive quality. The interior are quite good with excellent ergonomics. The boot is spacious with good fuel efficiency makes a good companion for long trips.
Skoda Octavia Prices
| | | | |
| --- | --- | --- | --- |
| Model | Mumbai | Delhi | Chennai |
| Skoda Octavia Ambiente 1.9 TDI | 10.97 | 10.7 | 10.95 |
| Skoda Octavia Ambiente 1.8 TPI | 10.16 | 9.91 | 10.14 |
| Skoda Octavia Elegance TDI | 11.97 | 11.68 | 11.95 |
| Skoda Octavia L&K TDI | 13.3 | 12.98 | 13.28 |
Skoda Octavia Mileage, Skoda Octavia Fuel Economy
| | | | |
| --- | --- | --- | --- |
| Model | City | Highway | Overall |
| Skoda Octavia Ambiente 1.9 TDI | 13.3 | 18.6 | 14.4 |
| Skoda Octavia Ambiente 1.8 TPI | 8.6 | 14.9 | 9.8 |
| Skoda Octavia Elegance TDI | 13.3 | 18.6 | 14.4 |
| Skoda Octavia L&K TDI | 13.3 | 18.6 | 14.4 |
Skoda Octavia Specifications, Skoda Octavia Specs – 1.8 20V Turbo/110 kW Petrol, 1.9 TDI/66 kW Diesel
Engine
Engine type: Turbocharged petrol engine, in-line, liquid cooling system, DOHC, 5 valves per cylinder, transverse in front(1.8 20V Turbo/110 kW Petrol) – Turbocharged diesel engine, turbocharger with self-aligning blades, in-line, liquid cooling system, direct injection, OHC, transverse in front(1.9 TDI/66 kW Diesel)
Cylinders: 4
Displacement [cm3]: 1781(1.8 20V Turbo/110 kW Petrol) – 1896(1.9 TDI/66 kW Diesel)
Max. engine performance/revs [kW (bhp) at rpm]: 110(150)/5700(1.8 20V Turbo/110 kW Petrol) – 66(90)/4000(1.9 TDI/66 kW Diesel)
Max. torque/revs [Nm at rpm] : 210/1750-4600(1.8 20V Turbo/110 kW Petrol) – 210/1900(1.9 TDI/66 kW Diesel)
Fuel injection system: Electronic multipoint fuel injection MPI(1.8 20V Turbo/110 kW Petrol) – Electronically controlled direct injection(1.9 TDI/66 kW Diesel)
Ignition: Microprocessor controlled electronic ignition system –
Emission compliance: Bharat Stage III
Transmission
Wheel drive: Front wheel drive
Clutch: Hydraulic single dry clutch disc with membrane spring, asbestos free
Transmission: manual 5-speed fully synchronized
Chassis
Front axle: McPherson strut with wishbone arms and torsion stabiliser
Rear axle: Compound link crank-axle with torsion stabiliser
Braking system: Hydraulic dual circuit braking system with diagonal interconnection, vacuum assisted
Brake – front: Disc brakes with inner cooling, with single/piston floating caliper
Brake – rear: Disc brakes(1.8 20V Turbo/110 kW Petrol) – Drum brakes(1.9 TDI/66 kW Diesel)
Steering system: Direct rack and pinion steering power assisted
Wheels: 6.0J x 15″(1.8 20V Turbo/110 kW Petrol) – 6.0J x 15″, 6.5J x 15″(1.9 TDI/66 kW Diesel)
Tyres: 195/65 R15
Body
Body: 5 door, two compartment, 5 seater
Drag coefficient cw: 0.31
Outside dimensions
Length: 4507mm
Width: 1731mm
Height: 1455mm
Wheel base: 2512mm
Ground clearance: 134mm
Inside dimensions
Storage capacity [l]: 528
Storage capacity with rear seats folded down [l]: 1328
Weights
Kerb weight [kg]: 1260(1.8 20V Turbo/110 kW Petrol) – 1270(1.9 TDI/66 kW Diesel)
Payload [kg]: 585
Total weight [kg]: 1845(1.8 20V Turbo/110 kW Petrol) – 1855(1.9 TDI/66 kW Diesel)
Liquids
Tank capacity [l]: 55