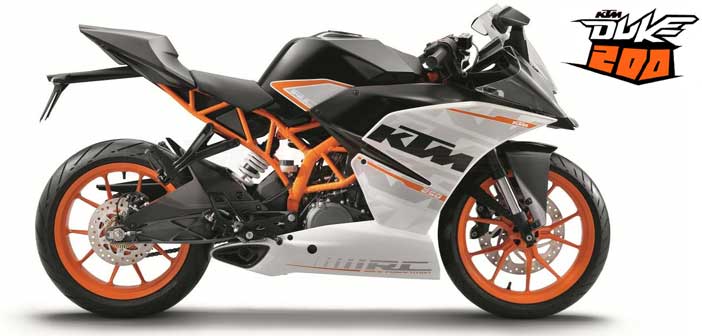 True to its name KTM DUKE 200 screams good looks and performance. This eye-catching bike is bound to turn heads with its chiseled features, ranging from the graphic to the aerodynamic body; KTM DUKE 200 is a clear winner. The bike although, is not just about good looks, if we can tare our eyes away from the masculinity and suave appearance of the bike and concentrate on its features, we will witness that the DUKE 200 impeccably impresses in that domain too.
Design
Duke 200 is one of the best designed street bike in India and most fluent too. Its implacable angular parts are properly mated with the base design which is responsible for its wow looks. Its front headlight goes well with its overall design, looks different & is very easy for the eyes. The parts are tightly fastened to the frame and after lot of punishment too do not show and rattles.
KTM DUKE 200 has upped the ante as far as sporty bikes are concerned and with it being available in three mesmerizing colors (White and Orange, Black and Orange and Black and green).
Engine
Four valve DOHC engine gives out a peak power of 25.8PS at 10,000rpm. The engine is small as compared to other bikes in the segment and displaces 199.9cc. The most important feature of the engine is that it picks up revs very quickly due. It reaches from 0-100kmph in just under 8.3 seconds. To appreciate it, compare it with 295cc Mahindra Mojo which takes similar time and 411cc Royal Enfield Himalayan which takes a whopping 10.55 seconds to reach from 0 – 100kmph and is not even close. We are not pulling Enfield bikes down as they are not known for their sprint abilities.
The power spread for the bike is very even where if gives out a peak torque of 19.2Nm at 8000rpm.
Fuel Economy
High acceleration and efficiency do not go hand in hand. To make it simple, a sprinter could not be a long distance runner. KTM Duke 200 gives our 27km to a litre of petrol on city roads and could go up 38kms on highways. One could expect an overall average of 30kmpl. One of the drawbacks with this bike is its limited size fuel tank. With 10 litre capacity, the bike could manage only up to 300kms.
Performance
The top speed is close to 133km which is not bad as compared to the other bikes in the segment. With a kerb weight of 138kgs, Duke is one of the lightest bike in the segment. Riding Duke 200 even at 7000rpm on highways doesn't affects its performance and gives minimum vibes in its foot pegs.
Ride and Handling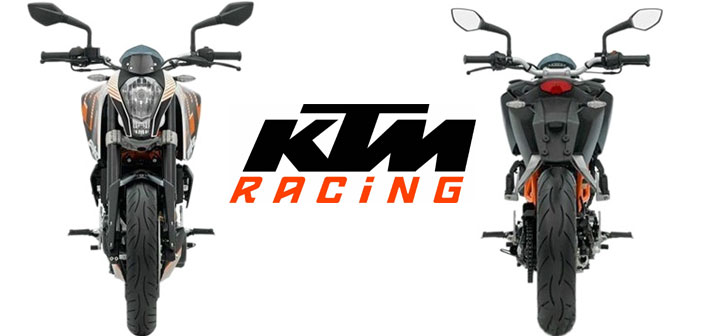 Bike is fitted with MRF tyres which enhances the overall experience of riding the bike. The suspension is stiff, so, it might be wise to slow it down at bumps. However, post bump you could always zoom it and it will never complain. Bike is confident around the corners, is very responsive thanks to its stiff trellis. KTM is not one of the best bikes unlike Enfield Himalayan to ride on bad roads. However, if the rider is skilled there might be very little problems as suspension is good enough to take on potholes with ease.
So far Duke did not fail to impress us on the style and performance front but how about comfort? The bike's seat is comfortable enough which does not cause a strain on the rider's spine. The handlebars apart from adding to the good looks are comfortable to hold and assist in effortlessly flicking the bike. The Duke comes with an under-slung exhaust system that maintains the bike's center of gravity and enhances expert handling.
Brakes
KTM is fitted with 300mm disc brake in the front and 230mm disc brakes in its back. Both the brakes give enough braking power for a confident ride. MRF tyres also supports in its endeavor which a tremendous road grip.
Verdict
Absence of ABS is a big minus but is same with bikes in the segment. KTM should think over it seriously as one if spending close to Rs. 1.7 lakh for it. KTM 200 is not one of the most comfortable bike for long distance drives. There are several areas where it excels, its thrilling ride, speed, power, design, style, low price. It is one of the cheapest street bikes if you compare its specs with others in the segment.
Price – On Road Price for the bike in Mumbai is Rs. 1,62,000
Engine Specifications
Displacement – 199.5 cc
Engine – 4 stroke, Single-cylinder
Valvetrain – 4-valve DOHC
Max Power – 25.8PS @10000rpm
Max Torque: – 19.2Nm @8000rpm
Gears – 6 Speed
0 to 100KM/Hr: 8.3 sec.
Other Specifications
Weight – 138kg
Ground Clearance – 165mm
Fuel Tank – 10.50L
Wheelbase – 1367mm
Colors – Black, White, Green
Fuel Efficiency
Highway – 38kmpl
City – 27kmpl