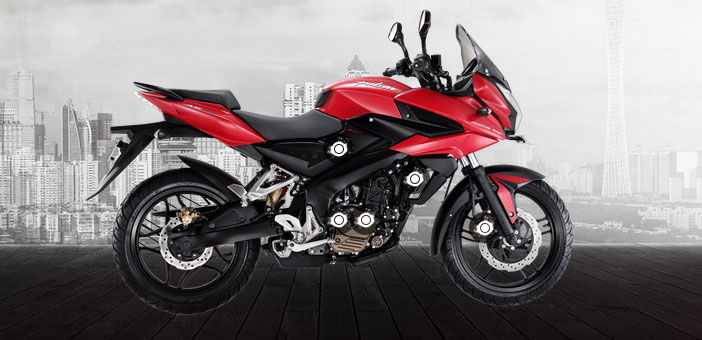 AS series variants are the best looking Pulsar model. AS 200 is more of a touring sports than a sports bike. The seat is very comfortable and fairing gives a good wind protection. The engine has good power to hold good pace even for longer distance travels.
The Adventure Sports Pulsar, a new term coined by Bajaj seems to be a new and interesting segment for the bike lovers. Bajaj has recently launched the next range of its Pulsar models in Adventure Sports category. Based on Pulsar 200NS, the brand new Pulsar 200 AS is a global product of Bajaj, designed specifically for buyers looking for an affordable adventure sports bike.
Distinguished as the first Indian adventure and touring motorcycle, Pulsar 200 AS is inspired by its naked sibling, 200 NS and carries the same features like rear section, seat positioning, swing arm and non-ABS disc brakes. Although, it sports a large windshield, a semi-fairing merged into the tank as well as big headlamp with projector.
Bajaj's Pulsar series is the most successful and the best performing bike series in Indian market which ensures complete customer satisfaction with the help of premium technologies. All bikes in the Pulsar series ensure outstanding performance and stunning looks for pretty much affordable prices.
Look-wise, the new Pulsar version has a different appeal than its other family members and appears like a touring bike from its first look. With the launch of 200 AS, Bajaj has created a rise in the heartbeats of the riders who love touring and Pulsar equally.
Technical Specifications
Powered by the same engine that was used in Pulsar 200 NS, the Pulsar 200 AS boasts of adrenaline pumping figures like 23.17 BHP at 9500 rpm and 18.3 NM of torque at 8000 rpm.
It draws power from a refined 199.5cc, liquid-cooled, triple spark, single-cylinder engine, coupled with a six-speed transmission, which gives a hassle-free riding experience while riding on highways. The top speed for the bike claimed by Bajaj is 135kmph.
Although, there is no official comment on the mileage of the bike, however, it is expected to have same mileage as 200NS with a little difference due to latest front design.
Like other Pulsar versions, the Pulsar AS200 too comes with a digital odometer, digital speedometer, digital trip meter and an analog tachometer.
The width of the bike is 804mm, lengths is 2070mm while the height is 1205 mm. The fuel tank capacity is 12 litres and the wheelbase is 1363 mm. The bike weighs 153kg.
Design & Style
Beautifully designed Bajaj Pulsar 200 AS is a perfect companion for longer rides, eliminating the fact that Pulsar bikes are not comfortable for long rides. The bike is available in 3 different shades – Black, Blue and Red. This time Bajaj decided to show its power through simplicity as there are no stickers on bike's body. The new Pulsar model gets aerodynamic half-fairing, extended widescreen, muscular tank and projector headlamp.
The bike shares almost everything with Pulsar 200 NS; however, the only difference is the projector headlamp and the new large fairing which is styled very well. Although dimensionally similar, the AS200 is taller than the NS200. Also, its handlebar position is a bit higher. The seating position of the bikes has been kept more comfortable, keeping in mind its adventure nature. Design wise, the bike's front has taken inspiration from the popular Discover 150F and rest of bike is alike 200 NS.
Top competitors of Bajaj Pulsar 200 AS
There are a number of competitors racing in the Indian premium bike segment. Bajaj Pulsar 200 AS will face a tough competition with KTM Duke 200 and Hero Karizma R.
A brand new Pulsar 200 AS can be the first choice for all those who love exploring new roads all the time. It seems to be a value-for-money offering with an efficient price and excellent features. With a wide range of bike engine sizes and types, Bajaj is planning for some market dominating moves. Introduction of new 200AS is just the beginning that will enlighten many hearts looking for routes those are less travelled.