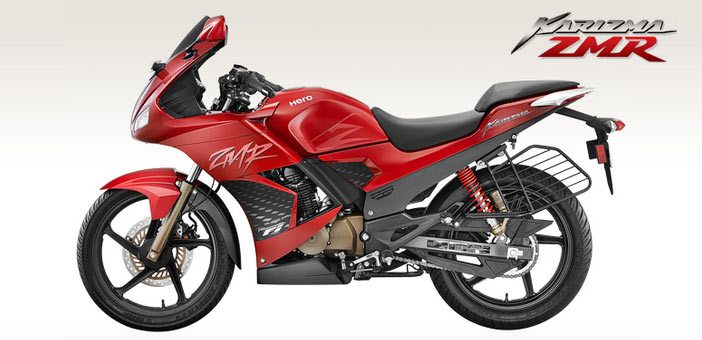 The array of motorcycle manufacturing companies in India bears a sharp testimony to how the competition has kept getting fierce by the day. Hero MotoCorp, as most of us are aware, has severed former ties with Honda and made a bigger name for itself after going solo. Now that the brand has partnered with USA's Erik Buell Racing, Italy's Engine Engineering and Austria's AVL, there are more than 15 upgraded revolutionary items, including cosmetic and mechanical parts to take one's breath away. Among the lot, the Karizma ZMR is hard to miss. Though it's quite a popular one, but now that it has had a makeover, the fan following surely requires no mention!
Design and Built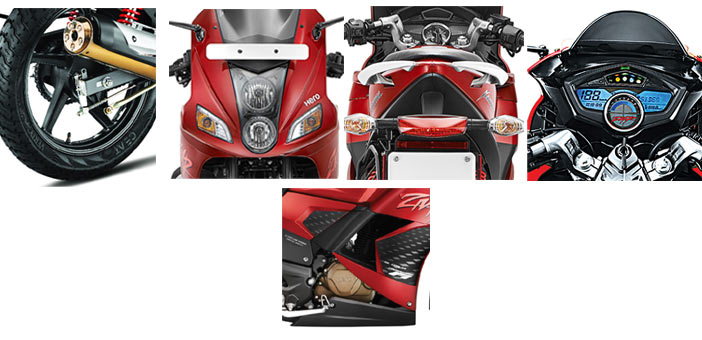 There is enough reason to call the Hero ZMR as the modern Indian Hayabusa. Looks wise, the frame of the motorcycle with its single cradle in a tubular style and diamond type chassis are definite attractions. Unlike Karizma and its cohesive design, the new ZMR looks taut and smooth. The vertically stacked twin-headlamp is the prime attraction of the entire design concept and is highly based on EBR 1190RS. Even the indicators are joined inside the fairing like the tail-light that's mounted on the mudguard. The design elements and body has been completely worked on which makes all new ZMR 2kg lighter than its predecessor. The large visor protects the driver well by wind blasts especially when upper body is bent forward for better aerodynamics. The dual horns are yet another useful feature which sounds loudly. It comes handy when one has to announce their presence.
Few other features that score in the style department include full sporty cowling and seating, bulb winkers, new muffler cover, the great front fender, well positioned handle bars, 18-inch alloy wheels, PGM-FI decals and many more. Also, the self start option and footrest lends it a class apart to others.
Available in three shades namely black, white and red, it's not a cakewalk selecting any one for each color option is bound to get anyone weak in their knees!
Engine Capacity and Gearbox
ZMR retains its Honda mobilized single 4-stroke cylinder, fuel administered 223 cc motor that has been working for close to a decade. Hoever the compression is raised from 9.0 to 9.6:1. The bike's 'full transistorized ignition system', a stupendous engine and oil-cooler facilities revs up an extreme power of 20 BHP at 8000 rpm and torque of 19.7 Nm at 6500 rpm. It is available in 5 speed transmission, which adds to the tweaks introduced in this revolutionary two-wheeler. The 5-speed gearbox is retained which is 1 down and 4 up. The bike has a very strong acceleration and could go easily up to 100kmph. The bike could easily go from 0-60kmph in 4.5seconds and 0-100kmph in under 12.5s. The top speed for the bike is similar 129kmph.
Handling and Performance
The riding position for ZMR is aggressive due to smaller clip-on handlebar which makes it very sporty. On highways it is very comfortable due to its plush seat and good footrests. However, driving on city roads for longer duration might give a stressed wrist. Going around corners and lane changing is quicker which owes largely to it better riding posture. Both disc brakes work together to give a safe stop.
For the best experience, it is always recommended that long rides be taken with this bike, keeping the standard speed at about 5000 rpm. Since it weighs 157 kilos, managing the city traffic is no painstaking task. So, when it comes to the performance bit, the bike amazes most riders who prefer long runs than taking the speed route.
Mileage
Fuel efficiency for the bike is same as its sibling. Under actual condition it could go up to 37kmpl in city rides and 43kmpl on highways.
Suspension
At the front, ZMR has 276 mm disc brakes while he rear contains 240 mm. Witeh telescopic hydraulic shock absorbers is situated in the front and the adjustable hydraulic ones at the back, the bike surely boats of some quality suspension system. This explains why going for long rides and riding pillion is so relaxing.
Pricing and Competitors
At approx 1.02-1.07 lakh INR, buyers should not ask for a cheaper rate for the Karizma ZMR. The service network and good resale values are icings on the cake!
As regards its competitors, Bajaj Pulsar RS 200 and Yamaha R15 are worthy picks to the ZMR series.
Verdict
It will be safe saying that Hero Karizma ZMR as a regular bike proves more satisfying than racing with it. Besides, styling is the topmost priority. When compared to its predecessor, the visual appeal undoubtedly matters, yet the scope for performance betterment lies on the cards. With rivals like Pulsar 200 NS and KTM 200 Duke, Karizma ZMR fails to match with their performance, power or speed.