After the end of 26 years of successful association Hero group and Honda broke apart on 16th Dec 2010. Before the breakup, the 2 most successful bikes still hold the top position. Honda launched its Dream series in 2012 to take on Hero Motocorp dominance but was only partially successful and Hero group still holds most of the top 5 spots. Though Honda is not far behind with its Activa as best seller overall and CB Shine as the 125cc segment most sold bike. Honda is still trying hard to break into 100-110cc and we have to see if its 110cc Livo is going to make a difference for it or not.
Design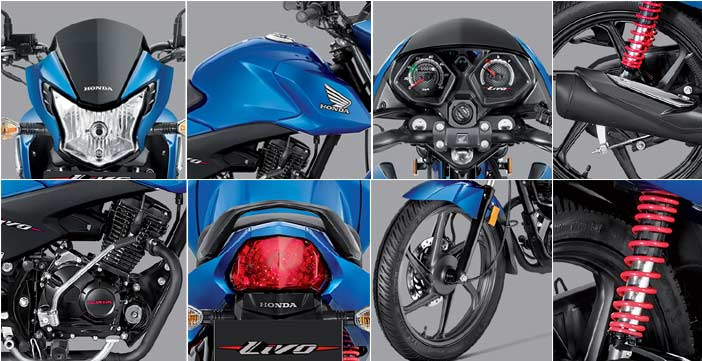 Livo is not an all new bike but we could call it more of Dream Yuga in new suit-boot. Look wise it is far better than Yuga with all new stickers, nice sharp headlamps and tightly packed visor. Everything from the front looks tidy and neat. The hexagonal speedometer, ODO meter is placed towards left and similar looking fuel gauge to the right looks perfect. Plastic tank extension in the front with nicely designed tank gives it a fuller look. The 2 part side panels are well designed too with upper part painted in body color and lower part in black with one end meeting tank's base and other part blends with the rear panel. The quality of materials used in the body is of high quality.
The seat is soft and could post problem in long distance drives above 50-60 kms at a stretch.
Engine
The bike is powered by air cooled, 4 stroke, 109.1cc SI engine similar to Dream Yuga that is refined and gives decent performance as compared to others in the segment. It could reach from 0-60kmph in just around 8.3 seconds which makes it one of quickest 110cc bike at signals. The bike could reach comfortably to its top speed of 84-85kmph. It punches out a peak power of 9.0PS at 7500rpm and a maximum torque of 9.0Nm at 5500rpm.
The bike has enough torque at low revs too which enables it to go at 30kmph even at 3rd gear. The bike seems most comfortable at 65kmph. At 80kmph too there is no vibration and Livo goes smooth however the absence of 5th gear is felt at this speed.
Mileage
The best part of Livo is its average per kilometers as it gives nearly 80kmpl on highways and 70kmpl on city roads. With 8.5ltr fuel tank it could easily go up to 615kms which is impressive numbers even in the most fuel efficient bikes segment.
Handling
The bike has Diamond frame type and the front has telescopic fork suspension while rear is fitted with spring loaded hydraulic suspension. The diamond frame is similar as Dream Yuga that keeps the bike grounded even at 80kmph speed. The suspension is efficient enough so as to take the potholes and bumps with ease. However as Yuga it has rear sometimes feels stiff with bigger holes on the road. The cornering is easy but you might not want to lean a lot due to the thin tyres. The disc brakes are responsive and tubeless MRF tyres makes it more effective.
Finals
With a price tag of Rs. 65,253 on road Mumbai, will this bike be moneymaker for Honda. Well, time will answer that. It is positioned with Dream Yuga as a premium alternative with highly effective Twister engine. It is for sure one of the better commuter bikes with loads of fun feature and great looks. In next 2-3 months it will get clear where this bike is heading.