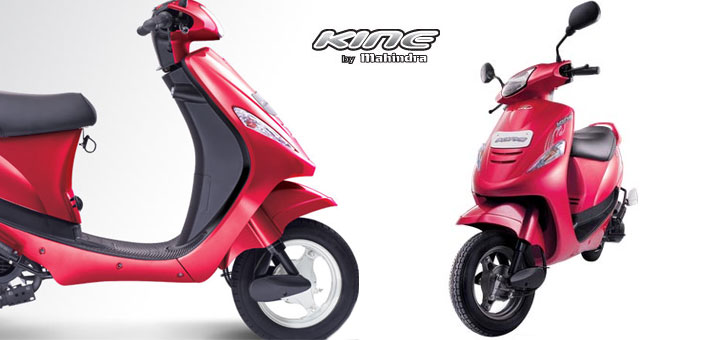 This small capacity scooter offers youthful body graphics, stylish design, multifocal headlamp, comfortable seat, and good legroom. Mahindra Kine is a light weight scooter, and it is available in the market since 2010. It is best suited for users who wish to buy scooter to travel short distances.
At one point in time, Indians used to love riding on light weight, zippy machines while traveling in city areas. Even boys preferred to use Scooty for quick ride. It won't be wrong to say that Kine represents that 90s era.
Engine and Features
The scooter is powered by 71.5 cc two-stroke, air cooled engine than can offer maximum speed of 60 KMPH.
Instrument cluster is impressive; it offers usual low-fuel indicator, speedometer, trip-meter, fuel gauge, and surprisingly, side stand alarm!
Drum brake in the front and rear are just about OK to control the scooter. Swing arm suspension system manages the rear suspension while bottom-link system manages the front suspension.
Vehicle's weight is 82 kgs, and its seat height is 760 mm. Perhaps, this is the reason that this scooter is popularly used by college girls.
The vehicle offers electric start as well as kick start option for those who wish to give few seconds of exercise to their feet. Kine's fuel tank capacity is just four liters, but anyway, this scooter is designed to travel short distances.
Pillion rider will feel comfortable due to handlebar. The under seat storage space is good enough to keep small helmet or shopping bag.
Mahindra Kine Mileage
The scooty is expected to give an average of around 55 KMPL while traveling in city areas and around 63 KMPL while on highway. But after looking at the scooter's overall capacity, very less number of users would be tempted to take this kid on the highway. The mileage for the gear less scooter is impressive but the 71.5cc engine might not be liked by many. The preferences of target female buyers have also changed and they too are going for powerful 2 wheelers.
Comparison with other similar scooters
Mahindra had released Kine scooter within few years from its takeover of Kinetic Motors. The scooter has managed to attract many buyers without running advertisements and marketing campaigns.
It is often compared with 74.6 cc Scooty Pep, which is one of TVS motor company's best sellers. Pep is also designed with female users in mind. Weight-wise, Pep is 85 kgs, compared to Kine's 82 kgs. But Scooty's engine is a bit more powerful than the one fitted in Kine. Both vehicles offer kick start and electric start option. Reviews suggest that Scooty Pep offers slightly better mileage than Kine while traveling in city areas.
According to sales figures from various parts of the country, most of the people prefer Pep and Pep plus over M & M's vehicle.
Kine scooter is available in flame orange, pearl white, lavender, and black color. The scooter comes with price tag of around Rs 33,000 plus taxes.
M & M's grand plans for 2015
M & M is trying hard to end Honda's dominance over Indian two wheeler market. Company's other scooters like Gusto, Rodeo, Duro and Flyte have successfully attracted users.
The company has recently completed formalities to buy 51 percent stake in French Peugeot Motorcycles. The French scooter maker can definitely help M & M to offer world class premium scooters in the Indian market.
Mahindra Two Wheelers VP for customer care and sales, Dharmendra Mishra interacted with journalists during January this year. He shared the details about company's plans for 2015 and said that M & M is working on several 150 cc, 152 cc, and 110 cc scooter as well as bike concepts. Dharmendra also said that the company plans to introduce new two-wheelers after every six months in the Indian market.