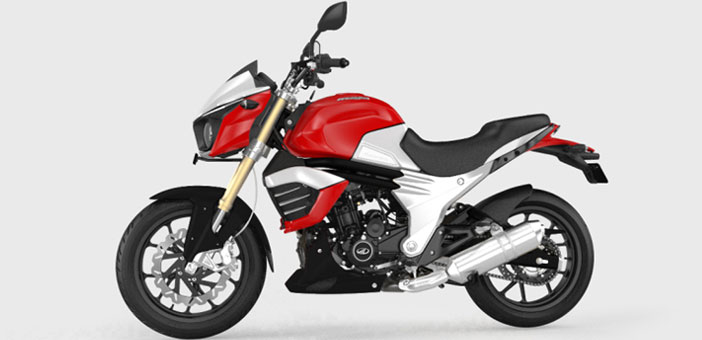 Mahindra is the only 2-wheeler maker which doesn't has any motorcycle or scooter in the top 20 list of highest selling bikes in India. Its Centuro with all hype about the car like key powered by find-me and flip-folding features was not able to make its mark as commuter bike. Gusto too was never able to pick up against the likes of Jupitor, Activa and Maestro. All this is going to change now as Mahindra has launched what we call as first 300cc bike produced by an Indian company which could take its rivals head on. Yes, it was a long wait but worth everything what we see with Mojo.
Mojo was first unveiled in 2010 Delhi auto expo and it took company whole 5 years to make it production ready and bring it to dealers. Was it worth the weight, well, we would know in coming months.
Design
Small wind deflector looks fine if not great with twin pod headlights and fancy brows above it. The wind deflector works well in deflecting wind at high speeds. The headlamp looks a bit bulky. A bit more though could have gone into making the face muscular and macho which could have gone well with the overall powerful bike. The instrument panel houses analog as well as digital displays which are very readable and are pleasing to eyes. Once the peak power output is reached, the shift indicator lights up and that is a cool feature for highways. Once the bike touches highest rpm, a strip of LED light brightens. Another great feature is the indicator that shows highest speed achieved and time takes to reach 0-100kmph.
Unlike other 300cc bikes, handlebars in Mojo are designed to give an upright riding posture which can be beneficial for city rides. The switch gear lights up that could be beneficial for people who drive often at night. Rear view mirrors, palm grips all are designed well to do their job efficiently. 21 litres of fuel tank is great news for people who often go for long drives. Gold ribs below the tank might not be liked by many as it looks out of order. I think these golden ribs have become patent for Mahendra bikes as we last saw it on Centuro.
The seats are comfortable for rider but there is hardly much space left for the pillion. The front of the bike looks a bit heave with not much mass at rear.
Engine
Mojo gets power from Liquid cooled, 4 stroke, 1 cylinder, DOHC, EFI, 295cc SI Engine that crunches out maximum power of 20 Kw at 8000rpm and peak torque of 30 Nm at 5500 rpm. Highest torque is available in the range 4500 to 6500 rpm. The acceleration is smooth and calm but strong enough to not let behind at traffic lights. Progressive clutch and smooth 6-speed gearbox shift adds to the confidence of the rider. There are not vibes at any speed and the engine is more or less silent.
It could easily go to 125kmph on highways and stay there for long without any issues. However it could go to a top speed of 160kmph but works well 20kmph below that if you are driving on highways for long.
Ride and Handling
Upside down forks in front and monoshok suspension at the rear are well tuned and integrated to the body to give great ride quality. The bad and rough roads could be easily absorbed by it and bike glides through them efficiently. Due to the front heavy design riding around hard corners might not be very smooth but is not bad. Once the rider knows the bike well, it would not pose any problems. The 110/70 x 17 inch in front and 150/60 x 17 inch in the rear Pirelli Diablo Rosso IIs tyres are the best in the market and keeps the bike grounded at all speeds. 320mm front disc and 240mm rear disc brakes works well. Option of ABS would have added better safety to the bike. I am sure Mahindra would come up with it in future variants.
Mileage
We don't know much about the mileage Mojo is going to give but it would be anywhere between 40-50kmpl. Anything above that would be great.
Verdict
Mojo is great on highways, has good sitting posture, offers comfortable ride and is well equipped. Here is a Mahindra bike which has all the abilities to take on KTM Duke and Royal Enfield. The later would not be a huge problem but KTM is going to be tough competition and would not be easy to take over.
2016 Prices and Specifications
Price: 1.58 lakh (Ex-Showroom Delhi)
Engine
Type: Single cylinder liquid cooled, 4-stroke
Displacement: 295 cc
Power: 27bhp at 8000rpm
Torque: 30Nm at 5500rpm
Transmission: 6-speed Manual
Gear box: 1 down, 5 up
Mileage
Estimated: 40-50kmpl
Performance
Top speed: 160kmph
Other Specifications
Suspension(F): Upside down forks
Suspension(R): Monoshock, box section swingarm
Brakes(F): 320mm Disc
Brakes(R): 240mm Disc
Tyre(F): 110/70 x 17 inch
Tyre(R): 150/60 x 17 inch
L x W x H: 2100 mm x 800 mm x 1165 mm
Wheelbase: 1465mm
Kerb Weight: 165kg
Fuel Tank: 21L