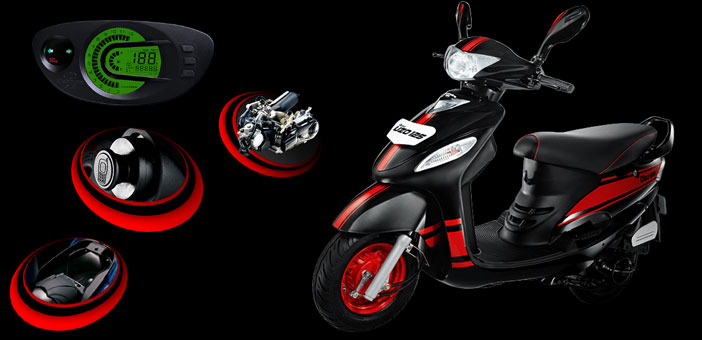 Mahindra Rodeo was launched in 2009, and the next model Rodeo RZ was unveiled in 2012. In another attempt to take over Honda's Activa, Mahindra Two Wheelers launched this vehicle's latest model called Mahindra Rodeo Uzo in August 2014. This model did manage to create buzz among two wheeler lovers. Here are some points that manage to differentiate Rodeo Uzo 125cc from its competitors.
Engine
This stylish looking electric start scooter is loaded with same 124.6 cc Z series engine that powers older versions of Rodeo. User reviews suggest that this vehicle offers mileage of 59 KMPL. Four stroke engine's top speed is 80 KMPH. The scooter needs 9.4 seconds to reach from 0 to 60 KMPH. Rodeo Uzo's 4.5 liters fuel tank seems good enough to stay away from fuel pumps for few days.
Engine's Dual Curve Digital Ignition technology and ALTA system helps it to perform better than other engines, and that too, with lower maintenance cost.
Rodeo Uzo 125's telescopic front suspension, and hydraulic rear suspension, combined with front and rear drum brakes are good enough to control and balance the vehicle. The scooter has 154 mm ground clearance that is sufficient to provide smooth ride on roads full of bumps and potholes.
Style
Gear less scooter appears sporty with its new colored wheels, and body graphics. Body colored mirrors also look good. Light weight frame and aero-dynamic design helps this scooter to look even better than Honda Activa.
You can also use this scooter to travel on highways along with city roads. Scooter maker claims that Rodeo Uzo 125's seat is dual textured, and is designed to avoid slippage.
Rodeo Uzo 125cc also offers side stand buzzer that alerts you in-case if you forget to lift side stand while riding. Scooter's 4 in 1 anti-theft key can be used to lock the entire vehicle. Its digital dashboard (console) is very impressive. It includes accelerometer, high-speed alarm, clock, trip-meter, odometer, tachometer, and fuel indicator. There are six colors in this console.
Under seat storage space is of 22 liters, and is also equipped with light to offer convenience. Space is enough to take care of your shopping bags or full sized helmet. Front fueling means there is no need to raise the seat while refueling.
Mobile phone charging point makes sure that you remain connected with Whatsapp and Facebook even if your phone's battery needs charging after every few hours. Rodeo Uzo 125 is designed for young boys and girls. But you may also find people using it as family scooter.
Comparison
Rodeo Uzo is compared with Suzuki Access, Honda Activa, and Yamaha Ray. Users and scooter experts suggest that Rodeo Uzo 125cc is ahead of its competitors as far as features and price tag is concerned. It is priced around Rs 48,000, plus taxes. You can choose from colors like blazing blue, bolt black, victory violet and race track black.
Thanks to its popular scooter, Activa, Honda controls around 55 per cent of Indian scooter market. However, Mahindra Two Wheelers is in no mood to let Honda enjoy this position for longer.
Dharmendra Mishra, Mahindra Two Wheelers Ltd's VP for customer service and sales recently interacted with media persons during launch of company's Gusto scooter. After launching Gusto, he declared that they are committed to launch at-least one new model of scooter after every six months. He also highlighted the point that the company is currently focusing on 150 cc two wheelers.
Now bike lovers are anxiously waiting for Mahindra Mojo 300 super bike that is expected to be launched sometime in April this year.