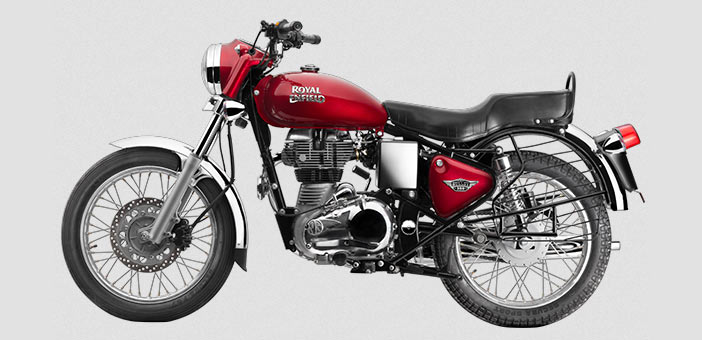 Some old-school players never vanish into thin air and Royal Enfield as a brand has stayed true to the example it had set for itself. Their motorbikes are simple cruisers! Even though they may resemble few other brand names in two wheeler, yet they play differently. The bike essentially combines the traditional feel of the brand with that of a modern UCE engine. This blending lends a touch of reliability and uniqueness than its previous models.
Basically, Enfield consists of variants on road as regards its capacity, riding style price, specifications and performance is concerned, but there are reasons why adopting the revolutionary Electra makes sense for most.
Design
The Bullet Electra has a fantastic functional design so as to facilitate long distance rides. Looks classy despite its retro eel, the Electra has few modern technologies that ensure high-end performance. The styling is mostly in line with that of the predecessors but what catches the eye is the distinctive appeal. The handlebar is raised this time, seats are more comfortable and addition of few accessories together offers the motorcycle an edge above many others.
Bike fanatics are bound to drool over its color options that include black, silver and red.
Engine
In order to meet the new Euro 3 emission laws and also stay true to the classic 346 cc four-stroke Twinspark, single cylinder, the Bullet Electra's engine surely fascinates. At 187 kg, the two-wheeler's engine produces a maximum power output of 19.8 bhp at 5250 rpm while the maximum torque stands at 28 Nm at 4000 rpm. Given the power it has, the control has been kept to a 5 speed constant mesh transmission plus the multi-plate clutch. There are rubber strips inserted between the fins so as to reduce engine noise, but no to forget it is Bullet Electra, which means riders will be treated to a nice classic sound that old-fashioned purists fall for!
Brakes and ride quality
The brakes are just fine for the single disc at the front is more powerful than the drum ones at the back. This explains how the engine packs up about 27.5 bhp. Rides are comfy, till you decide to speed up and give a kick!
To expect great long journeys from this beast won't be a wise thing as sustained speed is not what is in its offering. For its height, weight and seating arrangement, most bike enthusiasts love it. But one thing is for certain- its performance is so good that one won't experience back or neck pain even when it means commuting against high traffic. Besides, its pillion seats are wider than most other counterparts as much as its turning radius on roads. Steady for sure!
Reliability and Build Quality
These bikes are made in India and this must not be forgotten under any condition. So if you are expecting something like Japanese standards, prepare yourself to be crestfallen! Reliability wise, Royal Enfield has never failed its loyalists but reality be said, electrics are not that great. You need to care a lot for your vehicle when preserving the finish. After all, it's just the front disc brake and an electric start that it can serve, so maintaining them becomes more than important.
Equipment and Accessories
Don't be disappointed seeing your Electra lacking on-board computer or digital tyre pressure sensors. Enfield has a different way of looking at biking. The 2 wheels and robust engine are sure to the delight of most but expecting accessories like digital fuel gauge, trip meter or tachometer would be wrong. However, the speedometer is present.
Pricing and Rivals
The bike is priced at Rs. 119,600(on-road Delhi) which could be considered as tight for the value you get out of it. The resale value of the bike is also very good. Ask anyone who rides a Bullet and you could very well know what this machine means to them.
In terms of competition, Royal Enfield is the main competitor for its own bikes. The nearest rival for it is though Bullet 350 which is Rs. 15000 cheaper and Classic 350 which is costlier by Rs. 8000.
Verdict
The bike stands strong. Not because it's Enfield, but largely for performance and styling. However, buying choices will mostly be dictated by the feeling connected with riding and not merely figures mentioned in reviews. Some improvements though might be required to make it even more enticing like brakes and instrument console which is very basic and aged. Front disc brakes and electric start are good addition. The excellent build quality makes it more like riding a small 2-wheeler tank than a bike.