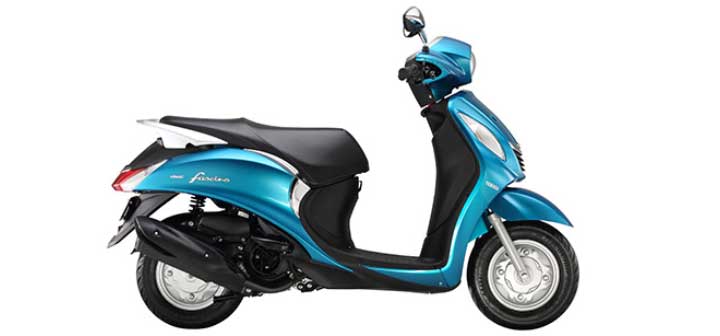 Yamaha India recently made it in headlines by launching its fourth scooter called "Fascino" in the Indian market. This scooter has classy and rich design to attract the country's young population. But can this compete with India's number one scooter Activa? Let's take a look at Fascino's features.
Looks
After looking at Fascino's retro look for the first time, you might suddenly remember scooters from Vespa. Company's website refers to this vehicle as "scooter," but some experts also tag it as scooty.
Car and bike experts compare this scooter's front fascia with that of Vespa LX 125. Yamaha decal on scooter's face and chrome-plated curves give it a sporty and premium look. Scooter's plush long seat ensures that even pillion rider feels comfortable while traveling. But everyone may not be impressed with the grab bar for pillion rider.
Fascino offers impressive under seat storage that can be used to store shopping bags or helmet. You can also keep your wallet, water bottle, or phone in the small storage space below the handle.
As the scooter's seat height is 775 mm it can also prove to be good option for individuals with short height.
Fascino's instrument console is very simple; it has analogue fuel gauge, odometer and speedometer. The scooter is available in colors like tuxedo black, cool cobalt, haute white, sassy cyan, and rouge red.
Engine
Fascino is powered by four stroke 113cc engine that works on Yamaha's fuel efficient blue core technology. The scooter offers mileage of around 66 KMPL, which is better than Honda's Activa and stylish Vespa as well.
As of now, there is no information about the scooter's top speed.
Yamaha has fitted 5.2 liters fuel tank in this scooter, which is similar to most of its competitors. It offers kick start as well as electric start option.
Braking and suspension system
Monoshock rear suspension and fork type telescopic front suspension manage to offer perfectly smooth ride while traveling within city areas. In-fact, initial reviews suggest that Fascino manages to offer better ride quality than India's best seller Activa.
Drum brakes in the rear and front are capable enough to control this stylish scooter even in traffic.
Comparison with other scooters
It is oblivious that every Indian scooter will be compared with the country's best seller Activa. Fascino is often compared with Activa and TVS Scooty Zest.
TVS and Honda's scooter is fitted with 109.7cc, and 109.2cc engine respectively, while Yamaha's engine is 113cc. All three scooters are fitted with almost the same sized fuel tank.
As far as suspension is concerned, TVS and Yamaha's suspension is better than that of Honda. Weight-wise Yamaha's scooter weighs 103 KGs; Honda Activa's weight is 108 KGs, while TVS Scooty Zest weighs 98.5 Kgs.
The 110cc Scooty zest is the cheapest option among all three. It comes with price tag of around Rs 45,000 plus taxes. Honda Activa comes with price tag of around Rs 50,000 plus taxes, while Fascino is the most expensive option as its price tag is Rs 52,500 plus taxes. But let's not forget that Yamaha's product is way too stylish than the other two.
Yamaha expecting better sales during coming months
Scooter segment dominates around 27 percent of Indian two-wheeler market, and Yamaha India is trying hard to compete with market leader, Honda Activa. The Japanese two wheeler maker already has scooters like Alpha, Ray Z, and Ray in the market. Now the company plans to target the youth, especially girls with Fascino.
The company is also expected to release R3 and R25 sports bike in India this year. According to reports and certain images, R25 was recently spotted at one of Yamaha's dealer showrooms in India.