Pros: Price, mileage, value for money, handling, built quality
Cons: No 5th gear, competition, brakes, tyres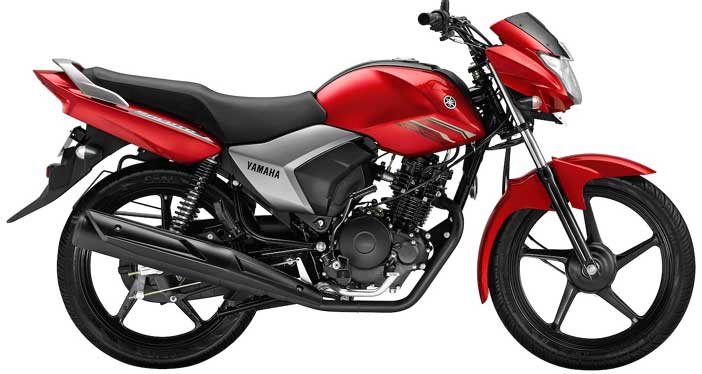 Saluto is an attempt by Yamaha to bring a bike for India which is not only fuel efficient but is powerful and comes with a refined engine where noise, harshness and vibration is brought down to minimal levels. By first look the tank looks attractive with not much of plastics on it like FZ. However plastic panels are their but on either sides of tank without the mount. The flow of design from front to back is curvy with pointed tail. The build quality and looks are better than commuter class and is at par with the segment's other bikes.
Ride and Handling
The chassis is light and in fact it is the lightest bike in the segment. The bike is very stable around the corners. Absence of front disc brakes is felt and its addition could have enhanced the value of the bike even further. Tubeless tyres from Ceat secura are good but something better would have been great. The brake lever does not give much confidence to the rider and its drum brakes too are not upto the mark. The ride quality of the bike is although better as compared to others. It could take potholes with ease and thus transferring less of perils to the rider. It gives an upright sitting posture which is comfortable for daily rides and straight handle bar is fair enough. The 4-speed gearbox could be boon for city riders as they do not have to change gears at low speeds. The seat is of a medium height which could be comfortable for both people with short and medium height. 6 feet+ people might sometimes feel uncomfortable. The seat length is longest in the class so, it would be comfortable to ride with pillion passengers.
Engine and Mileage
Saluto's engine is based on Blue Core FZ unit where stroke configuration is kept long for low down torque. Its 125cc engine punches out power of 8.3PS at 7000rpm and a peak torque of 10.1Nm at 4000rpm. Unlike SS125 the all new Saluto is aimed for commuter bike and according to ARAI the mileage it returns is 78kmpl. But in normal city rides it is expected to give close to 63-65kmpl. The top speed is close to 85-87kmph and it takes nearly 9.5s to reach from 0-60kmph. This bike might not win races between the traffic lights but we have to remember its target buyer to. It is primarily aimed as a commuter bike that more power than 110cc segment and gives good average too.
Brakes & Suspension
The bike is fitted with telescopic fork suspension in front and Swingarm rear suspension one for each side in the rear. 130mm drum brakes are fitted in both front and rear which does not goes well with a 125cc bike.
Features
The kerb weight stands at 112 kg which is lowest in its segment that makes this bike easy to handle and works well under different conditions. Tubeless tyres are great addition which would be helpful in highway or long rides. The 180mm ground clearance would help in riding through uneven roads with ease. Sari guard in the back keeps away cloth from tangling. The powerful and large horn is there to let people on road know that you are coming and clear the road. 🙂
Colors and Price
Victory red and brave black are 2 shades available for this bike which looks good and decent. Victory red looks better than the other and black exhaust enhances the looks of both the shades. The price is very competitive and Rs. 52,000+ makes it one of the cheapest bikes in the segment.
Verdict
Will this bike model be able to take on the market leader Honda Shine. It is very unlikely despite the fact that it is Rs. 13,000 cheaper. Honda shine is more powerful(10.6PS as against 8.1PS), better disc brakes, better acceleration, higher top speed and overall caters to different segment of buyers. Saluto is looking out to grab more of 110cc buyers than taking up Shine head on. The real competitor for this bike would be Suzuki Slingshot and Bajaj Discover.
Engine type: Air cooled, 4-stroke, SOHC, 2-valve
Displacement: 125cc
Maximum Horse Power: 6.1kW (8.3PS)/7000r/min
Maximum torque: 10.1Nm (1.0kgf-m)/4500r/min
Starting: Electric start & Kick start
Clutch: Wet, multiple-disc
Gears: 4
Ignition: Capacitor discharge ignition
Battery: 12V – 5.0Ah/5.0Ah
Transmission: 4-speed, Constant mesh
Fuel Tank: 7.6l

Overall (L×W×H): 2,035mm x 700mm x 1,080mm
Kerb Weight: 112kg
Wheelbase: 1,265 mm
Ground clearance: 180 mm
Fuel tank: 7.6L
Engine oil: 1.10L
Seat height: 805 mm

Frame type: Diamond
Suspension (F): Telescopic fork
Suspension(R): Swingarm
Brake (Front/Rear): Drum brake
Tire (Front): 80/100-18 47P Tubeless
Tire (Rear): 80/100-18 54P Tubeless

City: 63kmpl
Highway: 70kmpl
Overall: 64.5kmpl
Arai: 78kmpl