In this list of best 5 bikes under Rs. 3,00,000 in 2016, we have taken bikes which costs between 2 – 3 lakhs.
1. KTM RC 390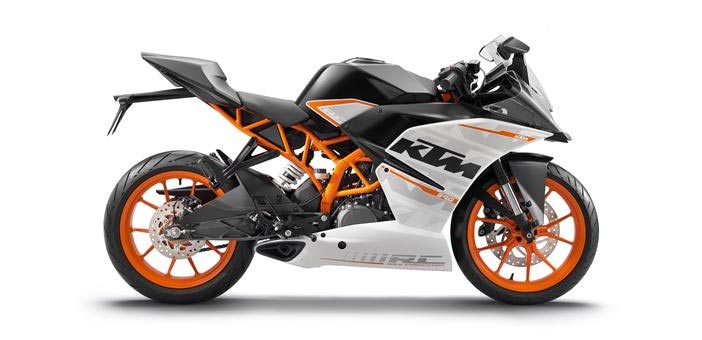 Price: Rs. 2,18,000 (Ex Mumbai)
Engine: 373cc
Power: 43.5PS
Torque: 35Nm
Mileage(city/Highway): 26kmpl/33kmpl
The aggressive pricing, uncompromising suspension, powerful engine, great ergonomics are some of the few highlights of RC 390 that makes it compelling buy for both enthusiasts and casual riders.
There are very little changes in this bike than Duke 390 and one of them is intake path which is primarily changed to adjust with the new styling. This ensures that you get great deal of power and torque which is unmatched by any bike in this price segment. The bike can practically go up to 165-170kmph which is too much for Indian roads.
The steering angle for RC 390 has been changed from 65 degrees to 66.5 degrees when compared to Duke 390. Due to this change motorcycle responds faster, easy on taking up corners or while changing lanes and wheelbase reduction by 27mm. Riding on city roads might not be very comfortable with it due to aggressive sitting posture and design which is optimized for better aerodynamics, control and gives little space for comfort.
RC 390 is powered by liquid cooled, 4-valve, fuel injected 373.2cc DOHC engine that gives out maximum power of 43.5PS at 9500rpm and peak torque of 35Nm at 7000rpm. Top speed for the bike is 170kmph whereas company claims on race tracks it could go up to 175kmph.
2. Royal Enfield Continental GT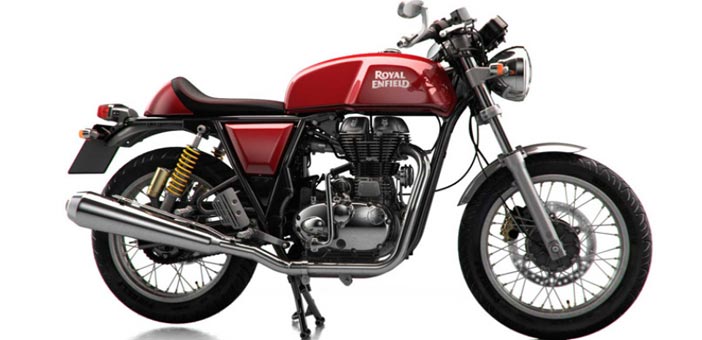 Price: Rs. 2,04,438 (Ex Mumbai)
Engine: 535cc
Power: 29.1PS
Torque: 44Nm
Mileage(city/Highway): 26kmpl/36kmpl
Continental GT 535 is a cafe racer, a concept original to Europe and quite new to India. Cafe racer is a bike which is primarily designed for short rides and is optimized for handling and speed rather than comfort.
Royal Enfield has worked on the design hard to make its new offering look vintage and classic. There are successful in doing it to great extent with compact design and low positioned handlebars.
The bike is powered by Single Cylinder, 4-stroke, Air-cooled 535cc engine that gives out a peak power of 29.1PS at 5100rpm and maximum torque of 44Nm at 4000rpm. Engine is mated with 5 Speed Constant Mesh gearbox. It could go from 0-60kmph in about 4.3 seconds with a top speed of 131kmph.
Telescopic suspension in the front and Paioli,Twin gas charged shock absorbers in the back is well integrated with Twin down tube cradle frame. The bike could take up small potholes and bumps easily but once you come in contact with bigger ones, you might have to be a bit cautious. 300mm Floating disc front brake and 240mm Disc rear brake gives works well together and is responsive enough to stop bike efficiently when required.
When it comes to fuel efficiency, Continental GT is not that far behind. On city roads the bike could go up to 26kms on a litre of petrol and on highways it easily gives mileage of 36kmpl.
3. Benelli TNT 300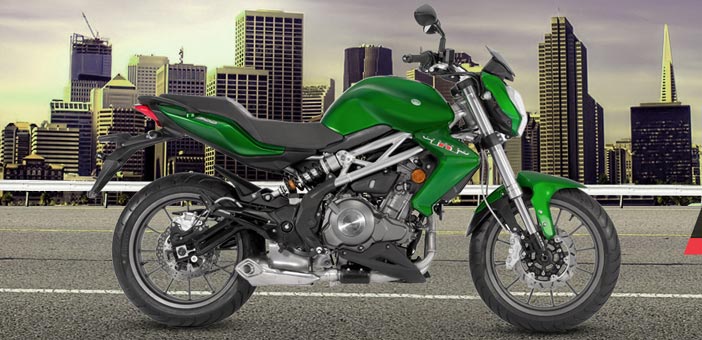 Price: Rs. 3,00,000 (Ex Mumbai)
Engine: 300cc
Power: 38.3PS
Torque: 26.5Nm
Mileage(city/Highway): 24kmpl/33.5kmpl
TNT 300 from Benelli is manufactured in China but originally hails from Italy where it was designed. It is a naked street bike that looks great. The muscular curves are pure Italian would impress both young and experienced riders alike.
The bike is powered by 4-stroke, parallel twin cylinder short stroke 300cc engine that produces maximum power of 43PS at 9000rpm and peak torque of 35Nm at 7000rpm. The 8 valve engine is driven by dual overhead camshafts. Injection happens via 38mm twin injectors and liquid cooling is standard for it. There is enough torque at bottom speeds due to which one could expect it to the one which cruises past others at the traffic signals. 6 speed gearbox shifts one down and five up. Engine is tuned to give a quick acceleration with brisk mid ranges and then again picks up at 7000rpm after which is cruises without grasping for breath till 11,000rpm which is its limiter. It could go from 0-60kmph in about 3.41 seconds and thereafter reaches 100kmph from standstill in about 8.4 seconds. 5th gear brings the bike up to 130kmph and 6th upto 154kmph which is the true top speed of the bike.
The riding posture is sporty but the footrests that is positioned slightly backward gives almost upright posture too which makes it good bike for city roads too. High tensile trellis frame is well integrated with 41mm upside down forks in front and adjustable offset monoshock in the rear which enables bike to take on small potholes with ease. A Pirelli tubeless tyre gives enough ground grip and adds to stability of the bike. 240mm petal disc brakes in the front and 240mm disc brakes in the back is highly efficient and makes Benelli TNT 30 safe.
Despite being sporty, it gives great fuel efficiency. On city roads it gives a mileage of 26.6kmpl and on highways it could easily go to 29.5km on a litre of petrol.
4. Hyosung Aquila 250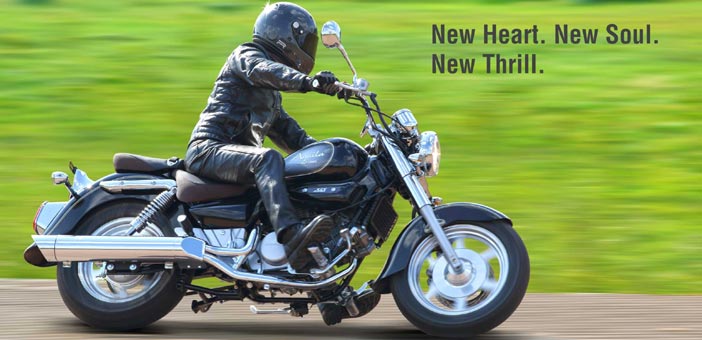 Price: Rs. 3,12,000 (Ex Mumbai)
Engine: 249cc
Power: 26.6PS
Torque: 21.4Nm
Mileage(city/Highway): 33.5kmpl/29kmpl
Hyosung Aquila 250 is one of the latest entrants into cruiser bike family which is positioned in between cheapest Harley Davidson and costliest Royal Enfield. ST7 and Aquila Pro are the 2 other cruiser launched by the company prior to this launch in 2014.
The classic vintage design with low handle bars and round headlamps(vintage) makes it one of the most comfortable bike on highways or for touring purposes. Telescopic suspension in the front and hydraulic double shock absorbers at the back give great stability to the bike and enables it to take up bad roads with ease. The kerb weight for the bike is only 179kg which means that driving it on even city roads will not be a problem. Single disc brakes in front and drum brakes at rear is a letdown as bike with Rs. 3 lakh price tag should have both disc brakes as standard. Bajaj Avenger, one of its distant competitors is almost Rs. 2 lakh cheaper but that is the price you pay for premium tourer.
The bike is powered by 4-stroke, 8 valve, oil cooled, 249cc DOHC engine that gives out maximum power of 26.6PS at 9500rpm and churns out peak torque of 21.37Nm at 7000rpm. Engine is mated with 5 speed constant mesh gearbox. Aquila 250 could cruise from 0-60kmph in just under 4.8seconds with a top speed of 120kmph. Aquila 250 give surprising mileage of 33kmpl on city roads and 29kmpl on highways.
Buy this bike for its affordable price, great classic look and top quality fit and finish. Lack of service centers, lack of top eng performance, drum brakes and slight transmission issues are some of the things you might want to consider before going for it.
5. Honda CBR250R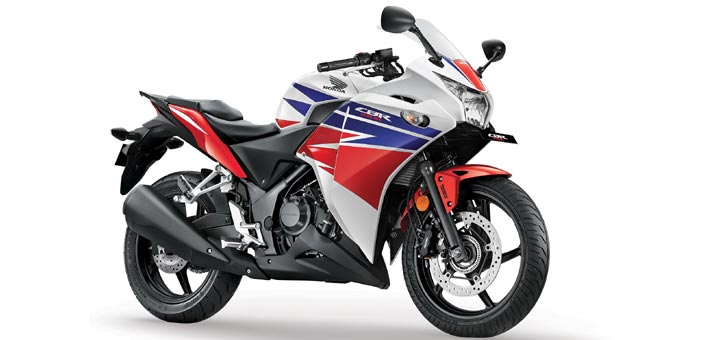 Price: Rs. 1,67,675 (Ex Mumbai)
Engine: 249cc
Power: 25PS
Torque: 22.9Nm
Mileage(city/Highway): 27kmpl/38kmpl
When looks of the bike is of prime importance for you than CBR250R is perfect match as it the best looking motorcycle in this price segment.
CBR250R gets its power from 249.6cc, liquid cooled, 4 stroke SI engine that crunches out a maximum power of 25.0PS at 8500rpm and peak torque of 22.9Nm at 7000rpm. It could cruise till 147kmph which is supposed to be practical top speed for the bike. When it comes to fuel efficiency, CBR250R fairs well with 27kmpl average on city roads and gives an average of 38kmpl which is impressive for this sports bike.
Twin spar frame type is fitted with telescopic suspension in front and spring loaded hydraulic type monoshock absorber in the back absorbs bad road shocks efficiently and adds to safe driving for rider. Anti-Lock Brake System (ABS) is another important feature that gives stability to the bike. The tubeless tyres are coupled with 296mm Disc brakes in the front and 220mm disc brake in the rear which gives enough stopping capability to CBR250R.