The notion that scooters for ladies must be very light, should have moderate power and torque etc. has changed. The scooters mentioned in the list are light in weight but are powerful with enough torque and comes with ample storage, easy center stands and lot of features. These are not only good for women but could be used effectively by teens, housewives, senior citizens and college students. There are available in different type of colors with pink being one of them.
Suzuki Let's – 98Kg

This scooty is primarily designed for girls and young riders and because of its targets audience the design is highly compact due to which it has smaller foot board. The peak power is consistent 8.7PS with powerful 112.8cc engine. It could easily go up to a speed of 90kmph without any type of vibration and is one of the fastest women centric scooter in India. Due to revvier engine and light weight you get good thrust as well as calm and easy ride. Let's is more powerful between 20-65kmph, speed at which most of the city driving happens. Cornering with Let's is like a breeze and you would not be required to put down legs while doing it as it holds its line properly. It has one of the best handling in its segment due to its stiff suspension. Buy it for its excellent handling, light weight, responsive engine and contemporary looks.
TVS Scooty Zest 110 – 97Kg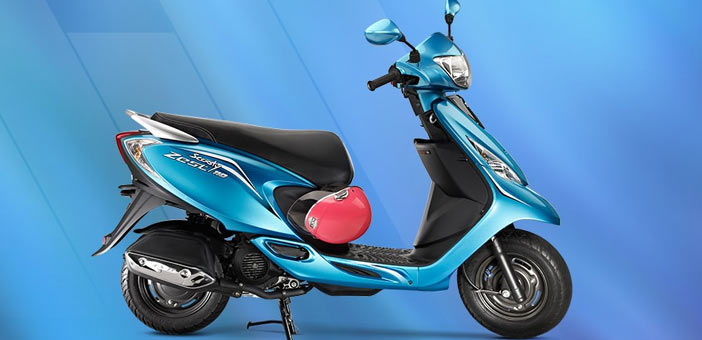 One of the basic requirements of scooty for ladies is that they should be light. At 97Kg Zest 110 is comparatively lighter scooter thanks to lighter all new frame. The patented center stand is so light that even teens could use them easily. It could cruise from 0-60kmph in just 11.1sec which is pretty quick. The mileage is close to 62kmpl in standard conditions. The fuel efficiency of Zest 110 could increase further if the rider is less in weight which is generally true with girls. The acceleration is quick between 0-40kmph and at 60kmph it becomes calm. Since most of the city rides happen between 0-60kmph, the engine is tuned to be at its best between these speeds. True top speed is close to 80-85kmph which seems fine.
It sure has feminine traits as it is tuned for easy drive through traffic, is agile and is very comfortable to ride. It is also very stable around the corners. 110mm front drum and larger 130mm rear brakes does its job efficiently. A bottle holder and 19-litre under seat storage are other important features which are helpful for women riders. The knee wrist fouling is reduced by low seat and is very suited for its target buyers.
Yamaha Ray – 104Kg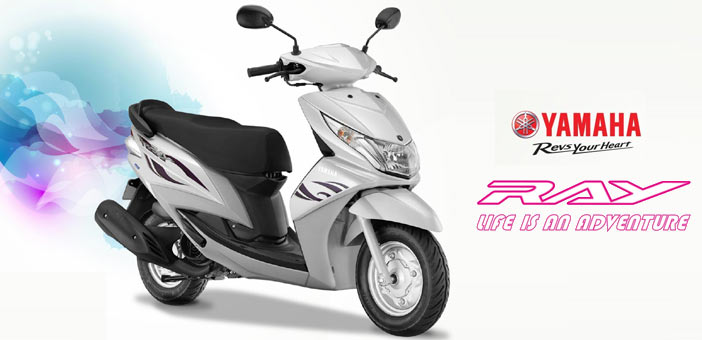 Yamaha Ray has loads of features for women like specially designed seats that gives easy ground leg reach, big storage space(15.5 liter capacity), center side stand that is easy to operate and ease of mounting. Ray is powered by 4 stroke 113cc engine that punches out 7.1PS of peak power at 7,500 rpm and maximum torque of 8.1 Nm at 5,000 rpm. Driving Ray at low speeds is very easy which could be boon for riders who are new. The startup acceleration is smooth with gradual build up of the same. Instrument panel consists of analog speedometer, fuel gauge, high beam indicator lamps and turn signals.
Honda Activa i – 103Kg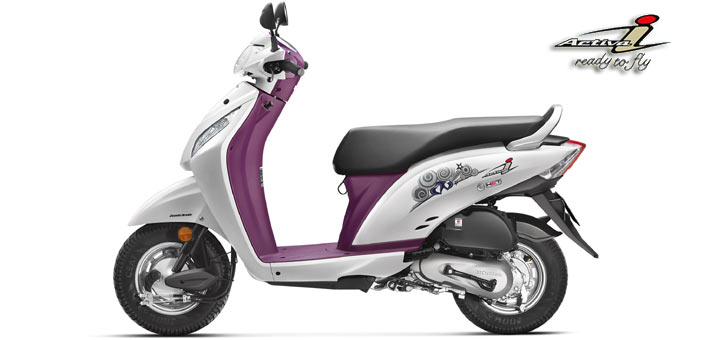 At 103Kg it is not one of the lightest women centric scooter but its is compact and light weight design feels light while driving. The floral graphics looks fresh and attractive. The instrument panel looks peppy and gives all the necessary information. Long seat ensures that pillion rider is comfortable while driving. Stiff suspension ensures Activa i is stable around the corners or while changing lanes. Acceleration is good but it lacks sense of urgency because of which does not stands high on fun quotient.
Activa i is powered by 4 stroke 109.19cc SI engine that produces peak power of 8.0PS and maximum torque of 8.7Nm. It is fitted with Honda eco technology which ensures high mileage with high power and high torque output. Tubeless tyres gives peace of mind as one need not rush to get it mended in case of puncher.
TVS Jupiter – 108Kg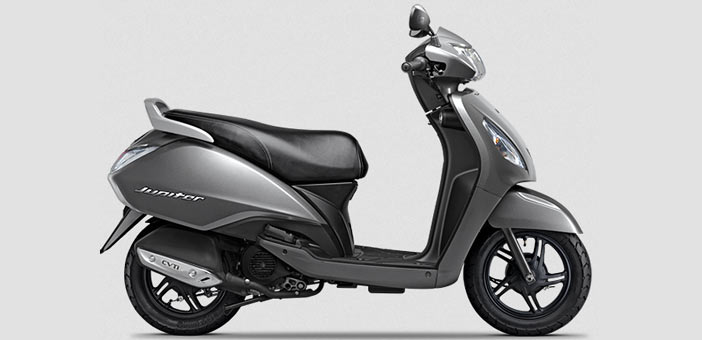 It is one of the heavier scooter in the segment but with the bigger wheels it is very stable too. In spite of the top kerb weight, it is one of the least top heavy in the segment. The telescopic suspension with big 12in tyres gives very comfortable ride and adds to the stability of the vehicle. Seats are well cushioned and handlebars are well positioned which makes it ideal for long distance travel too with even pillion. The 109.7cc 4-stroke OHC engine gives out peak power of 5.88kw at 7500rpm and gives a maximum torque of 8Nm at 5500rpm. The best ride happens between 40-70kmph, a speed which is well suited for city drive. It has a top speed of 62kmph which is not high but is good for city only drive. It can go from 0-60kmph in 7.2sec which is impressive. TVS Jupiter is an ideal scooty for college students, senior citizens, ladies and housewives.
| | | | | | |
| --- | --- | --- | --- | --- | --- |
| | Suzuki Let's | Yamaha Ray | TVS Scooty Zest 110 | Honda Activa i | TVS Jupiter |
| Price | 43,000 | 48,921 | 46,419 | 49,853 | 49,599 |
| Engine(cc) | 113 | 113 | 110 | 109 | 109 |
| Power(PS) | 8.7 | 7.1 | 8.0 | 8 | 8 |
| Torque(Nm) | 9.0 | 8.1 | 8.8 | 8.74 | 8 |
| 0-60kmph(Sec) | 10.2 | 10.8 | 11.1 | 10.2 | 10.5 |
| Top Speed(kmph) | 90 | 84.1 | – | 75 | 85 |
| Mileage(city)(kmpl) | 52 | 46 | 50 | 53 | 51 |
| Mileage(Highway)(kmpl) | 65 | 58 | 60 | 58 | 62 |
| Wheelbase(mm) | | 1250 | 1250 | 1238 | 1275 |
| Kerb Weight(kg) | 98 | 104 | 104 | 103 | 108 |