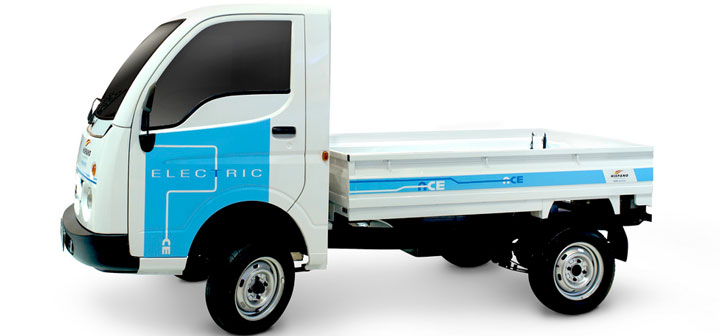 Tata Motors launched its mini truck called Ace in 2005 to compete against similar mini trucks from Force Motors, Mahindra, Piaggo and Bajaj. Till the end of 2012, the company managed to sell one million Ace pickup trucks in India alone. Now Tata is all set to launch its electric variant in the Indian market soon.
Ace electric marked Tata's entry in electrical vehicles segment that has the potential to lead the future auto markets in developed countries. However, in India, government does not seem to be serious about promoting e-vehicles to reduce air pollution.
Tata Ace electric made it in headlines for the first time in March 2012. During this month, Tata Motors allowed certain business van operators to test-drive Ace electric commercial vehicles in London.
Ace EV is the country's first commercial vehicle that works on electricity. But this vehicle is already available in certain countries. Let's take a look at some of the possible details for EV's Indian version.
Inside out
Tata had started manufacturing Ace EV at its Coventry, England based production unit, but stopped production by the end of 2012.
Ace EV is designed to take 500 kgs of load, and can reach maximum speed of 40 KMPH according to company's website. Single speed transmission unit controls Ace EV's axle mounted DC motor. Its weight is nearby 1,600 kgs. Disc brakes in the front and drum brakes in the rear are good enough to control this electric vehicle.
This two-seater micro box van is designed to perfectly sit on vehicle's steel chassis. According to commercial vehicle experts from the United Kingdom, the vehicle's cabin is comfortable enough for short distance drive.
The British version also includes electric heater demister. Overall, reviews suggest that Ace EV is considered one step ahead of its Japanese competitors in the UK. Ace EV is made with rugged, strong steel chassis that is durable and offers great strength.
Vehicle performance
The Indian auto maker has not revealed much about Ace EV's battery recently. But according to statements made by Tata Motor's President Ravi Kant in 2008, the vehicle's batteries are developed by company's research facility in the United Kingdom along with Norwegian company.
Vehicle's operational range in the foreign model is 48 KM. Screen wipers and lights might bring down the battery's charge quickly. The battery management system in the British model automatically reduces the vehicle to 12 MPH when the battery reaches last 10 percent of its charge.
Its battery can be easily recharged using any three pin plug socket. Batteries can be fully charged when connected to power supply throughout the night. Tata plans to offer two year warranty on EV's battery. Some other possible features in Indian version are automatic drive inhibitor, reverse warning buzzer, music system, and fan inside the cabin.
Super Ace variant comes with price tag of around Rs 5 lakh. Diesel power variant is available for around Rs 3 lakhs. So, experts suggest that this new electrical variant won't come cheap.
Senior executive from Tata Motors recently interacted with journalists. He did not wish to be named, but suggested that the company is happy with the response received for Ace EV during the recent Auto Expo. He also said that they will start Ace EV's production soon, and the company expects government support for this project. Tata was also planning to launch Ace in the United States under joint venture with Chrysler, but perhaps the deal did not go through.
Long way to green way
Tata's competitor in commercial vehicles segment, Ashok Leyland also plans to launch its Dost electric pickup truck in the Indian market soon. Leyland's mini truck would be able to carry 650 kg load and its operational range is expected to be 50 km.
Electric pickup trucks/vans can be used for short trips within city limits. Usually, even petrol or diesel pickup trucks travel less than 300 kilometers per day. Electric trucks might need charging after travelling short distances. So, environmentalists suggest the government to start working towards setting up infrastructure to support charging requirements of electric cars, buses, or transport vehicles.
Who knows? Perhaps Tata Ace electric's launch will prove to be the first game changer. The vehicle is expected to reach Indian roads in 2015 or 2016.