Fuel prices are stable as of now but that does not deter most of the Indian car buyers to consider fuel efficiency as number one reason before finalizing a car. Till electric cars go mainstream, people have to rely on these fuel efficient petrol cars especially for city rides. In India we do not have a culture to go for long rides but that is changing fast and with that popularity of powerful diesel cars. Here is the list of top 10 Indian fuel efficient cars that might not empty your wallet every time you visit petrol bunk. The cars mentioned in the list below gives you a minimum of 19.5 km per ltr of petrol. All the cars in the list are hatchbacks and are priced below Rs. 500,000 or 5 lakhs. Maruti Suzuki Alto K10 is the top ranked vehicle while 10th position is held by Nissan Micra and related models.
The results mentioned below are based on manufacturer's claims but we have also included the mileage shared by users and experts who have checked the cars on Indian roads. One important point that you might want to consider is that the fuel efficiency results mentioned below are based on the manufacturer's claims and tests done by the experts and might vary when driven by individuals. For great fuel efficiency you might want to consider the below points –
Drive Sensibly (Lots of braking, rapid acceleration, speeding makes your car guzzle extra petrol)
Drive under Speed Limit
Avoid undue Idling
Remove Extra Weight from your vehicle
Keep Engine Tuned
Tires should be properly inflated
Only use grade of motor oil that is recommended by manufacturer
Top 10 Fuel Efficient Petrol Cars in India
Below are 10 vehicles that give you best of mileage, powered by petrol engine and are below Rs. 5 lakhs.
1. Maruti Suzuki Alto K10 – 24.1kmpl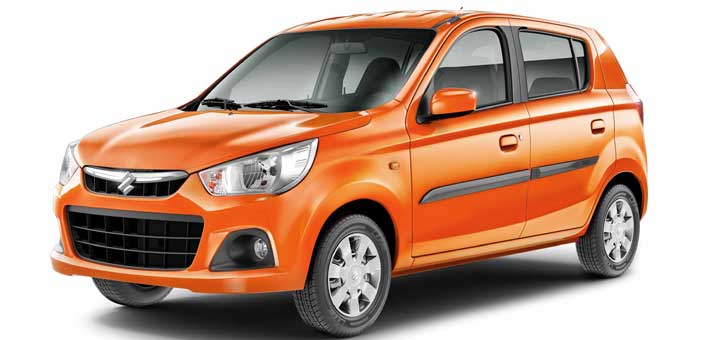 Maruti Suzuki Alto K10 looks more like an upgrade of Alto 800 but it is far better than the model it is based upon in terms of styling and equipments. The interiors of K10 is new and all components are redesigned that the previous model. A lot of enhancements like music system with USB, AUX abd CD player. The vents of AC are redesigned too to give it a premium looks. The 1.0 litre K10B petrol engine punches out a peak power of 67bhp and peak torque of 90Nm. Buy this car for its great mileage, price, features and interiors. Factors that might come in buying decisions are its limited boot space, small size and cramped rear seats. The nearest rivals for this car are Datsun GO and Hyundai Eon.
2. Tata Nano – 23.6kmpl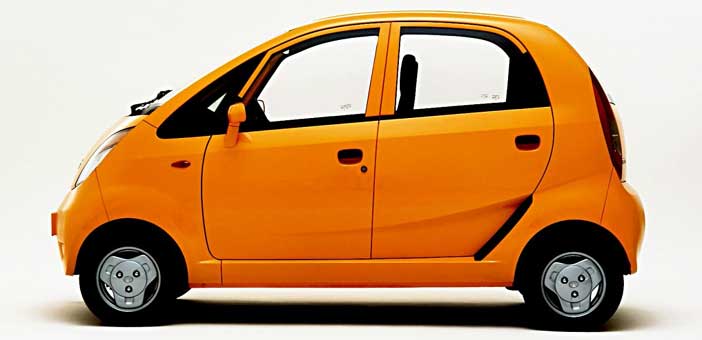 Tata was first recognized as car manufacturer with introduction of Nano way back in 2008. There was lot of buzz and enthusiasm about the car on its launch date and Tata became world famous by developing cheapest car in the world. The buzz however did not convert into sales since its launch. The latest model however a bit pricey than 1 lakh tag, is a much improved version. All updates made in the car is done keeping in mind its target audiences. Automated manual transmission is one of the biggest update on the car with shape and new improved dashboard. The efficient boot is yet another addition which would motivate people further to buy this car. 624cc petrol engine produces a peak power of 38BHP and 5500rpm and 51Nm of peak torque at 4000rpm.
3. Maruti Suzuki Celerio – 23.1kmpl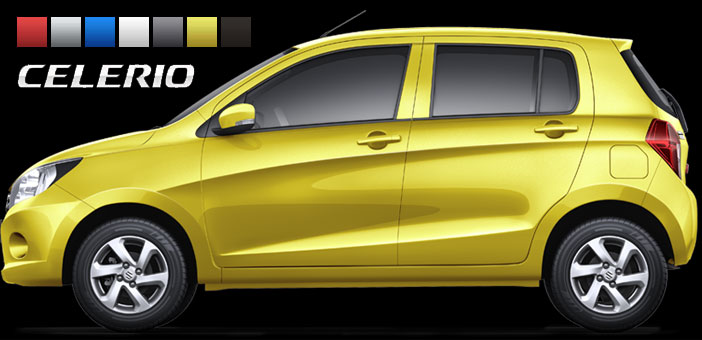 Maruti Suzuki Celerio was primarily introduced due to fading popularity of Wagon R and rivals taking up the space. With its introduction in February 2014, it has eaten into the sales of Wagon R and Ritz but has gained grounds in the Rs. 4-5 lakh hatchback segment. There are 4 manual variants of the car and 2 with automated manual transmission. The 1-litre K10B engine produces a peak power of 67BHP and a peak torque of 90Nm. Chevrolet Beat, Nissan Micra and Hyundai i10 are the nearest rivals for this car. Buy this car for its mileage, price, after sales service and reliable brand. Do consider its drawbacks too while choosing the car like interiors quality and its exterior design.
4. Maruti Suzuki Alto 800 – 22.7kmpl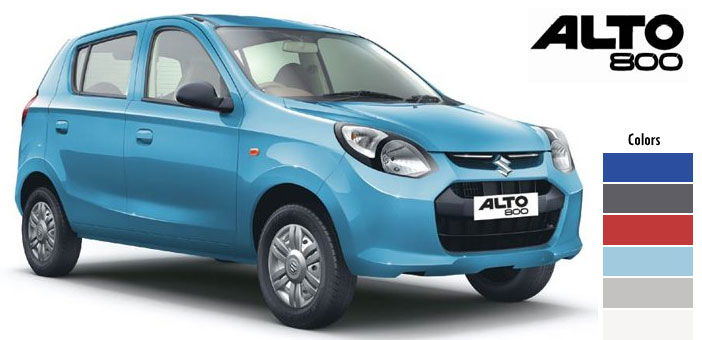 Maruti Suzuki Alto 800, the car which replaced Maruti 800. It was a big gap to fill where this car was successful to some extent but soon K10 was launched to solidify the entry level car position. Maruti did not had much choice as the prices needed to be low but under limitation it was able to come up with fantastic car which yet again became highest selling car in India. The car is available in both petrol as well as CNG variant which again makes it most affordable car in India. The 800cc engine punches out a peak power of 47.3bhp at 6000rpm and maximum torque of 69Nm at 3500rpm. The top possible speed is 140kmph but dare not try that. It could reach 0-100kmph in less than 19 seconds. Buy this car for its practicality, legacy, mileage and price. You might have to compromise a bit on power and performance but little can be done towards that due to its competitive pricing.
5. Hyundai Eon – 21.1kmpl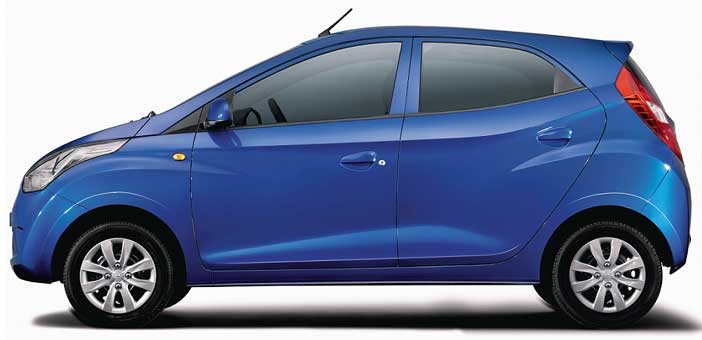 The best looking entry level hatchback was built primarily for Indian market to take on Tata Nano and Alto 800. It is bit pricey than its nearest rivals but none the less it should be first choice of buyers who wants to upgrade from bikes to their first car. The fitted LPG option in its 2 petrol variants is yet another reason to go for this car. It has best interiors, looks best has large and comfortable seats, good boot space and everything that an entry level car should have. It is powered by 800cc engine that provides a peak power of 55PS and a peak torque of 75Nm. The other variant give out maximum power of 68PS and 94Nm of torque. The price might be a factor if you want to purchase this car or else it can be a perfect first car.
6. Maruti Suzuki Swift – 21kmpl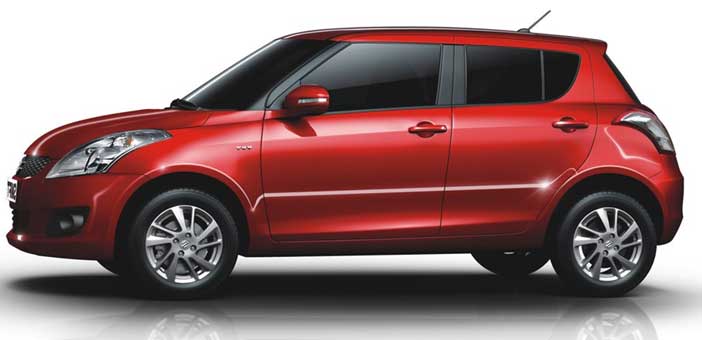 Maruti Suzuki Swift is the most popular hatchback since it was launched in 2005 both as new and used car. The car had a recent minor facelift in 2011 and then in 2014. Not much has changed since it was launched due to its popularity which is not fading even after introduction of numerous cars in the segment. The 1.2-litre petrol engine punches out a maximum power of 84PS and peak torque of 114Nm. Hyundai Grand i10, Renault Pulse, Nissan Micra and Tata Bolt are its nearest rivals which are not able to challenge its supremacy as of now. Only drawback for the car is its small boot space.
7. Datsun Go – 20.6kmpl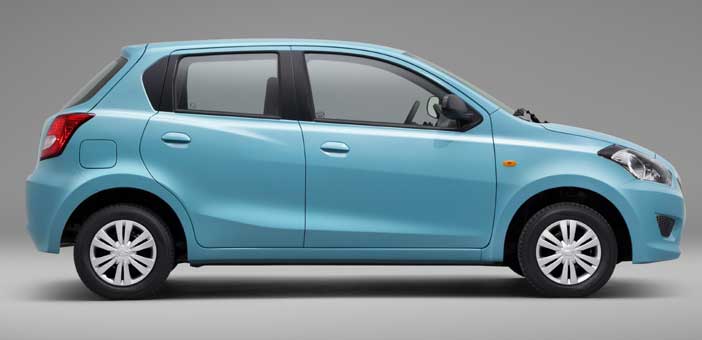 Datsun brand is owned by Nissan and was discontinued in 1986. Datsun Go is the first car for the revived brand from Japanese carmaker. This car is primarily launched for emerging markets like India and Indonesia. It is based on Nissan V platform in the lines of Micra. In India it was launched on March 2014. The car is powered by 1.2-litre engine that gives a peak power of 67BHP and torque of 104Nm. Hyundai Eon and Maruti Suzuki Alto K10 are its nearest rivals. Buy this car for its mileage, price and great space. However, the brand is not so popular in India and there would always be a problem for after sales service due to lack of service stations.
8. Maruti Suzuki WagonR – 20.5kmpl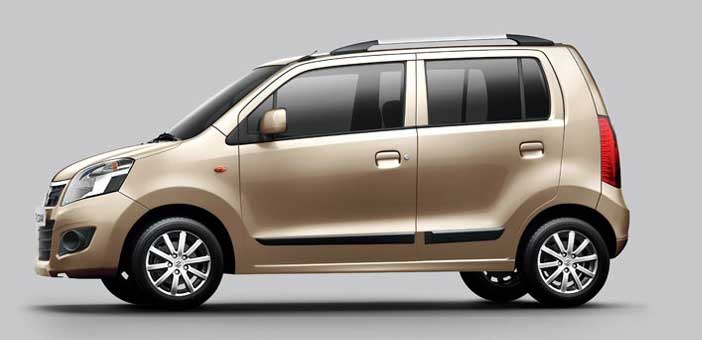 Maruti Suzuki Wagon R is yet another entry level hatchback launched primarily to take on Hyundai Santro which is now discontinued. It was one of the best selling Maruti cars once after 800. It is more than 20 years since it was launched but it is still going strong. Wagon R is powered by K10B engine that gives a peak power of 68PS and punches out peak torque of 90Nm. The CNG version of the car makes up for most of the sales as but the petrol variant is losing its shine. Datsun Go Plus and Hyundai i10 are its nearest competitors. It is high time Maruti should come out with all new version of the car or phase it out. Buy this car for its superior mileage, space, minimum maintenance requirement but have a close look at its interiors, boxy design which might not appeal to many.
9. Hyundai i10 – 19.8kmpl

Hyundai i10 is one of the top selling cars for Hyundai. The complete updated version of the car was launched in 2011. It has 3 petrol and 1 lpg variant. The car was given car of the year in 2008. The car is powered by 1.1 iRDE2 engine that give power of 65PS and peak torque of 120Nm. Buy this car for its great looks, big interior space and great service network.
10. Nissan Micra – 19.5kmpl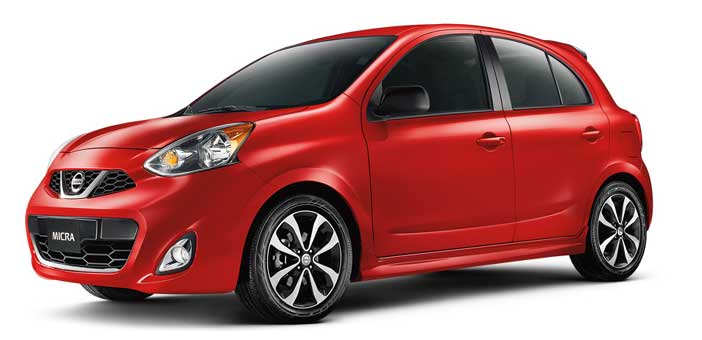 Nissan Micra is one of the most promising hatchbacks that looks good and has great interiors. When the car was launched it was considered more of having "feminine" design traits due to which it was not liked by many. Nissan has changed almost all those traits and now the all new variants look much better. The 1198cc engine punches out a peak power of 76PS at 5000rpm and maximum torque of 104Nm at 4000rpm.