It all got started with Toyota Innova 10 years ago when first multi-purpose vehicle or MPV was launched in India. People however did not accept it as they thought that Innova would be more appropriate for taxi for their boxy looks, diesel engine which was not fun to drive and no appeal. Now you have 8 MPV in India and are they are very popular too as priority for people are changing. Now a buyer could choose between these 8 vehicles namely, Lodgy, Mobilio, Ertiga, Enjoy, Evalia, Innova, Aria and Xylo. Each one of them has something unique to offer, they are comfortable, reliable and overall easy to drive.
1. Renault Lodgy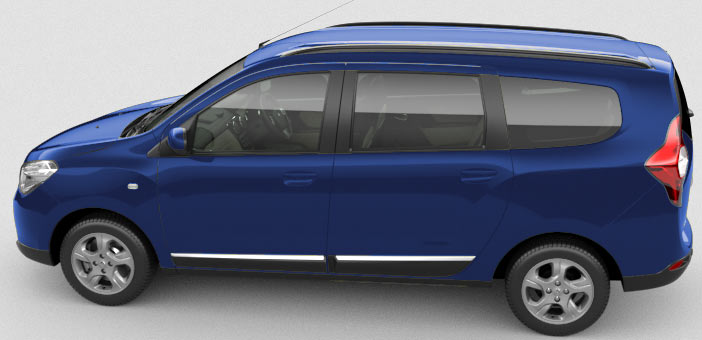 Design: If you have been inside Duster than Lodgy would feel familiar to you. Open the door and you could sit inside the driver's seat without lowering yourself or climbing up. It is just perfect sitting. The larger glass area in the front gives good driving visibility. The dashboard looks premium though plastics are hard. The central black fascia looks good and dials are surrounded by glossy chrome which also gives a premium look. The driver seat height adjuster though is not very user friendly as you need to stand up to adjust it. Cup holders are too not very usable and could have been bigger.
Space: Use of Monocoque chassis gives Lodgy and great interior space. The middle row is big and could easily take up to 3 adult passengers. However once you try to put on seat belts, it gets a bit uncomfortable. The middle row seat could be folded by just using one liver. The low sitting in the 3rd row gives a better head room but the knee up sitting posture could be very uncomfortable while going for long rides. It has good storage space with all seats intact too but if you fold the 3rd row and storage becomes huge. The option to also fold 2nd row gives it one of the best storage in the segment.
Engine: Lodgy is fitted with K9K motor 1461cc engine with 108.6BHP peak power and 25Kgm as maximum torque. This MPV gets all the extra power in the mid and top ranges. The 6-speed gearbox is just right for the highways where it gives long legs out.
2. Maruti Suzuki Ertiga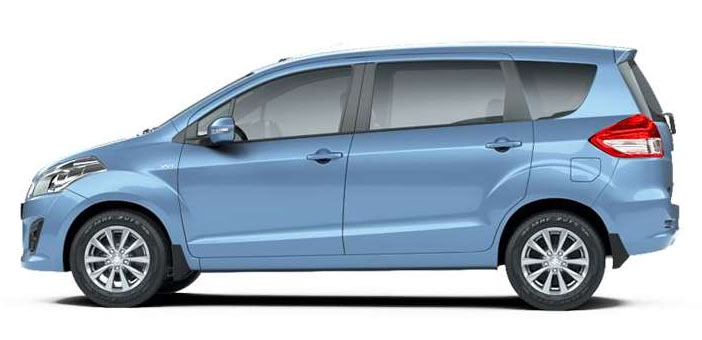 Design: The V shaped center console looks good in the well designed Ertiga dashboard which is based on Swift. Big dials and well placed audio system enhances its looks and practicality further. The beige color from brown (Swift) looks good too but could pick dirt quite easily.
Space: Seating 7 people in Ertiga is not possible. 5 adults and 2 kids could sit comfortably. In case you want to store luggage then you have to get rid of 3rd row and only 5 adults could sit. The sitting is very comfortable but it eats up the limited cabin space. The middle row seats do not tumble but shifts forward and folds. That means in order to get into back seats one has to climb through the 2nd row seats. The 2nd row and 3rd row passengers both are not able to enjoy enough legroom and one row has to compromise or sit tightly.
Engine: Ertiga is powered by 1.3l multijet 1373cc engine with peak power of 89BHP and 20.4Kgm of peak torque. Not enough torque at low revs might be bothersome and you could feel it. Post 2400rpm its gets into action.
3. Toyota Innova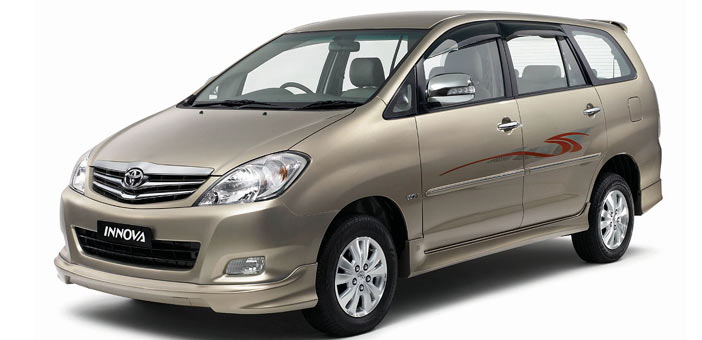 Design: When we talk about Innova the first thing that comes in mind are its low end variant used as taxis at airport and railway station. The violent gear lever that shakes a lot, the dashboard which is minimal etc and some of the things you might have watched. The top specification variants are however much better than what you might have seen. They are better trimmed, have one of the best interiors in the segment and best dashboards. The black, brown theme and soft plastic used in the dash gives it the most premium feel when compared to other MPVs.
Space: The middle row in Innova could be easily tumbled forward and easily flipped down. Both seats in the third row flip to the sides which gives enough flat storage space. The storage in the back with all passenger seated is not great but is far better than the others. Headroom in the back seat is not good but the knee room is better than the most.
Engine: Innova is powered by 2.5l 2494cc engine which produces a peak power of 101BHP and a maximum torque of 20.4Kgm. It has got lowest torque to weight ratio in its segment. At high speeds it might feel a bit over strained and vibrations in gear lever and steering might be felt.
4. Honda Mobilio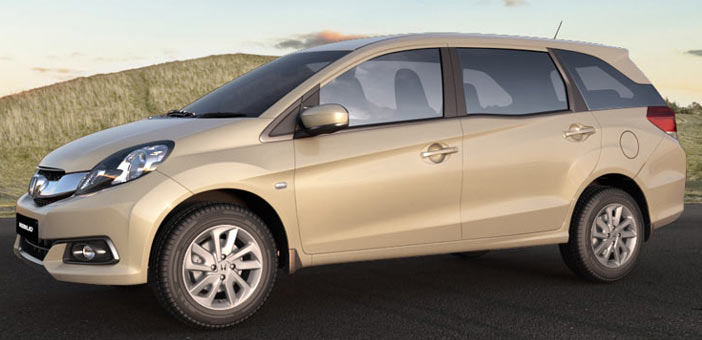 Design: Enter Mobilio and you would not feel that its a MPV. The driver's sitting is low, sporty and slim but gives a great view ahead. It has one of best dashboard and cabin where you could find well designed cup holders and practical storage. The quality of materials used in dashboard is great and why not, it is expensive than its sibling Amaze.
Space: The middle row seats in this MPV are one of the best with enough legroom, comfortable seats though the sitting is bit low. The third row is not one of the comfortable areas to sit in Mobilio with less legroom, poor headroom and low seating position. The low seating position is not good for long rides as knees up position could give a bad knee and leg ache to the passengers.
Engine: Mobilio is fitted with 1.5l i-Dtec 1497cc engine that gives out a peak power of 117.3BHP and 14.7Kgm of maximum torque.
5. Tata Aria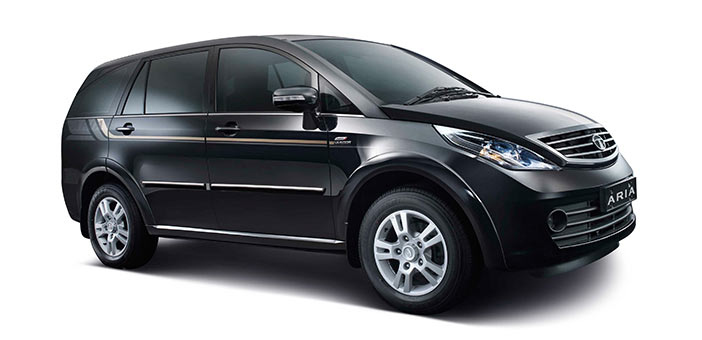 Design: Black and plum color in the upright dashboard in Aria looks good but the dashboard is not the best designed one in the segment when comes to quality. Visibility is also not one of the best from an elevated driver's seat. A-pillars create blind spots and massive rear view mirrors also do not help much. The interiors are not well planned but the quality of materials used in the dashboard is much better than other Tata cars.
Space: Due to the usage of body on frame chassis, the interior of Aria is not as spacious as its big exterior. The middle row is comfortable for 2 people and the third passenger might get uncomfortable with placing legs due to center AC vent which is placed on the floor. One has to climb on big wheel arches to reach to rear seat and the rear seating is not comfortable too with not so great legroom. The seats do not fold completely due to which storing extra luggage might be a problem.
Engine: Aria is fitted with the most powerful engine in its segment. The 2179cc engine punches out a peak power of 148BHP and a maximum torque of 32.6Kgm. The extra engine power comes with an extra weight as Aria weighs 2.1 tonnes much heavier than others. You could feel the weight when you put brakes at high speeds. The 4×4 variant can go from 0-60kmph in just under 6.44sec and 0-100kmph in 14.79sec.
2016 Comparison between Renault Lodgy, Maruti Ertiga, Toyota Innova, Honda Mobilio and Tata Aria
| | | | | | |
| --- | --- | --- | --- | --- | --- |
| SL. No. | MPV | Price(Ex-Mumbai) | Power(PS) | Torque(Nm) | Mileage |
| 1 | Renault Lodgy 110PS | 10,61,378 | 110 | 245 | 18 |
| 2 | Maruti Ertiga ZDi | 9,23,339 | 90 | 200 | 18 |
| 3 | Toyota Innova 2.5GX | 13,64,236 | 102 | 200 | 14 |
| 4 | Honda Mobilio RS | 11,74,289 | 100 | 200 | 19 |
| 5 | Tata Aria Pride | 15,25,475 | 150 | 320 | 13 |