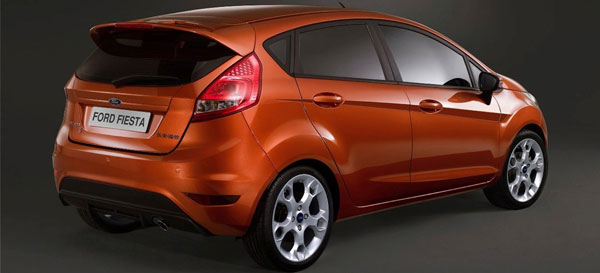 The Ford Fiesta enters the auto market as a feisty contender for the top spot in the subcompact car segment. The Ford reputation has been tough to beat since eons, and the Fiesta simply adds more to Ford. Even in the subcontinent, Ford models have been eagerly awaited and welcomed. In terms of performance, handling, safety, ride quality, pricing, convenience and looks, the Ford Fiesta easily scores a nice 3 on 5. As Joe DeMatio of Automobilemag says, the 2009 Ford fiesta is "a small car that promises to look good, drives well, and reward, rather than punish, its owners".
With the Fiesta, Ford has taken engineering effort to a new level altogether, coming out with a lively car that feels as good as it looks. The Fiesta comes as a 2-door or 4-door hatchback. Take a look at the appearance of the Fiesta and you get an idea of what is 'kinetic' styling. Sharp shoulder lines, strong wheel flares, distinctive grille, and long headlamps are hallmarks of such styling and the Fiesta has it all. A fully loaded instrument panel does not distract you from the classy interiors. Of course, the plastics need improvement. In customer-speak, there is style and much more style in the Fiesta.
With 7 different trims, this supermini is good in handling, steering and suspension. But it could do with some more refinement for a less stiff ride. Go for the powerful petrol engine or the fuel-efficient diesel engine. Engine noise could be a turn off, but the Fiesta is nimble on the road. Antilock brakes with electronic brake force distribution system, ventilated disc brakes (in front) and self-adjustable drum brakes (at the back) are efficient. Standard airbags make the car quite a safe vehicle.
If you can afford it, it can be a good semi-luxury vehicle and give you great style with promising performance. It is a trusty and stylish model that appeals to both men and women.
Whether you are a working woman or a home maker, this can be a very good option to you with its comfort and ease in driving. And whether you are a professional or business man, this can give you good mileage with a lot of style.
Our verdict: Summing up, the pricey Ford Fiesta is certainly a super-cool supermini. Go for it and experience the Ford difference.
2009 Ford Fiesta Prices
| | | | |
| --- | --- | --- | --- |
| Model | Mumbai | Delhi | Chennai |
| Ford Fiesta Duratec 1.4 EXi | 5.94 | 6.22 | 5.94 |
| Ford Fiesta 1.6S | 7.57 | 6.94 | 7.24 |
| Ford Fiesta Duratec 1.4 SXi | 6.9 | 7.31 | 6.99 |
| Ford Fiesta Duratec 1.4 ZXi | 6.2 | 6.58 | 6.29 |
2009 Ford Fiesta Mileage, Ford Fiesta Fuel Economy
| | | | |
| --- | --- | --- | --- |
| Model | City | Highway | Overall |
| Ford Fiesta Duratec 1.4 EXi | 12.3 | 22.3 | 14.74 |
| Ford Fiesta 1.6S | 11.6 | 19.6 | 13.63 |
| Ford Fiesta Duratec 1.4 SXi | 11.6 | 19.6 | 13.63 |
| Ford Fiesta Duratec 1.4 ZXi | 11.6 | 19.6 | 13.63 |
2009 Ford Fiesta Specifications, Ford Fiesta Specs
Overall Length: 4282mm
Overall Width: 1686mm
Overall Height: 1468mm
Kerb Weight: 1110kg
Seating Capacity: 5 person
No of Doors: 4door
Displacement(cc): 1388cc
Power: 82 PS @ 6000 rpm
Torque: 127Nm @ 4000 rpm
Transmission Type: Manual
Gears/Speeds: 5 Gears
Minimum Turning Radius: 4.9m
Tyres: 175/65R 14 (Tubeless)