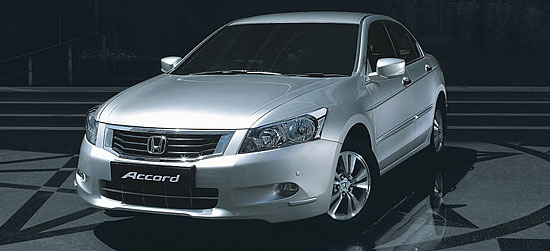 You could say that the Honda Accord is quite the American heartthrob on wheels. With the powerful name of Honda preceding it, one can safely expect the best out of the car. The Accord is one of the best cars from the Honda factory. After all, it's been more than thirty years and the Accord is still running strong on American roads. Backed by reliability and some smart engineering, the other features of the Honda Accord easily impress. This car doesn't try to boast about looks and sporty performance. Instead, it offers the customers a good drive without fuss.
The sedans and coupes in the 2009 Honda Accord are offered in 4-cylinder or V6 engine types. The iconic car ensures complete satisfaction in all aspects, be it styling, ride quality or convenience for everyday commuting. As far as trims are concerned, there is plenty for every need. The coupe comes in 12 different varieties ranging from the LX-S 5-Spd MT 4-cylinder base trim to the EX-L V6 5-Spd AT w/ Navigation System. The sedan is not to be left behind, with 13 trim levels right from a 177 hp 4-cylinder LX 5-Spd MT to a mighty 271 hp EX-L V6 5-Speed AT w/ Navigation System.
All engines provide reasonably good fuel economy. An efficient anti skid system, traction control, ABS and airbags make up the standard safety features in the 2009 Honda Accord. The agile current generation Accord seems to have everything right. Check out the car for terrific resale value. Some might find the car far too sporty without the sports car tag, but that's a welcome addition anyways. That is, if you ignore the occasional hitch like rough vibrations in a few 4-cylinder trims.
This is one car that can boost of giving you much more than it promised. It incorporates in it the mixture of luxury, comfort, sports and elegance. All in the desired forms. This makes it a winner in looks.
It is good on performance as well and you will find it a smooth and easy drive. Though like all big cars in India, you may find parking a bit of a problem in congested places of some cities.
Yet it can be your grand car and get you to feel royal with it. All said and driven the Accord demands attention and now!
Honda Accord Prices
| | | | |
| --- | --- | --- | --- |
| Model | Mumbai | Delhi | Chennai |
| Honda Accord 2.4 AT | 17.24 | 17.83 | 17.41 |
| Honda Accord AT Elegance | 17.54 | 18.13 | 17.71 |
| Honda Accord AT Inspire | 18.14 | 18.73 | 18.31 |
Honda Accord Mileage, Fuel Economy
| | | | |
| --- | --- | --- | --- |
| Model | City | Highway | Overall |
| Honda Accord 2.4 AT | 7.12 | 14.38 | 8.9 |
| Honda Accord AT Elegance | 7.12 | 14.38 | 8.9 |
| Honda Accord AT Inspire | 7.12 | 14.38 | 8.9 |