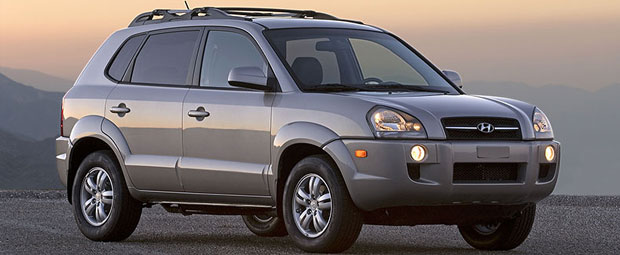 Hyundai Tucson is a compact cross over SUV launched in 2005. It is also known as Hyundai JM in Japan. It shares its Elentra based platform with redesigned 2005 Kia Sportage. It has made an impact in the market as it is a great balance between comfort, space and price. In India lot of imported SUV's are being marketed and also being assembled like Honda CRV, Volvo, BMW, Mercedes, Toyota and Mitsubishi. There also home grown SUV like Tata Safari and Mahindra Scorpio.
The Tucson SUV is powered by 2.0 Liter CRDI (Common Rail Direct Injection) Turbo Charged Diesel engine. It has frugality, performance and strength and quietness. The engine develops maximum power of 112 bhp @ 4000 rpm and has maximum torque of 25 kgm @ 1800 to 2800 rpm. It has 5 speed manual transmissions with Electronic 4 WD (four wheel drive) system.
The car has a hi tech 4WD system runs it in front wheel drive when driving under regular conditions but there is an automatic allocation of up to 50% of power to rear wheels. Electronic four wheel drive has better fuel efficiency compared to mechanical system. 4 WD Lock mode on tough terrain, the driving power is equally distributed in front and rear. The 4 WD Lock is engaged till the vehicle speed does not exceed 40 Kmph. The front suspension is Macpherson strut with coil spring and rear is dual link. It has pneumatic assisted hydraulic double acting type shock absorbers.
The brakes are ventilated disc in front and rear disc. The Tucson has Anti lock Braking System (ABS) and Traction control system. The cabin is designed to keep vibration and noise low. The dual airbags prevent injury to front seat occupants in case of collision.
The wheel base is 2630 mm high giving a good road clearance. The exterior has side garnish coordinates the front bumper; this helps control the external scratches. The Tucson comes with roof rail, this adds to the look of the SUV. The Ex Showroom price is Rs16.46 lakhs in Ghaziabad near Delhi but in this time of crisis you can get a good discount.
The Tucson has a top speed of 165 Kmph and can accelerate from 0 to 100 Kmph in 13.38 seconds. It claims mileage 11.5 Kmpl in city and 16 Kmpl on highway. The Tucson SUV has a peppy diesel engine, good fuel economy. It has excellent handling and it is very good off road vehicle. The Tucson needs to improve low speed ride quality, engine noise and looks.
Hyundai Tucson Prices – Ex-Showroom Prices (Rs.)
| | | | |
| --- | --- | --- | --- |
| Model | Mumbai | Delhi | Chennai |
| Hyundai Tucson | 16,96114 | 16,26864 | 16,04874 |
Hyundai Tucson Specifications, Hyundai Tucson Specs
Dimensions
Overall Length(mm): 4325
Overall Width(mm): 1830
Overall Height(mm): 1730
Wheel Base(mm): 2630
Tyre Size: 215/65R16
Engine
Type: Turbocharged CRDI
Fuel: Diesel
Power: 112@4000
Max. Torque (Kg-m@rpm): 25@1800-2800
Transmission
Drive System: Full time 4-WD
Suspensions
Front: Macpherson strut with Coil Spring
Rear: Dual Link
Shock Absorbers: Pneumatic assisted hydraulic double acting type
Brakes
Ventilated Disc, Front: S
Disc, Rear: S
Antilock Braking System: S
Traction Control System: S