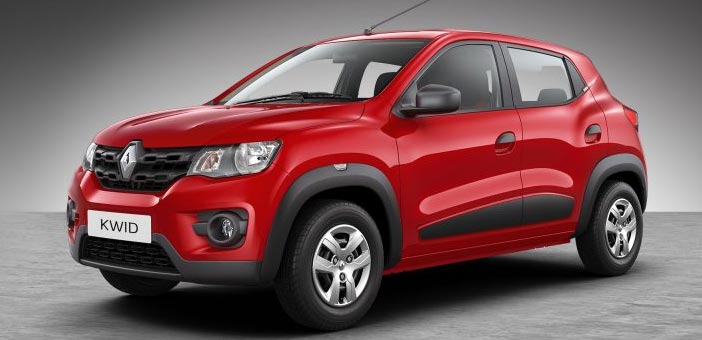 Duster, Lodgy and now Kwid, Renault is not just another automaker now and with the successful launches it is giving, Maruti and Hyundai might be worried. Small car segment in India is primarily dominated by Maruti with its Alto taking the largest share with Hyundai's Eon and Datsun's Go taking the leftovers. This segment has all the volumes but the value is very competitive as buyers are looking for performance with low prices. At around 4 lakhs, Renault Kwid is not actually a small car but more of a ultra compact SUV.
Around the world hatchback segment is shrinking and the place is primarily taken over by MPVs, Compact SUVs and SUV. Going with the trend the automaker is trying to be there in the market, consolidate its position and gain first mover advantage. This car is not directly going to compete with others small cars but is more of going to create an all new market segment. The recent success of Hyundai Creta becoming one of the top 10 four wheelers in India within few months shows the future of this segment.
Engine
Kwid is using engine that is all new and is developed from scratch. The car is powered by SCe – smart control efficiency 799cc engine that punches out a peak power of 54PS at 5678rpm and maximum torque of 72Bm at 4386rpm. The SCe is an advanced technology that ensures precise air to fuel ratio and a sensor adjusts fuel quality and spark advance thus giving the car its optimal power with excellent fuel efficiency. The engine has four valve/cylinder and valve train which is mated with 5-speed transmission (manual). Heat resistant plastics are used extensively in order to reduce the overall weight of the car. Kerb weight of 660kg is lowest in the class and transmission is correctly matched with the torque due to which city drive would be super smooth. The car could work well with 3 passengers and a driver for optimum performance. It is however too early to comment how it is going to perform in long run or with full load.
Kwid is fitted with refined engine and there are no sharp knocking sounds which is common in small cars when driven on first gear. Engine noise is also well insulated so that it does not reach cabin while on move. At 1200rpm 80% torque is available so, as the car moves past low speed surge could be felt.
Design
A glance and one might mistake it with compact SUV but it is more of a large hatchback or a crossover hatchback. Big headlamps, indicators enclosed in beautiful casing like structure, two chain like grille on bonet and Renault logo sitting on the center, all this looks perfect and gives a feel of expensive car. Big wheel arches surrounded by plastic cladding and muscular hunches gives it macho look at par with SUV. 2422mm wheelbase with 180mm ground clearance makes it look tall but that is more of an illusion which works well with overall look of the car.
Kwid has got highest ground clearance in its segment and is way taller, wider than any small car in India. Black plastics are used extensively and that gives it a unique look and makes it stand out from the crowd. The car comes as a breeze of fresh air in the dull small car segment which has not seen much of innovation in terms of design.
Interior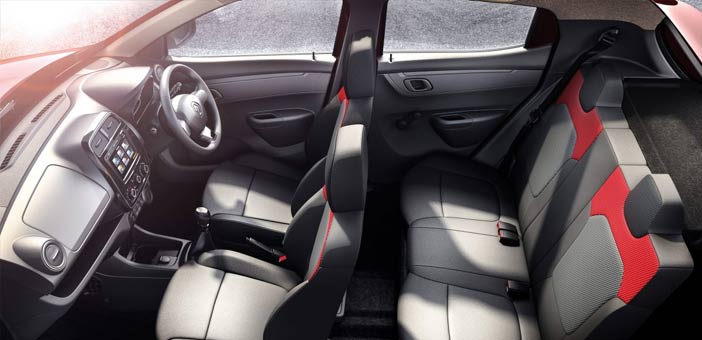 The dashboard for Kwid is once again one of the best in its segment. The space is well utilized as simple design and uncluttered placement of different component adds to its overall appeal. The center console is surrounded by chrome and houses touchscreen like Lodgy. Touchscreen has navigation, bluetooth telephone and media controls. This is one of the luxuries which was never seen in any small car sold in India. Digital type of instrument panel has all the tools to make driving informative for rider. Tachometer though is missing which does not make a huge difference when other offering is considered. Driver airbag is option and passenger airbag is absent.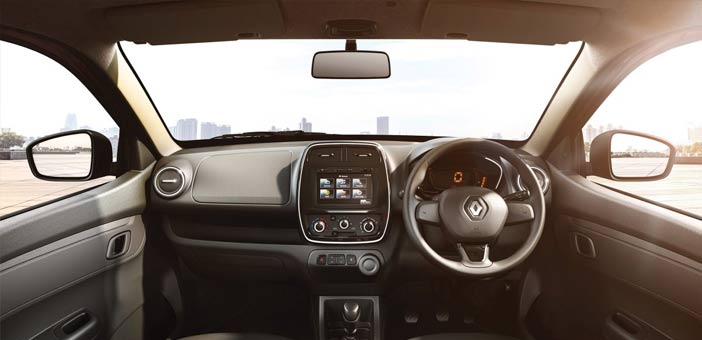 Space inside cabin is excellent and 3 adults could easily sit on the back seat without any problems. On long drives it is advisable to go with only 2 grown ups and a child on back seat for comfortable journey. Plastics used inside the car are good but not excellent. However, you cannot complain and have to remember that this is a 3-4 lakh car.
Ride and Handling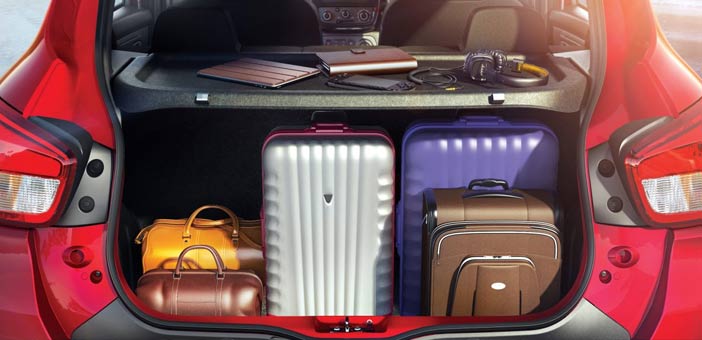 Kerb weight for the car is only 660kg which makes it one of the lightest in the segment, lighter that 60kg from it nearest competitor. Renault claims that the car meets all of India's safety standards but the weight is for sure going to raise few eyebrows. The passenger side seat has lot of glove boxes due to which airbags could be ruled out. However optional driver airbag is there on the driver's seat which could have been made standard. Front is fitted with MacPherson struts and coil spring twist beam suspension is there in the back. Electric steering is well calibered and is accurate. Front gets drum brakes while rear gets disc. Tyres are however small at 155/80 R135 which has low rolling resistance and is thin.
Kwid could take up rough roads with ease and is very stable at high speed too. Its skinny tyres though is a drawback and slab sided body could pose some problems at high speed. Ride quality of all the Renault cars are excellent be it the expensive ones like Duster or the entry level car. The base variants however do not have power steering which is due to the price factor.
Mileage
Test results for the fuel efficiency is not yet available. Company claims the mileage of 25.17kmpl which seems too much. We expect the mileage figures to be somewhere around 20kmpl on actual conditions.
Future Versions
Kwid is likely to get powerful petrol engine of its current 3-cylinder motor in future though diesel engine is ruled out for time being. 53PS engine that is used currently is optimized for maximum fuel efficiency of 25.17kmpl.
Verdict
Kwid gives complete value for money. Test drive it for yourself and see the difference. The car has best features, options, one of the best styling, best interiors, excellent ride quality, powerful power train and what not. It is for sure going to shake up the positions of some of top selling small cars. The use of lot of chrome and plastics in the car would be likes by buyers as Indians like chrome. It will be hard to break loyalty in the A car segment and lack of dealership and service centers like Maruti could be another issue which the French automaker has to handle.
2016 Specifications and Features
Ex-Showroom Price
| | | | | | | | |
| --- | --- | --- | --- | --- | --- | --- | --- |
| City | Delhi | Mumbai | Kolkata | Chennai | Ahmedabad | Hyderabad | Bengaluru |
| Kwid STD | 2,56,968 | 2,67,000 | 2,74,354 | 2,69,982 | 2,68,785 | 2,69,532 | 2,73,594 |
| Kwid RXE | 2,88,960 | 2,98,343 | 3,06,858 | 3,02,686 | 3,01,585 | 3,02,185 | 3,06,240 |
| Kwid RXL | 3,11,664 | 3,20,988 | 3,30,010 | 3,25,214 | 3,24,608 | 3,24,895 | 3,29,142 |
| Kwid RXT | 3,44,131 | 3,50,631 | 3,60,983 | 3,56,549 | 3,56,004 | 3,56,231 | 3,60,477 |
| Kwid RXE Radio Option | 2,94,960 | 3,04,343 | 3,12,858 | 3,08,686 | 3,07,585 | 3,08,185 | 3,12,240 |
| Kwid RXT Driver Airbag Option | 3,53,131 | 3,59,631 | 3,69,983 | 3,65,549 | 3,65,004 | 3,65,231 | 3,69,477 |
Engine
Displacement: 799cc
No. of Cylinders: 3
No. of Valves: 12
Transmission: 5-speed manual
Power: 54PS @ 5678rpm
Torque: 72Nm @ 4386rpm
Mileage: 25.17kmpl (claimed)
Under the Hood
Steering: Electric Powered
Suspension(F): Mac Pherson Strut
Suspension(R): Twist beam with coil spring
Brake(F): Disc
Brake(R): Drum
Tyre size: 155/80
Rim Size: R13
Type: Tubeless Radial
Dimensions
Length x Width x Height(mm): 3679 x 1579 x 1478
Wheelbase: 2422mm
Ground Clearance: 180mm
Fuel Tank: 28l