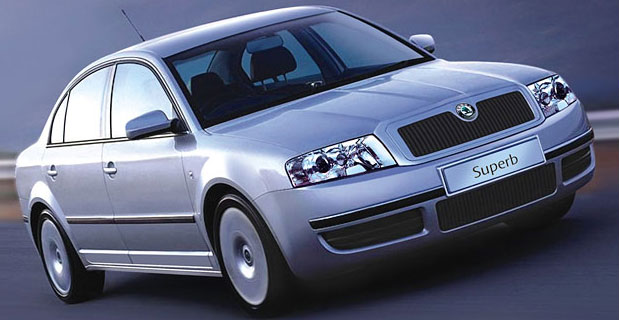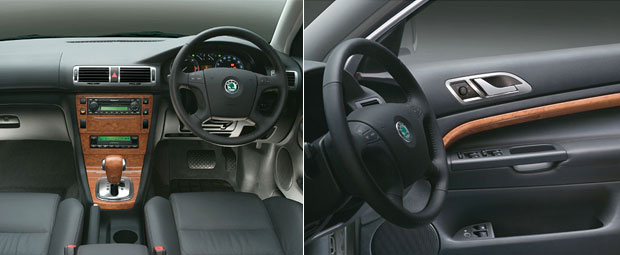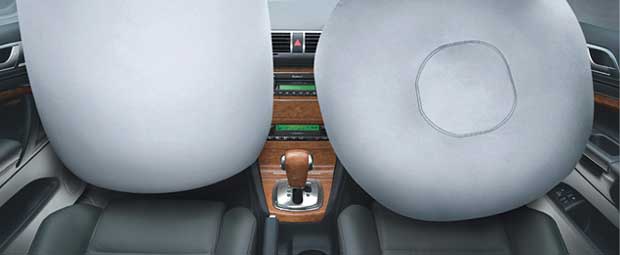 The Skoda Superb is an executive car built by Czech auto maker Skoda, a part of German auto giant Volkswagen. Superb was earlier manufactured between 1934 and 1942 and the brand was revived in 2001. It uses the Volkswagen B5 PL 45 + platform borrowed from Passat, the car is based on long wheel version of the platform. In Europe this car competed with Ford Mondeo, Peugeot 407, Passat and as an alternative to prestigious BMW 3 series, Mercedes C series and Audi A4 The car was given face lift in 2006 and Laurin & Klement model become the top end model.
In India it is a Skoda powerful challenge in D segment and also upper C segment to other players like Mercedes C series, Opel, Mitsubishi, Hyundai and new entrant like BMW 3 series and Volkswagen's Passat. The number of Skoda seen on Indian roads is indicator of company's success in the luxury car market.
The Skoda Superb is available in three variants – Two Diesel Comfort 2.5 V6 TDI and Elegance 2.5 V6 TDi AT and Petrol Elegance 2.8 V6 MPI AT. The Ex showroom Mumbai price of Superb varies between Rs 21 laces to Rs 23.30 laces. The Diesel version is powered by 2496 cc 6 cylinder 24 valves V6 Turbo jet engine delivering 163 bhp @4000 rpm and maximum torque of 350 Nm @ 3000 rpm. The car can do 0-100 Kmph in 10.3 seconds.
The Petrol Engine is 2771 cc, 6 cylinder 30 valves V6 Multipoint Injection engine delivering maximum power of 193 bhp@6000 rpm and maximum torque of 280 Nm @3200 rpm. The car can accelerate from 0-100 Kmph in 9.4 seconds. All the three variants have 5 speed automatic transmissions with Tiptronics. The safety features include front, side and curtain airbags, Anti lock Braking System (ABS), Auto Skid Restraint (ASR), Electronic Stability Program (ESP) and auto diming rear mirror.
The safety system coupled with ABS, ASR and ESP also has electronic braking assistance, which is helpful when intense braking is needed. The Elegance variant has additional features like Xenon headlamps with integrated lamp washer, alarm with interior monitoring, siren with power backup, Electrical sunroof, steering with audio and cruise control, electronically adjustable driver and passenger seats and cruise control.
The car has excellent handling, excellent ride quality, good suspension, spacious interior with good leg space and comfortable back seats, luxurious interior, powerful V6 engines, all important safety features.
It is a good buy as it is loaded with features found in prestigious cars, however the car has no distinct look and looks like Octavia or Laura which are bigger. It also does not have a niche look to make it a prestigious car.
Skoda Superb Prices
| | | | |
| --- | --- | --- | --- |
| Model | Mumbai | Delhi | Chennai |
| Skoda Superb 2.8 V6 | 20.27 | 19.76 | 20.23 |
| Skoda Superb 2.5 TDI | 20.29 | 21.74 | 20.25 |
Skoda Superb Mileage, Skoda Superb Fuel Economy
| | | | |
| --- | --- | --- | --- |
| Model | City | Highway | Overall |
| Skoda Superb 2.8 V6 | 6.9 | 14.1 | 8.7 |
| Skoda Superb 2.5 TDI | 9.15 | 13.2 | 10.7 |
Skoda Superb Specifications, Skoda Superb Specs
Engine
Engine type: Petrol engine, V-engine, liquid cooling system, DOHC, 5 valves per cylinder, longitudinally installed in front (V6 2.5 TDl/120 kW (A) Petrol)
turbocharged diesel engine, V-engine, liquid cooling system, direct injection, DOHC, longitudinally installed in front (V6 2.5 TDl/120 kW (A) Diesel)
Cylinders: 6
Displacement [cm3]: 2771(V6 2.5 TDl/120 kW (A) Petrol), 2496(V6 2.5 TDl/120 kW (A) Diesel)
Max. engine performance/revs [kW (bhp) at rpm]: 142(193)/6000(V6 2.5 TDl/120 kW (A) Petrol), 120(163)/4000(V6 2.5 TDl/120 kW (A) Diesel)
Max. torque/revs [Nm at rpm]: 280/3200(V6 2.5 TDl/120 kW (A) Petrol), 350/1250(V6 2.5 TDl/120 kW (A) Diesel)
Fuel injection system: electronic multipoint fuel injection MPI(V6 2.5 TDl/120 kW (A) Petrol), electronically controlled direct injection(V6 2.5 TDl/120 kW (A) Diesel)
Ignition: microprocessor controlled electronic ignition system
Emission compliance: Bharat Stage III
Transmission
Wheel drive: front wheel drive
Clutch: hydrodynamic converter
Transmission: five-speed automatic transmission Tiptronic
Chassis
Front axle: multi-element with four transverse control arms and torsion stabiliser
Rear axle: compound link crank-axle with torsion stabiliser
Braking system: hydraulic dual-diagonal circuit braking system vacuum assisted with Dual Rate system
Brake – front: disc brakes with inner cooling, with single/piston floating caliper
Brake – rear: disc brakes
Steering system: rack and pinion steering power assisted
Wheels: 7.0J x 16″
Tyres: 205/55 R16
Body
Body: 4 door, three compartment, 5 seater
Drag coefficient cw: 0.30
Outside dimensions
Length [mm]: 4803
Width [mm]: 1765
Height [mm]: 1489
Wheel base [mm]: 2803
Ground clearance [mm]: 146
Inside dimensions
Storage capacity [l]: 462
Storage capacity with rear seat back folded down [l]: 945
Weights
Kerb weight [kg]: 1551-1653(V6 2.5 TDl/120 kW (A) Petrol), 1604 – 1706(V6 2.5 TDl/120 kW (A) Diesel)
Payload [kg]: 585-483
Total weight [kg]: 2136(V6 2.5 TDl/120 kW (A) Petrol), 2189(V6 2.5 TDl/120 kW (A) Diesel)
Liquids
Tank capacity [l]: 62