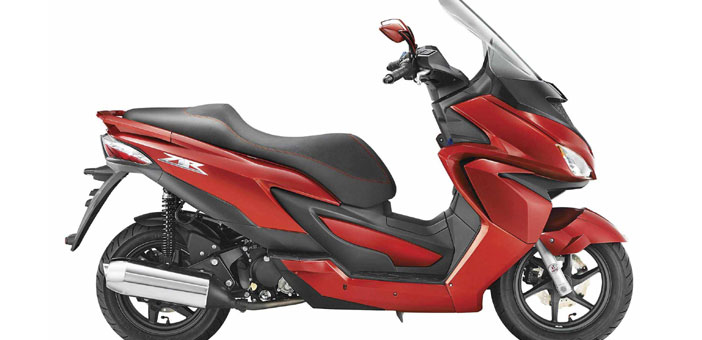 Launching and selling scooter in the Indian market is not everyone's cup of tea. There are several scooters, but no one is able to take away Honda Activa's market share. Companies like Hero Moto Corp, TVS, and Yamaha are trying their best to compete with Activa by launching various scooters every year. During 2014 Auto Expo, Hero Moto Corp launched its 150cc scooter called ZIR. Bollywood actor Ranbir Kapoor was roped in for this occasion. Industry experts believe that this scooter has everything required to compete against Activa.
Style
Scooter was unveiled during February 2014, but the auto maker will start selling it sometime during this year. There are two variants of this scooter, European style variant and flat board variant.
"Spectacular" is the right word to easily describe how this vehicle looks. It may prove to be India's most selling scooter during the next few years. Thanks to dual projector headlamps, the scooter's front looks better than other scooters as well as bikes on Indian roads. Daylight running lights surround the headlamps, and make sure that the scooter's face shines all the time.
Bright LED winkers-turn indicators, LED tail lamps, large windscreen, and cowl-mounted console (in Euro variant) might tempt you to check your bank balance. European style seat and integrated handle for pillion rider make sure that even the pillion rider gets his/her share of comfort and fame.
Overall, Euro variant looks better than flat board variant.
Engine
Both variants are powered by 157 cc liquid cooled OHC engine. This engine can reach maximum speed of 110 KMPH. Scooter's weight is 139 kgs, and its ground clearance is 155 mm. ZIR's fuel tank can store nine liters of petrol, and scooter triggers reserve mode when tank is left with 2.5 liters of fuel.
Hero Moto Corp is still working on certain aspects of this vehicle, so the company has kept ZIR's mileage related information under wraps. But the engine is advanced, and after looking at engine's overall specifications, one can say that Activa makers might have to run for money due to competition with ZIR.
ZIR's console offers the combination of digital and analogue technology. It consists of digital speedometer, analogue tachometer, and digital fuel gauge, plus trip meter.
Suspension and braking
Adjustable dual shock-absorbers in the rear and telescopic hydraulic shock-absorbers in the front manage the vehicle's suspension. Experts believe that these are good enough to offer balanced ride even while traveling on roads full of potholes.
Hydraulic, flower type disc brakes in the front and rear offer the best possible safety while controlling the scooter.
Other features
Vehicle's under-seat storage and USB mobile phone charger take care of small needs. Tubeless tyres and maintenance-free batteries can help in saving a lot of time. Hero Moto corp has designed Android app that allows users to record vehicle's fuel and performance related data from EFI system. The auto maker is also working on similar app for Windows, Blackberry and iOS devices.
Buyers are eagerly waiting for ZIR
ZIR is a large scooter. These scooters are popular in Europe. But till date, India has just seen one 165cc scooter called Blaze from Kinetic. So ZIR is Hero's big bet, and it is expected to come with price tag of around one lakh rupees.
The scooter has already created buzz in the market before its arrival. Comments written on news stories related to ZIR indicate that several people are eagerly waiting to buy this maxi scooter. It is expected to reach showrooms during this year's first quarter. Hero Moto Corp might also sell this vehicle in certain European and Asian countries.