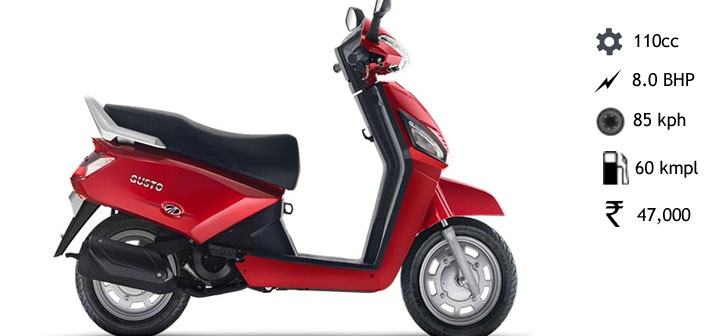 In September 2014, Mahindra & Mahindra attracted a lot of attention from scooter lovers by launching its first 110 cc scooter, Gusto. The vehicle is one of M &M's attempts to challenge Honda's dominance in the Indian scooter market. When launched, it was India's first scooter with adjustable seat. Fortunately, the scooter proved another success story for Mahindra & Mahindra, and the company even increased its production from November 2014 to meet market's demand.
Highlights: At top speed of 85kmph this scooty could take up any bumps, engine does not feel stressed and gives you a great ride quality. The adjustable seat height could be a boon for the tall riders though height of your knee might not change. With powerful brakes you could ride safely on city roads.
Style and comfort
The Italian style scooter's 12-inch wheels, eye pleasing tail light cluster, impressively designed headlamp, and well cushioned seat are good enough to help this scooter stand against Activa.
One of the USPs of this vehicle is its height adjustable seat. So, almost everyone from the family can use this scooter by adjusting its seat according to user's height. The scooter's under seat storage is good enough to keep small helmet or shopping bags. You can also use the front storage space located below display panel to keep specks, cell phone, or sun glasses.
Engine and other features
The vehicle is equipped with four stroke 109.6 cc M-Tech engine that crunches out maximum power of 8.0PS at 7500 rpm and peak torque of 9.0Nm at 5500 rpm. Gusto can reach maximum speed of around 85 KMPH, and it could go from 0-60kmph in just 12 seconds. Vehicle's fuel tank capacity is 6 liters, which seems better than Activa's 5.30 liters.
Scooters are mostly used while traveling in the city areas, but Gusto's engine, mileage, and comfortable seat will definitely tempt riders to take this baby on highways.
Gusto's weight is 120 kgs, and seat height is 735 mm. The seat adjustment feature and good leg room make this vehicle comfortable for both, people with short and tall height.
M & M research and development team's efforts are clearly visible in the scooter's remote flip key. This digital unit can also be used to switch on the scooter's find-me-lamp when parked in crowded parking. Gusto offers electric start as well as front kick for those who wish to exercise a bit.
Ride and Handling
Telescopic spring suspension system manages the front suspension, while the rear suspension is managed by hydraulic coil type system. Drum brakes in the front and rear easily manage to control this scooter, but vehicle's braking system may not be able to impress every rider. The brakes could stop the scooty from 60kmph to 0 in 3 seconds which is good enough. Gusto with a weight of 120kg is heaviest in the segment and due to which it has poor acceleration which is close to 12s for 0-60kmph despite having bigger 12 inch wheels. Gusto is softer which works in its advantage as it could take bumps and potholes better then others like let's.
Mahindra Gusto Mileage
Mahindra Gusto DX gives a good average as compared to other scooters in the segment. The 110cc engine with peak power of 8.2PS and torque of 9.0nm could could give an average of 58.2kmpl for city drives and and would give 62.5kmpl on highways.
Comparison with competitors
This 110 cc scooter is often compared with TVS Jupiter and Honda Activa. As mentioned earlier, Gusto offers unique seat adjustment feature that is not offered by anyone else. Plus, the scooter's remote flip key with LED lights is another impressive feature. All three scooters are fitted with engines that offer almost similar power. But as far as suspension is concerned, most of the expert reviews rate Gusto and TVS Jupiter as better option than Honda Activa.
Whe it comes to weight, Gusto is heavier than other two scooters. Mahindra & Mahindra's vehicle is expensive than two of its competitors. But, Gusto manages to stay ahead of both by offering mileage of around 63 KMPL against Activa's 60, and TVS Jupiter's 60 KMPL.
Gusto is available in three variants, VX, DX, and HX. Some of the popular color options are volcanic red, magnetic magenta, white, and galactic black. The vehicle is priced between Rs 47,000 and Rs 52,000. Price may vary depending on the variant that you choose, and all the applicable taxes.
Gusto scooters are manufactured at M&M's Indore Pithampur unit, and are exported to some African and South Asian markets.
Company's VP for customer care and sales, Dharmendra Mishra, interacted with journalists during the launch of Gusto in the state of Telangana and Andhra Pradesh in January. He shared the information that the company did not plan any sales target for Gusto, but the scooter's sales figures are very impressive.
M & M also made it in headlines recently when the company declared that they will launch Gusto 125 cc scooter before the end of 2015.
2016 Specifications and Prices
Ex-Showroom Price (Rs.)
| | | | | | | | |
| --- | --- | --- | --- | --- | --- | --- | --- |
| City | Delhi | Mumbai | Kolkata | Chennai | Ahmedabad | Hyderabad | Bengaluru |
| VX | 48850 | 51060 | 53160 | 51660 | 51450 | 51450 | 51460 |
| VX Spl Edition | 49350 | 51560 | 53660 | 52160 | 51950 | 51660 | 51960 |
| HX | 46850 | 49060 | 51160 | 49660 | 49450 | 49160 | 49460 |
| DX | 44850 | 47060 | 49160 | 47660 | 47450 | 47160 | 47460 |
Mahindra Gusto vs Honda Activa i vs TVS Jupiter Comparison
Lets have a look at top 110cc scooters in India from top manufacturers and how our new Gusto stands against them. In the comparison list below the prices mentioned are for Ex-showroom price Delhi.
| | | | |
| --- | --- | --- | --- |
| Specification | Mahindra Gusto DX | Honda Activa i | TVS Jupiter |
| Price(Ex-Delhi) | 44,800 | 46,213 | 47,989 |
| Engine | 110 | 109 | 109 |
| Power(ps) | 8.2 | 8.0 | 8.0 |
| Torque(nm) | 9.0 | 8.7 | 8.0 |
| 0-60kmph(sec) | 12 | 10.2 | 7.2 |
| Top Speed | 86 | 86 | 62 |
| Mileage(overall) | 60 | 56 | 48 |
| Kerb Weight(kg) | 120 | 103 | 108 |
| Fuel Tank | 6 | 5.3 | 5 |