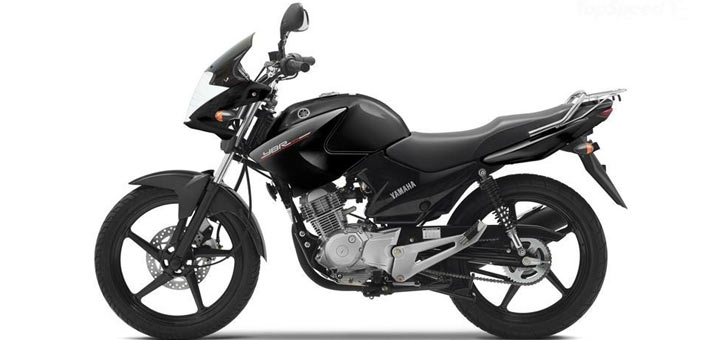 Although Yamaha is well known for its performance-focused 150cc motorbikes, the brand also sells a wide range of commuter bikes which are targeted towards young bikers looking for stylish yet comfortable and fuel-efficient bikes with good quality and performance.
Yamaha's new YBR 125 is a bike shining on many important aspects. It bridges the gap between the 150cc bikes and the entry level basic commuters of Yamaha. The bike has been launched for people who wish to shift from 100cc bike to 125cc bike with an affordable price.
Built for reliability and easy-going performance, Yamaha YBR 125 features a stylish design along with a fuel efficient power train. The bike with a decent set of features, big bike appearance and a reliable engine that is able to produce enough power to propel you around the town will definitely woo the consumers looking for an executive commuter for daily usage.
Let's take a quick look at Yamaha's highly powerful onslaught in the 125cc segment, YBR 125.
Engine
The all-new, refined engine of Yamaha YBR 125 delivers linear acceleration and brings some attractive figures to the 125cc segment. Under the chassis of the bike is an air-cooled, 4-stroke 125cc engine which promises good performance and satisfactory fuel economy. The bike gets a maximum power output of 10.70 bhp at 7500 rpm and maximum torque of 10.40 Nm at 6500 rpm. Its advanced engine is mated to a four-speed manual gearbox with a gear shift pattern of three gears up and one gear down. The bike has a top speed of 105kmph. It has a super acceleration to and could go from 0-60kmph in just under 6.7sec.
Mileage
YBR 125 delivers a superb mileage of 68km/ltr in city conditions, however, you can expect around 74km/ltr on highways.
Design & Styling
Available in three colors – Black, Red and Black-Red, Yamaha YBR 125 comes with a host of features such as a bright multi-reflector headlight, electric start and broad & comfortable seat. With 14 litre fuel tank capacity, the bike looks fresh due to the graphics and bigger body panels. At first glance, it looks much more premium than Yamaha's YBR 110. The bike brings most of its styling bits from elder siblings like SZ and SS. Its headlight is very much similar to that of SS, while its face resembles a lot to SS, along with big tinted visor and an edgy cowl.
Moreover, the bike shares its side covers, silver finished alloy wheels and rear view mirrors with its younger sibling. The side look of the bike is very attractive due to the new fuel tank with side extensions. The bike comes with a powerful headlight and other safety features like pass button and saree guard. What differentiates Yamaha YBR 125 from other regular 125cc bikes is the side indicators integrated in its tail light, similar to SS.
Riding & Performance
When compared to its rivals, the bike performs quite satisfactory in the segment. It gets great torque at low rpms that avoids frequent gear shifts, giving you a stress-free ride. The bike feels very confident on highways. Having one of the most refined 125cc engines, the bike makes a little noise at high speeds. The high seating and riding posture makes Yamaha YBR 125 very comfortable. The grip of bike's handlebar is very convenient; however, the best thing about this bike is the grip that rider's knees get around the fuel tank.
Top Competitors
This commuter bike currently competes with Hero Glamour, Bajaj Discover 125T and Honda's CB Shine.
Besides its soft rear suspension and absence of disc brake, there is nothing much to criticize about Yamaha YBR 125. It is a complete value-for-money bike that offers better performance than its competitors. Moreover, the bike does not compromise on comfort and fuel efficiency either. Its ability to perform well off-road is added advantage. It is definitely an economical option with a refined engine, perfect for daily usage.