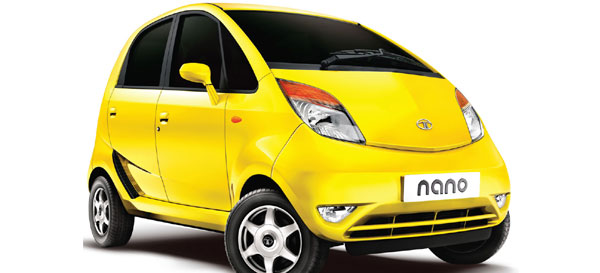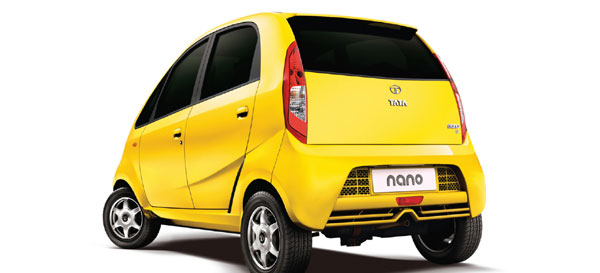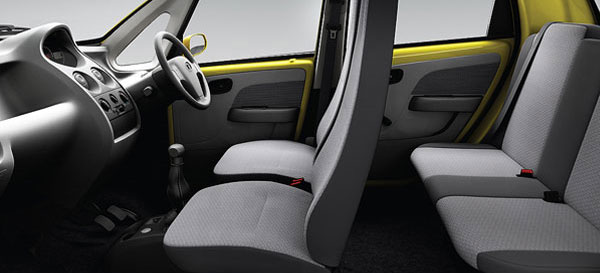 On March 23rd 2009 Indian automobile industry got its best with the launch of Tata Nano – The world cheapest Car. "People's Car" with a price tag of Rs. 100,000 had a rough ride since last one year. The car finally touched the road which is going to bring automotive transportation to the masses.
Four door Tata Nano is is nearly 3.1 metres long, 1.5 metres wide and has a height of 1.6 metres. It is going to run on 623cc two-cylinder engine fitted at the back of the car. Tata Nano has got 33 horsepower and is capable of reaching a speed of 65 miles/hour.
In the Press Conference, Chairman of Tata Motors, Mr. Ratan N. Tata said, "The Nano represents the spirit of breaking conventional barriers. From the drawing board to its commercial launch, the concept, development and productionisation of the car has overcome several challenges. It is to the credit of the team at Tata Motors that a car once thought impossible by the world is now a reality. I hope it will provide safe, affordable, four-wheel transportation to families who till now have not been able to own a car. We are delighted in presenting the Tata Nano to India and the world."
The car is currently being manufactured at Tata Motors's Pantnagar plant in Uttarakhand. The dedicated plant for Tata Nano is coming up at Sanand in Gujrat which is going to be ready by 2010 and will have a annual capacity of 350,000 cars.
Tata Nano is launched in 3 variants i.e Tata Nano Standard, Tata Nano CX and Tata Nano LX. Tata Nano has a spacious passenger compartment where 4 people can sit comfortable. This car has smallest exterior footprint as compared to any car in India and is 21% more spacious then its nearest rival. With a turning radius of just 4 metres, Tata Nano can be maneuvered easily even in small parking spaces. Primary features of the 3 variants of Tata Nano are:
Tata Nano Standard:
three colour options
single-tone seats
fold-down rear seat
Tata Nano CX:
five colour options
heating and air-conditioning (HVAC)
two-tone seats
parcel shelf
booster-assisted brakes
fold-down rear seat with nap rest
Tata Nano LX:
five colour options
heating and air-conditioning (HVAC)
two-tone seats
parcel shelf
booster-assisted brakes
fold-down rear seat with nap rest
complete fabric seats
central locking
front power windows
body coloured exteriors
fog lamps
electronic trip meter
cup holder in front console
mobile charger point
rear spoiler
The booking amount for all the 3 variants will be same through out India:
Tata Nano Std.( BS2 and BS3): Rs. 95000
Tata Nano CX( BS2 & BS3): Rs. 120000
Tata Nano LX( BS3): Rs. 140000
Tata Nano Prices
| | | | |
| --- | --- | --- | --- |
| Trim level/ Variant | Ex Showroom Pant Nagar(Rs) | Ex Showroom Delhi(Rs) | Ex Showroom Mumbai(Rs) |
| Tata Nano Std (BS2 ) | 112735 | NA | NA |
| Tata Nano Std (BS3 ) | 120960 | 123360 | 134250 |
| Tata Nano CX Solid Paint (BS2) | 139780 | NA | NA |
| Tata Nano CX Metallic Paint (BS2) | 142780 | NA | NA |
| Tata Nano CX Solid Paint (BS3) | 145725 | 148360 | 160320 |
| Tata Nano CX Metallic Paint (BS3) | 148725 | 151360 | 163320 |
| Tata Nano LX Metallic Paint (BS3) | 170335 | 172360 | 185375 |
Tata Nano Technical Specifications, Tata Nano Specs
Make: Tata
Model: Tata NANO
Body Type: Hatchback
Number of Doors: 4
Seating Capacity: 4
Fuel Efficiency:
City Mileage: 20-25 kmpl
Highway Mileage: T26 kmpl
Fuel Capacity: 30 litres
Fuel Type : Petrol (Diesel Version will be later)
Fuel Injection: Multi Point Fuel Injection (MPFI)
Specifications:
Length: 3.1 meters
Width: 1.5 meters
Height: 1.6 meters
Engine: All-aluminium, Rear Mounted, Rear Wheel Drive
Capacity: 623cc
Power: 33PS
Body Type: Sheet Metal
Emission Norms: Euro-IV, Bharat Stage-III compliant
Safety Norms: Frontal Crash Tested
Versions: Standard, Luxury
Gearbox: 4-speed manual
Wheelbase: 2230mm
Ground Clearance: 180mm
Kerb Weight: ~ 600kg
Extra Features:
Speed: Top speed – 90 Km/hour.
Colours: Red, Yellow and Silver